The Different Types of Blackjack Games
We go through each variant of the Blackjack game
The game you know and love is… American
But god knows everyone has their own version, though finding them at online and mobile casinos isn't easy. Still, here are some of the variations and what to expect from each type.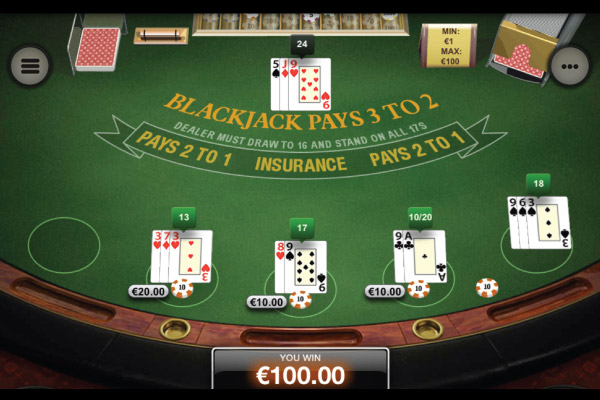 Technically, calling it 'American' is a bit of a lie, as no one knows who invented the original 21 or how it became popular.
What we know for sure is that when twenty-one was introduced in the United States, the gambling houses at the time tried to draw in the crowd with this new 'craze' of a table game by using 'bonus bets'.
One of those bets was a ten-to-one payout if the player's hand consisted of the Ace of Spades and a Black Jack (so jack of clubs or jack of spades.)
And so the name Blackjack was born, and with it, the American's dominion over this game.
Online and mobile blackjack games will usually fall within two categories; American or European.
And even the second is really just a more challenging version of the first.
The difference between European and American Blackjack:
At this stage, we are hoping you've either read our 'how to play blackjack guide' or have a rudimentary knowledge of the game.
If you haven't, get reading and then come back here. Don't worry. We will wait.
Ready? Ok.
So you know the basics, here are what makes each slightly different.
Want something totally different?
Try Players Choice Blackjack at Mr Green Casino.
Play at Mr Green
European Blackjack Rules:
You cannot surrender.
When doubling, you can only do so when you have a total of either 9, 10, or 11.
The dealer must hit on a soft 17. (Ace and 6 point cards)
American Blackjack Rules:
You can surrender at the beginning of your turn.
You can double down regardless of the value of your card.
The dealer must stand on a soft 17. (Ace and 6 point cards)
What's up with those nasty Europeans, hey?
Undoubtedly, American Blackjack is just a little bit friendlier to players.
But if you look at the rules a little closer, it makes things more challenging but hardly awful.
For one, you only really want to double on a 10 or 11 anyway. So they are just stating the obvious.
And for two, it's not that often we'd use the surrender, as there's usually always a chance of winning with Blackjack.
That said, the fact the dealer can continue to hit on a soft 17 gives them a slight edge – it means that if you're on 18 points or more, the computer will try and beat it or go bust.
Remember that different games will often use some of these rules, but possibly not all. It's why we write Blackjack game reviews, so you know what's what.
The number of decks played is important
Perhaps this is one of the biggest blackjack variants to the odds of you winning, if not how you play.
Basically, normally, the less deck of cards you play with, the better your odds of beating the casino.
Here's the good news for online blackjack players: in real casinos, that means that single-deck blackjack is incredibly rare. Or, if you find it, they tend to make the rules so ridiculous (no doubling on soft hands, no re-splitting, higher minimum bets etc..) that it makes you not want to play.
Hey, mobile casinos like to win, too, you know?
Want to play Live Blackjack on Mobile?
Royal Panda casino has the best selection, along with exclusive live blackjack tables.
Why playing online beats playing offline
However, single-deck online blackjack isn't as rare. The reason is no human has to shuffle the cards after each go and sweating over the odds.
It's all done automatically and generated randomly, so the rules will be the same as either the American or European Blackjack rules.
The good news is that even at its worst (8 decks), blackjack still has one of the better return-to-player rates out of all the casino games around – including slots and roulette.
Single deck – house edge: 0.17%
Double deck – house edge: 0.46%
Four decks – house edge: 0.60%
Six decks – house edge: 0.64%
Eight decks – house edge: 0.65%
What is 'house edge'? If a game was 100% house edge, the house would win 100% of the time. Here the house wins only 0.17% of the time, meaning you have the advantage.
What about Super Fun 21 or Pontoon?
Perhaps you've seen these names and wondered what they were about. Or maybe you're not from around here.
There are a number of different blackjack types that are close enough to classic blackjack to deserve, if not the name, then at least a casual nod to being in the same family.
These are hard to find online or on mobile casinos. So don't get your hopes up high. But if you do, at least you'll know what they are.
Spanish 21 or Pontoon: A far more 'liberal' game with a variety of rules and variants. The main difference is that all the 10's have been removed from the four to eight-card shuffle. To make up for this, they provide a host of bonuses and favourable rules for the players, such as: doubling down on any number of cards, payout bonuses for five or more card 21's, late surrender, player blackjacks, and 21's always winning etc… One worth having a look for, as even though the 10's is to your disadvantage, this can be a very friendly game with high side bets.
Multiple-Hand Blackjack: Only found in online blackjack casino games, You can basically bet on up to 5 'spaces' – or get 5 hands. Each for a different bet amount.
"Vegas Style" Blackjack or 21st Century Blackjack: Very rare online, but fun to find, as you don't automatically lose if you bust. Instead, if the dealer 'busts', you can still get your bet back.
Double Exposure Blackjack: Both your and the dealers' cards are dealt face up. As you get the advantage here, it means that Blackjacks only pay even money rather than 3:2, and players lose on ties. Not our favourite.
Double Attack Blackjack: We've never seen this type of blackjack online, but we can hope, right? The reason is you get to increase your bet after seeing the dealer turn his down face card but before he decides to hit or stand. The payoff to this is that blackjack only pays even money.
Blackjack Switch: Here, you get usually dealt two (sometimes more) hands, and you can swap, or switch, the second card between your hands. A great variation, but the cost of having more choice means that natural blackjacks pay 1:1 instead of the standard 3:2, and a dealer 22 is a push.
Multiple Action Blackjack: It's like backward multi-hand blackjack. Instead of you being allowed to play several hands, you can make 2 or 3 bets on a single hand, and the dealer gets a new hand for each of the bets you've placed.
Super Fun 21: This almost doesn't deserve a name of its own, but it does, so we will use it. It basically allows you to split a hand up to four times – a rare event, as you can imagine. The nice thing here is that if you hit and get a total of 6 six cards totalling 20, you automatically win, regardless of what the dealer gets.
Think you know what you love? Got all the Blackjack glossary terms down pat?
Great. On to the real heart of our Blackjack guide; how to win.
Blackjack Mobile Casinos
List of all the mobile casinos where you can play mobile Blackjack online