Where To Play Blackjack Online
What are the top Blackjack Casinos and Softwares? We Investigate
Where Can I Play Mobile Blackjack?
We look at the best blackjack gambling sites, the best blackjack games and where to find both. Because once you've fine-tuned your strategy, it's time to get playing.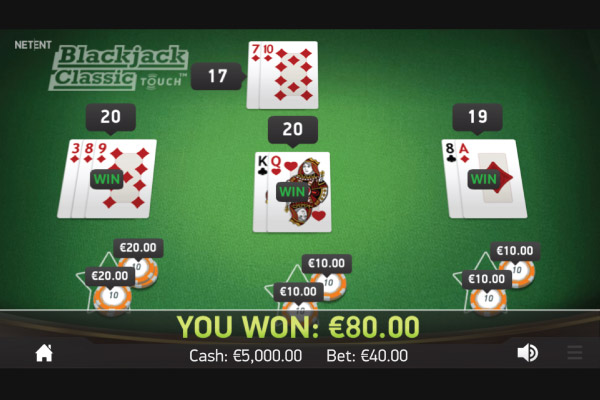 First, we'll look at our favourite Blackjack tables and the best live Blackjack on mobile.
Sometimes it's nice to get the real experience in the palm of your hand.
It should be noted that there is actually not a huge variation of online Blackjack available – mostly, it's your generic one deck, the dealer stops at 17, no surrender rules.
Still, there are a few variations to make things interesting.
The Best Mobile Blackjack? NetEntertainment
Though it might seem like the boring choice, the reason why NetEnt win is because unlike so many others out there they:
Keep things simple, with little clutter when playing on the smaller screens
Provide you with different types of blackjack – namely single deck, single hand and multi-hand blackjack
You can't always find all three at all NetEnt Touch casinos, but mostly you can find one if not two.
They are easy to play, the rules and payout are as fair as you can find anywhere, and they have a great betting range.
We mean really great. Like, you can play 0.10 to 1,000 a hand. Try and find that range at any brick-and-mortar casino.
Get 21 at Mr Green Casino »
Or read our Mr Green casino review.
Special mention to Playtech's 5-Hand Blackjack
We have to admit that we really love the Playtech blackjack game.
Notice how we use the singular? Most Playtech casinos will only have one online mobile Blackjack table, concentrating on providing you with live table versions of the game instead.
And there's really no more variation, as Playtech is a pretty anti-social software. They don't play well with others, so once you go to Playtech, you can't play any other software short of going to another mobile casino.
That said, it's easily one of the best 5-hand blackjack table online, mobile or PC.
So if that's your game, you know where to head.
Play Blackjack at Videoslots »
Or read our Videoslots casino review.
The best live Blackjack on mobile? Evolution Gaming
Created specifically for mobile phones, tablets, iPads and iPhones, Evolution gaming makes it easy to play blackjack with a live dealer on your screen.
Do you need a solid WiFi connection? Sure.
Is it better to play on iPads and Android tablets? Almost definitely.
But you know what? We can't remember the last time we opened up our PC to gamble online. Yes, mostly because it's our job to review mobile slots and games, but come on.
Isn't it easier to just grab the tablet or phone and open up your favourite game?
And now you can pretend you're at a real casino whilst sitting on your toilet, playing a few sneaky hands in peace and quiet.
Any special mentions?
Good live blackjack is hard to find. Good mobile blackjack is close to impossible.
NetEnt has a great selection of live games, but not on mobile. So perhaps, if you can forfeit playing live mobile casinos, NetEntertainment are the way forward.
However, why do that when you can have the best of both worlds? A multi-software casino with both NetEnt and Evolution Gaming?
Who says you can't have your cake and eat it too?
Play at GUTS Casino »
Or read our GUTS casino review.
The best Blackjack casino for mobile? Leo Vegas
Leo Vegas mobile casino is often right at the top of most of our "best of" lists.
It's not because we are playing favourites, but when a casino puts its motto as 'mobile first' whilst still creating an excellent online casino experience to match, they naturally climb to the top.
Why this mobile casino site?
Not only does Leo Vegas have 8 Blackjack tables, 3 of which are the NetEnt ones we mentioned above, but they equally have Evolution Gaming, giving them a live blackjack table.
The huge variety is helped by the fact that they have over 15 software providers on their books, so they can pick and choose the best tables.
But it's more than that – they love blackjack
Whilst so many casinos will put their slot machines front and centre and put all the rest of the games in some undefined 'other' category, Leo Vegas understand that the game of 21, and its variants, is as popular as ever.
Sure, you have to scroll down past the mobile slot machines, but at least the mobile blackjack games have their own category, and you can see the difference in each quickly and simply.
They are also the only mobile phone casino that we know that hosts yearly Blackjack tournaments.
Because sometimes, video slots are the dessert to the main meal, which is a classic table game with great odds and gameplay.
Play Blackjack at LeoVegas Casino »
Or read our LeoVegas review.
Blackjack Mobile Casinos
List of all the mobile casinos where you can play mobile Blackjack online