Basic Blackjack Cheat Sheet & Strategies
How to win at Blackjack using basic strategies
Find the right strategy for you
New to this card game and want a winning Blackjack strategy to give you the best odds? You're in the right page. Just keep our Blackjack cheat sheet open as you play and learn how to beat the dealer.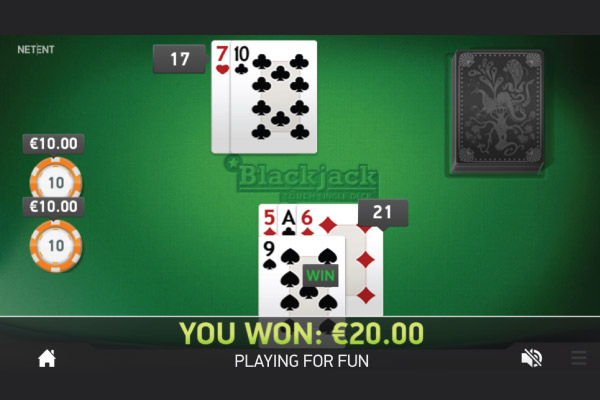 We should point out that this easy to use and simple blackjack cheat sheet is here to give you the best odds of winning.
Our guide won't win you the hand every single time or guarantee that you'll come out on top.
It simply works out what is the best 'option' to take based on your cards and the dealers up-faced card. Ie. what to do to give you the best odds of winning against the house edge.
That said, this is really a basic Blackjack strategy for beginners. It keeps things simple as you learn to play and figure out the game for yourself.
More importantly, what we loved about it is that it's easy to learn and you can use it in any game of blackjack online, mobile or in land-based casinos in Las Vegas, UK or wherever, with still good odds that you'll get the best possible outcome.
Basic BlackJack Strategy For Beginners
Best way to use this cheat sheet? Have it open on one screen as you practice playing online blackjack, or print it and stick it in your pocket so its always with you when out and about on your mobile.
| Player's Hand | Dealer's Visible Card | |
| --- | --- | --- |
| *Hard | 2 to 6 | 7 – A |
| 4 to 8 | Hit | Hit |
| 9 | Double | Hit |
| 10 or 11 | Double with more than dealer | |
| 12 to 16 | Stand | Hit |
| 17 to 21 | Stand | Stand |
| *Soft | | |
| 13 to 15 | Hit | Hit |
| 16 to 18 | Double | Hit |
| 19 to 21 | Stand | Stand |
| *Splits | | |
| 2-2,3-3,6-6,7-7,9-9 | Split | Don't |
| 8-8, A-A | Split | Split Aces |
| 4-4,5-5,10-10 | Don't | Don't |
Notes:
Never take insurance
Surrender 16 vs 10
If this strategy says to double and you can't then hit unless on a soft 18 then stand.
Once you are ready to move to the next step of your blackjack strategy, you can use this great blackjack calculator by the Wizard of Odds.
Clarifying some of the terms and strategies above:
Let us explain the table of rules above, and what to do if the Blackjack table game you're playing doesn't allow some of the moves described.
Confused by some of the terms?
Read our Blackjack terms glossary here »
So first you should know what exactly is a soft or hard hand.
A soft hand is one where you have an Ace that can count as either 1 or 11.
A hard hand is one where the numbers on your cards cannot be changed, even by an Ace (so say, 9 and K – total 19, or 8, 4 and Ace – total 13, because if the Ace was 11 you would bust over 21).
Why are there no rules to take insurance or to surrender?
As a general rule, if played perfectly, you should never have to take insurance on a potential Blackjack.
The odds of the dealer getting a Blackjack variation is far smaller than you losing half your bet. Sure, it happens sometimes, but mostly you'll lose half your cash.
So it's just better to go for it.
As for surrender, that's another rule that's a little controversial. Sure, some online casino games allow you to give up and get half your bet back. But lady luck is a fickle creature.
There are never any guarantees, which means that even when the odds seem against you, sometimes the dealer hits and can go bust. So why not play and try?
That said, not many table games of online Blackjack allow surrender, so this is a mute point. If you can, and want to, the only time that it would seem worthwhile to surrender (as the odds are really stacked against you) is when you have 16 and the dealer stands with a 10 card.
Bad Blackjack strategies and myths dispelled
A lifetime of playing Blackjack with your family and friends, and watching casino movies, can create bad habits.
Online, those habits lead to losing. That's what happens when you deal with a computer who mathematically randomises the results – there's a lot less room for human error.
On the bright side, you know that the odds are completely fair online, as the blackjack deck of cards is shuffled from scratch each time, allowing for a 'clean' slate.
That means…
Card counting doesn't work
It could be argued that card counting at real casinos is becoming a bit of a myth these days, but we're online gamblers, so we won't comment on that.
What we can say 100% positively is that there no point counting cards whilst playing online mobile Blackjack games.
As we mentioned, the computer 'shuffles' (not really, but for ease lets call it that) the cards before each bet is done. This continuous shuffling means that there's no advantage to counting the cards when you gamble online.
So this mathematical strategy doesn't work.
Mimic the dealer's strategy
Dealers have certain rules they need to follow, which many blackjack players assume are in place as they provide the best strategy.
But don't forget that you're playing two different games. You need to beat the dealer, knowing only one card that the dealer is showing. The dealer needs to beat everyone on the table, having only one hand and knowing all the cards.
His choices are more restricted than yours. So why would you restrict yourself?
At it's most basic, a dealer's strategy is to always hit on 16 or less, and stand when their hand totals 17 or more, including a soft 17.
Though that's an easy rule to follow, it also takes away the choice of doubling, hitting, or strategically giving lady luck a chance to improve your odds.
Say you have 17, and the dealer has a 7, 8, 9 or Ace, it's actually preferable for you to hit, as chance are the dealer will probably get higher than 17. It also works the other way if you have 16 and the dealer has a 2 to 6 card – chances are they will bust trying to go higher, so you might as well stand.
Don't limit yourself by playing such an over simplified rule.
Play on a 'never go bust' tactic
The logic here is that you should only hit if you have no chance of going bust – so basically never once you have over 12 points.
Why? Because it's better to play against the dealer with a 'live hand' and hope the dealer busts when you have a small number, than to bust before the dealer even gets a chance to play.
Which is stupid. Whilst there are occasions where it makes sense to stand on a 12, (or 13, 14, 15 and 16), there are just as many occasions where you need to go ahead with a hit anyway in order to get the best odds of winning on your blackjack hand.
That's what the mobile blackjack cheat sheet above is for – help you make the right decision even when it doesn't seem obvious.
Ultimately you've got to have some cojones to play blackjack online for real money well.
Talking of which: Time to see where you can play Blackjack on mobile »
Blackjack Mobile Casinos
List of all the mobile casinos where you can play mobile Blackjack online