How To Play Blackjack Online for Beginners
Learn how to play mobile Blackjack online
An easy casino table game to learn
If you're looking to learn how to play blackjack online via your desktop computer, your Android phone, your iPad, or anything in between, you'll need to know the basics of online blackjack before you place your first real money bet.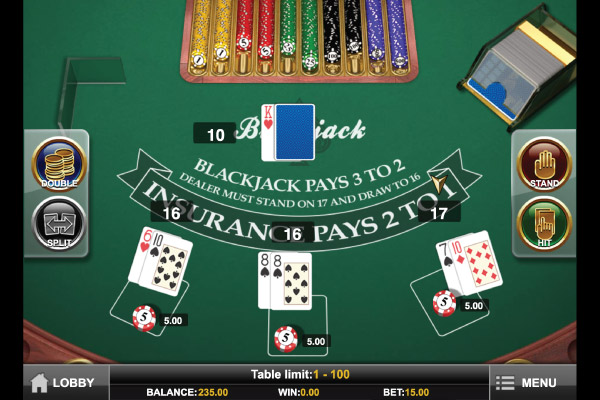 At this stage, we are going to assume that if you are reading this, you've never played a hand of real money blackjack, never mind opening up a game online. This is our guide to how to play Blackjack online for beginners.
We are covering the basics to be as clear as possible. If you think this might be a little too basic for you, feel free to jump straight to the 'variations of blackjacks and odds' page or brush up on 'the glossary of terms'.
However, there's no shame in getting a little refresher in the game, especially if the last time you had a go was with your drunk aunt 5 Christmases ago.
So here are three things you need to know about how to play Blackjack. The rules, how to bet, and what to do once you have.
1. The table layout and placing your bet
Different Blackjack casino games will let you place the chips on the table in different ways.
But the setup will be the same. A green table, where you'll be asked to place a bet before the cards are drawn.
Some will ask you to select the chip first and then drag it to the table. Others will get you to click on where your card will go and then choose your bet. The end result is the same.
Then you press the 'deal' button, and the computer will automatically start the hand.
A great multihand mobile blackjack game?
The Pragmatic Play Multihand Blackjack. Beautiful, easy to play, wide betting options.
2. The rules of Blackjack
They are very simple. Here's what to remember in the 'order' of play.
You are dealt two cards, face up. The dealer also has two cards, one face up and one face down.
Ace counts as either 1 or 11 points, cards 2 to 9 as the value on the card, and 10, J, Q, and K count as 10 points.
You play first, before the dealer, deciding, depending on his/her and your card, whether to 'hit', 'stand', 'double', 'split', or 'surrender' (more on these in a moment we promise).
You are trying to get more points with your cards than the dealers will likely get without going over the value of 21. If you do, that's called 'going bust,' and you lose automatically, regardless of what the dealer has in his cards.
Once you hit 'stand', the dealer plays to try and get a better hand than you.
If the dealer busts or gets a lower hand than you, you win money, huzzah! If the dealer gets a better hand than you, you lose your wager. Boo…!
And back to point 1.
What might stop you, or the dealer, from playing your hand:
If you have an Ace and 10 point card, you win automatically. That's called a 'Blackjack' and beats all other 21 point cards.
If the dealer has an Ace showing, he will offer you a side bet called 'insurance', potentially saving you from his possible Blackjack.
If the dealer has a 10 or Ace, after providing you with the insurance option, the dealer will peek at his turn-down card. If the dealer has a 10 value card, you automatically lose your wager. Unless, of course, you have a blackjack yourself. That's called a push, and you simply get your bet back.
See? Simple right?
A hand of Blackjack online can take anything from a few minutes to a few seconds, depending on how quickly you play.
Talking of which, I bet you're wondering what all those player options were, right?
3. Your playing choices and what they mean
So let's go back to step 3, where you get to decide what to do. Here are all your options.
Hit: The dealer gives you one more card. You can keep pressing the 'hit' button for as long as you like, getting one more card till you are satisfied or go bust (i.e. over 21).
Stand: You decide you are happy with your cards, end your turn, and it's the dealer's go.
Double: You double your bet and get only one card extra. Your go ends, and it's now the dealer's turn.
Early Surrender: When you feel like you just can't win, surrender. You forfeit half your bet, but at least get half your bet back. The game stops, and you start with a brand new game. This option is only available on the first two cards and, honestly, not often seen in online blackjack games.
Late Surrender: Like the rule above, except you can surrender before the dealer has checked if he has a blackjack.
Split: If you have a pair, or any two 10 point cards, you can choose to 'split' your hand into two hands and double your bet. The dealer will then automatically give each of the cards a second card. Then you may hit, stand or double as standard.
Want to start playing?
Check out our full list of mobile blackjack games and the top casino sites to play them all.
The only rules to bear in mind here are:
If splitting Aces, each Ace will only get one card, no more.
Sometimes doubling after splitting is not allowed.
If you get a 10 or Ace after splitting, it counts as 21  – so it can be beaten by a dealer's Blackjack.
Usually, you may keep re-splitting up to a total of four hands.
Sometimes, some game variants will now allow you to re-split aces.
Insurance: This option only occurs if the dealer has Aces showing. You do not have to take your bet, but if you do, it pays 2 to 1 if the dealer's face-down card is a 10. It basically means you get half your bet back if the dealer gets a blackjack but only half the winnings if he doesn't.
How the computer decides to hit or stand
This last question actually goes on nicely with our next subject matter, which is the different types of Blackjack games online.
Because how the 'dealer', or in this case the mathematical computer, decides to hit or stand is 100% predetermined.
Once you've finished your turn, the dealer turns over their face-down card.
If they have less than 16 points, they hit.
Dealer will usually stand on 17 points.
The exception is when the dealer has an Ace, and any number of cards total 6. That's considered a 'soft 17' (because the Ace can turn into a 1 instead of 11), and in some tables, the dealer will continue to hit.
If the dealer busts, you win automatically.
Winning pays even money, except if you win with a blackjack, which usually pays 3 to 2.
And on that note, let's have a look at all the different types of mobile blackjack games you can find online. Some, even, that you can't, but we'll tell you anyway, just in case.
Blackjack Mobile Casinos
List of all the mobile casinos where you can play mobile Blackjack online