7 Easy Ways To Be A Successful Gambler At Online Casinos
November 27th, 2017
Gambling has its up and downs, and we don't promise that these tricks will help you win. But, there are small ways you can ensure you have the most fun, and avoid some common pitfalls.
Online casino games are all about luck and nothing in the world, not the best slot strategy or roulette method will guarantee wins.
Success, therefore, can only be counted as the online gambler who has the most fun whilst playing casinos, whilst avoiding getting screwed by the casino T&Cs.
It's a little dark, but let's be honest: as lovely as the staff at your favourite online casino are to you, ultimately you both have opposite goals: in order for one to win, the other has to lose.
That's not to say you can't be frenemies, but ultimately here's 7 tips on how you can walk away smiling more often than not.
1. Don't lose track of time, or your self-control
This is probably the lamest tip given by every casino blog out there, and probably not what you were hoping to read.
But it is the most important, and cannot be ignored.
Maybe you're a pro, and you have a special bank account, or e-wallet Skrill account, with the exact money you can spend on at mobile casinos each week, and you never spend a penny more.
Well congrats, you are well on your way to becoming a successful gambler… but that doesn't always mean you are having fun.
There's nothing wrong with a reality check
Most slot machines and casino games will now have a little clock telling you the time.

Why? Because whilst you are gambling it's easy to lose track of time as your bankroll goes up and down – even more so on mobile when the clock isn't on screen.
Whilst playing it's important that you remember that that is what you are doing: 'playing'.
If you find yourself losing yourself in the game, pick games who have a reality check reminder; like the video slots from Williams for example.
"Yay! I've won" VS "It's about god-damn time"
You are not a professional gambler like Christatos Aristad, your life isn't on the line (it certainly shouldn't be), and you're not here to make rent.
A good way to know when it stops being fun for the day is when you get a win. If you still get a high, you are having fun. If you are getting angry and telling yourself 'Its about time'… stop. Walk away. Try again another day.
More importantly, never ever spend a penny more than you told yourself you'd spend at the start of your casino play session.
Chasing your losses is the best way to keep losing.
2. Pick the casino games with the best return to player rates
Our most asked question is always; how can you win at gambling?
When we give them the sad news that there is no easy sure fire way to win at gambling (the very dictionary definition is "to bet on an uncertain outcome") we then move on to our next most frequently asked question.
What is the easiest game to win at a casino?
That one has a little bit more of a complicated answer, but you'll be happy to hear, has a definite answer.
What is the highest payout casino game? Blackjack table games, with a house edge of just 1-2% at most online casinos.

Technically Video Poker mobile machines can have even better odds than that, but finding them requires hard work, and you asked what was the 'easiest game' to win, remember?
With easy rules, and simple blackjack online strategies you can have opened at the same time as you play, you always know when to hit or stand.
How to find the return to player rate on a slot
Table games aren't for everyone; there's a reason we get a dozen new slot games on mobile every month, and that's because they are the most popular casino game online.
But they don't always have particularly high RTP. Thank-fully, thanks to gaming regulatory bodies like the UK gambling commissions, many software providers are having to be clear about the RTP of their slots machines.
So just read the paytable, it tends to be on the last page, or right at the bottom in small letters.
As a general rule, you don't want to gamble on a slot with anything less than 95% RTP – ideally you want to stick with those who stand at around 96% to 97%, or higher (but much harder to find).
Which slots machines have the highest RTPs?
When we can get the information, we post the return to player rates, or house edge, on our LuckyMobileSlots.com website.
Not all of the best casino software providers are as open and just because the game has a high RTP, doesn't mean it's good or will pay out big. You also have to consider the slot machine variance or volatility.


But here's a 'starter' pack of our favourites:
Jack Hammer by NetEnt: RTP 97%
Castle Builder II by Rabcat: RTP of between 95.5% – 97.75%
Birds on a Wire by Thunderkick: 97.3%
WolfPack Pays by NextGen: 97.76%
Thunderstruck II by Microgaming: 96%
Rainbow Riches Reels of Gold (warning: for high limit gamblers only): up to 98%
You can play all of the above games at Vera & John casino.
3. Use the budgeting tools available at the casinos
You know how we mentioned that casinos are basically your frenemy? Well, this is the 'friendly' part.
Because despite what some media outlets might be trying to convince you, casinos aren't here to turn us into gambling addicts.
Addicts are bad for business, because ultimately, addicts have to stop gambling – plus everyone else who enjoys the occasional bet gets a bad rep because of the few.
What online and mobile casinos love are casual gamblers who know their own limits, can have a fun time at the casino, and won't shout abuse at them afterwards.
A good casino is one with responsible gambling tools
At the most basic, every casino needs to be able to provide you with:
The ability to set your own daily/weekly/monthly deposit limits.
The ability to self-exclude yourself from the casino for a period of time.
The ability to self-exclude yourself from the casino forever.
If you can't do that, probably best to shop around for a better online casino for Android or iOS devices.
What is the safest casino to gamble at?
Most casinos provide the basic above – that's a given. Only one has taken it to a whole new level, warning you when you might be starting to lose control.
Mr Green casino is one of our favourites around, and one of the reasons is the fact they look after their players so well.
They have a whole new technology giving you feedback on your gameplay, when you might be at risk, and when you are being perfectly responsible.
If you think you need a helping hand in this department, Mr Green casino is easily the best gambling site to go play.
4. Don't fall for these 5 fool casino bets
If you only read one of our 7 ways to be a successful gambler, let this one be it.
Because whilst you can read the RTP of all blackjack and craps games online, there are still certainly ways games can trip you up into making foolish mistakes.
Learn More In Our Casino Game Guides
Our casino guides to Blackjack, Roulette, Slots and more give you hints and tips along with what to look out for when playing.
Avoid side bets and insurance at the Blackjack tables
Most side bets at the blackjack table tend to have a great house edge… for the casino. This is mostly bets you find on live casino tables, but also online – some have a huge house edge of over 10% which means a low RTP of only 90%.
"Insurance", a bet made when 'just in case' the dealer has a blackjack, also has terrible odds of winning.
If you are still learning, avoid side bets like the plague.
The tie bet at Baccarat has terrible odds
When playing Baccarat online you have three potential bets to choose from:
The Banker will win
The Player will win
That the game will result in a tie.
Want to know what is the house edge on a Baccarat Tie bet? Depending on the game, some can be as high as 14%. That's worse than the most hungry slot machine out there – best to avoid on most day to day Baccarat play.
Never play on American roulette, always on European Roulette
We cover this in our Roulette guide on how to choose the right table, but it's worth mentioning again, especially if you are a newbie to the game.
Basically, the American roulette table games have 2 zeros, instead of one. If the ball lands on a zero, no one wins, and the casino cashes in all the bets.
So, needless to say, playing on a game where you have double the chances of winning nothing is stupid, when you can find the fairer European version everywhere.

Avoid complicated bets at Craps
This one is a little controversial, as some people love to make risky gambles in order to win more.
We'll put one small caveat in this one; if you don't want to risk losing fast at Craps, avoid gambling on complicated propositions.
So for example, betting that you will roll a hard 8 (so with two 4s) has a high house edge of 9.09%. On the other hand, betting on rolling any 8 (with any dice number) has a 1.52 house edge – much better odds.
You win less, but sometimes it's better to be the turtle than the rabbit, especially if you are just learning how to play Craps.
Learn how to read a Video Poker paytable or don't play
Video Poker games look simple and are natural cousins to slot machines; so of course anyone who plays on one tends to be drawn to the other.
Especially when you learn that some of these machines can have an amazing 98% return to player rate when betting at optimal strategy.
But finding those games takes work, and many have horrendous odds, with RTPs in the low 90s.

We've listed some great mobile Video Poker games here with the RTP calculated, but the best way is to learn to read the paytables yourself if you want to keep playing at multiple casinos.
5. Don't fall for these 5 fool casino bonus terms
We love a good casino bonus, so we won't be the ones to tell you not to take it.
But accepting bonus money can sometimes feel like accepting cash from your parents; they have strict conditions and you have to deal with the 'I told you so' small print for the rest of the day.

Mostly, we always state any tricky T&Cs when we write about casino promotions, but it's good to keep an eye on some of these restrictions:
The wagering requirements should be no more than 35x on the bonus amount only: any more and it's an impossible task to withdraw your winnings. Be careful the wagering isn't on the bonus and the deposit money, which essentially doubles your wagering.
Watch out for max bet limits: some bonuses won't let you bet more than around £€$5 to £€$6 on a single bet. That's to avoid you clearing the wagering faster on table games, but if you never bet that high, it's not a problem anyway.
Check there is no max cashout amounts: this annoys us the most – because if you've managed to go through the effort of playing you bonus 30 times, but then you can only withdraw £€$150 of the wins… you might as well not have taken the bonus at all.
Not all games are created equal: slot machines and instant win games (ie. online Scratchcards) count 100% towards clearing wagering. Table games tend to only count for about 10% – and some slots, like high variance Kings of Chicago by NetEnt, are generally excluded. It's worth checking you're playing on the right game when wagering your bonus.
Needless to say, always check how long you get the bonus for; usually it's between 24 hours and a month.
A good rule of thumb is; don't take a bonus unless you plan on spending it there and then.
6. To be a casino winner, learn to be a loser
Do you know what all the big casino game winners we write about have in common?
It's not the games; some win on blackjack, some on video slots, some on progressive jackpots. It's not even how well they budget, or how many different strategies they tried.
The answer is far simpler: none of them actually expected to win.
Big Wins On Slots, Blackjack & Roulette
Read how one player won over £111,000 playing roulette at Royal Panda or how 28 year old retires after winning 3.3 Million on NetEnt's Mega Fortune slot.
Learn to lose gracefully and you'll have more fun
This is by far the hardest lesson to learn, especially because so many people come into the casino expecting to win.
And true, that's part of the thrill of mobile gambling – otherwise you might as well play on social slots and win nothing at all.
Sometimes you walk out richer, sometimes you walk out no worse for wear, and often you walk out having spent your money.
Instead of thinking of it as a way to make money quickly, think of it like buying a ticket to the cinema – once you made that deposit, the money is gone, it's play money. You are here to be entertained.
If you happen to win big, well, that's the perks of gambling.
7. Play on new slots and games at different casinos
This last point on how to be a successful casino gambler will probably divide our audience, but we don't care. It's our post, and we can say what we want; go write your own blog.
We love new casino games, especially new slots, it's why every couple of weeks we write about the new video slot games you should be playing.
And whilst some would say it's best to stick with the classics, or just your one favourite slots, we say… screw that. We love discovering new slots machines.
But even if new isn't your thing, it's worth even just changing up your favourite.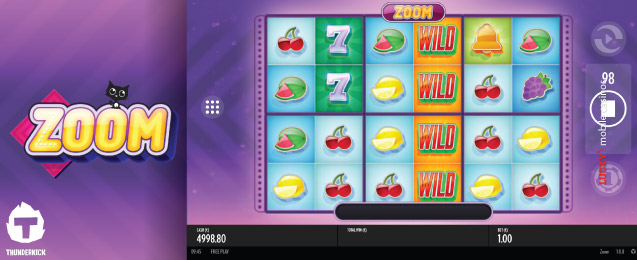 Each slot machine and game is different
Whilst there is no truth to a machine being 'cold' or 'warm', as such, it is true that sometimes, games go through periods of paying out and sometimes not.
And what you have to remember is that Starburst at Mr Green, is a totally different machine from Starburst at Leo Vegas casino.
Much like Pixies of the Forest slot in a Vegas casino is different from the same machine in Macau. Same game, but where they are in terms of payout is totally different.
Try A New Game Today
Finn and the Swirly Spin
Royal Panda Live Roulette
Pink Elephants
Route 777
NetEnt Blackjack Classic
Four ways to take advantage of different slots
You have several choices:
If you notice your favourite machine isn't paying out, try it at another casino
If you notice your favourite machine isn't paying out, find out if there's a copy of it somewhere (ie. Agent Jane Blonde is a copy of Thunderstruck)
Try a brand new slot on free play before you decide you hate it
Play on local jackpot slots rather than progressive jackpot slots for better odds
That last one is particularly controversial as some gamblers out there would say never to play on jackpots slot games as the RTP is worse.
And whilst that's true, sometimes we like to play the lottery and sometimes we like to play on jackpot games, even if the odds of winning are lower.
Because there's not many ways to become a millionaire, and playing on slots sure seems to be the most fun way to go.
A smart casino for smart effective gamblers
Think you've got what it takes to be a smart casino gambler and have the most fun playing casino online?
Well, that's a start anyway. No doubt as you play, you'll come across your own hard earned lesson, whether it's to stay loyal at one casino for the points, or never mess with a bingo player.
Just remember to have fun and stick to your own rules to make that happen.
Make sure you pick a good mobile casino online
We have lots of good recommendations, but here's three to get you started.
Royal Panda casino: You get an exclusive 100% up to £€$200 bonus and an awesome loyalty program – T&Cs Apply
Leo Vegas casino: with 20 free spins on registration, and a huge selection of games, this casino is king – T&Cs Apply
Casumo casino: this casino adventure is truly unique, with slot tournaments every 30 minutes
All three give you amazing choice, in a great safe fun environment, with lovely friendly staff.
Time to make a new Frenemy for life.
You can make our day
Sign up to our free casino newsletter and you'll get all the latest mobile casino news and promotions. And if that's not enough you'll make us super happy at the same time.
Grand Mondial Casino Our Best Casino - December 2023
150 Spins on Mega Moolah slot for €$10 Deposit
Play For Real
18+ | New Players Only | Gamble Responsibly | Wagering & Full T&Cs Apply
T&Cs Apply