Skrill Casinos 2022 - Mobile & Online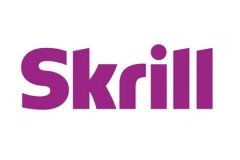 Pay Online Safely & Easily with Skrill
Secure Money Transfers Online
Find your next Skrill mobile casino
You may be more familiar with Moneybookers casinos as a term. But it's been well and truly re-branded and everywhere you go, it's Skrill casinos that you are looking for.
One of the most widely used gambling e-wallets for mobile casinos, you'll be able to deposit and withdraw without ever revealing any of your bank or credit card details quickly and safely.
Skrill Casinos
List of all the mobile casinos offering this popular gambling e-wallet.
Playing on Online Mobile Casinos with Skrill
Skrill casinos haven't been around for as long as Neteller casinos online, who started in 1998. They came to the online world in 2001 under the name MoneyBookers.
Yet that hasn't stopped them from growing into a formidable opponent with so many online and mobile phone casino players choosing Skrill as their first choice to deposit and withdraw cash from their gambling accounts.
And it's easy to see why.
"Over 36 million account holders already trust Skrill to send and receive money worldwide in 200 countries and 40 currencies, securely and at low cost, without revealing their personal financial details.
We can go into the high encryption levels, but that's pretty much expected from one of the top casino payment e-wallets in the world.
But rather, one of the reasons they do so well is their ease and transparency. Not only can you find casinos with Skrill in the hundreds, but they make it easy and hassle free for you to deposit and withdraw online and on your phone and tablets.
Best of all, whilst so many digital e-wallets you have to learn the hard way about the cost of money transfers, not with these guys.
They give you the cost up front, with most transactions being free, and nothing ever costing you more than your local currency equivalent of €10.
Safe, easy and honest. What more could you want?
How to register for a free Skrill account
We love the word free right? In a world where everyone asks us for money, it's nice to get a free casino bonus, free payment transfers, and a free e-wallet account.
The sign up is free. You don't have to pay anything to set up this digital e-wallet online.
But you will need to sign up before you head to your nearest Skrill online casino to make a deposit.
It will take a couple of minutes to set up, so make sure you have that time, though it's easily done on your mobile phone or tablet if you have all the details.
Basically, first you have to provide your full name, password and some personal banking details.
Nothing that will allow them to access your bank, just to ensure that when you withdraw your funds from your e-wallet it goes into your bank account and your bank account only.
Once it's set up you'll be able to pay online at over 156,000 business globally. And probably a quarter of that number are casino sites.
Skrill 1 Tap mobile casinos
This, more than anything, made this popular casino payment provider the top dog in the industry.
Yes, the first time you deposit at a casino you will need to provide them with a unique username and password.
But then, you'll just be able to put the deposit amount and click once to do the transfer.
The Skrill 1 tap casino list isn't long, but it's worth it, as it makes it so much easier when playing mobile or tablet casino games.
When space is at a premium, and you don't want they keyboard getting in the way, nothing makes paying on the go easier than this.
Our top 1 tap casino is Betfred mobile casino. Why? Because they have the best IGT and Playtech games, as well as bingo, sports betting and everything else you can think of. (seriously, you can even bet on the lotto).
The Advantages and Disadvantages
As with all e-wallets and payment methods, there are some transaction fees. But it's minimal compared to most of the others out there.
You get an exact fee when you go to their website and choose from their hundreds of countries and currencies available, but generally the rules are:
Sending money costs 1% of the amount sent, but will never cost more than €10.
Paying at a shop, or transferring funds with any merchants is free (so depositing at a casino for example)
Receiving money is free too (so withdrawing from a casino)
Uploading money into your Skrill e-wallet account is free, but look out as some options come with a small fee. If you do a bank transfer it's free, but we recommend you don't use Paysafecard to fund your account. It's expensive.
Basically, it's all pretty much free, and you'll get a small charge when you transfer the money from your e-wallet back to your bank.
It's a small price to pay to ensure that no one ever gets your credit card details and you play casino safely and quickly.
The best Skrill casinos for Android and iOS mobiles and tablets
Above we've given you a list of all the casinos that accept Skrill payment method that you can also play on your Android or iOS device.
But you want to know who we think is the best of course.
Because you're a smart cookie looking for a great mobile casino, rather than just an averagely good one.
Thank-fully, as we mentioned before, you have plenty to choose from. Our top choices are:
Leo Vegas Casino – Play on an award winning mobile casino with over 800 casino games including blackjack, slots, live casino, sportsbook and more.
Vera &John Casino Get an exclusive 20 free spins no deposit plus 200% up to £€$100 bonus – T&Cs Apply
It wasn't an easy decision. There's plenty of great mobile casino sites with Skrill that we'd be more than happy to play. But those two are a great start.
Best Skrill Mobile Casinos