19 Ways Online Casinos Promote Responsible Gambling
November 10th, 2023
Online casinos are increasingly aware of the importance of responsible gambling and have implemented various measures to assist players in maintaining control over their mobile and online gambling activities.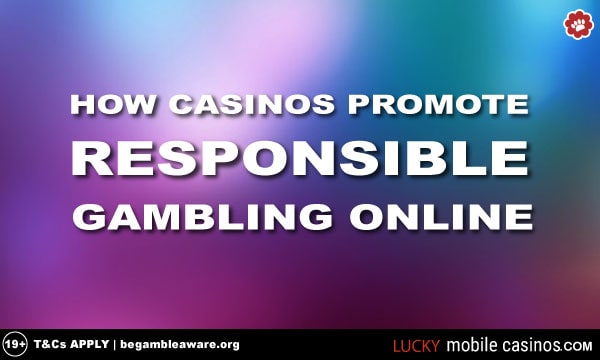 18+
Here is a list of how casinos can help you with responsible gambling online.
#1 Self-Exclusion Programs
Online casinos often provide self-exclusion programs that allow you to voluntarily exclude yourself from the casino for a specific duration. During this period, you cannot access your accounts or place bets. This gives you the breathing space you need to assess your situation or get help.
#2 Deposit Limits
You can set daily, weekly, or monthly deposit limits to control your spending. Once a limit is reached, you cannot deposit more money until the selected period ends, helping to keep you within your budget.
#3 Loss Limits
Some casinos offer loss limits. These allow you to cap the amount you can lose during a specified timeframe. This helps prevent chasing losses, which can see you betting more than you otherwise would.
#4 Reality Checks
Online casinos provide pop-up notifications that remind you of the time spent on the platform. These timely reminders encourage you to take breaks and assess your gaming sessions.
#5 Cooling-Off Periods
You can request a cooling-off period, during which you cannot access your accounts or place any real money bets. These periods can last from a few hours to several months, depending on the situation.
#6 Account History and Statements
You have access to your account history and statements, which helps provide a detailed overview of your transactions and gambling activities. Reviewing your gambling history and statements is a good way to see how much you are spending each month and can be combined with deposit limits to help you spend more than you should.
#7 Time-Outs
Some casino sites offer temporary time-out options, which allow you to suspend your casino account for a specified duration. This provides a short break without a full self-exclusion, meaning once the time out is over, you can come back and start gambling.
#8 Age Verification
In most countries, only players over 18 can gamble online. Online casinos implement strict age verification processes to prevent underage gambling, which means you must provide proof of age during registration to ensure that you are legally allowed to gamble at their casino site.
#9 Educational Resources
Casinos often provide information about responsible gambling, including tips for identifying signs of problem gambling and links to support organizations. Casinos like Mr Green have a Green Gaming Tool informing you about your gambling habits.
#10 Links to Support Services
Online casinos may feature links to responsible gambling organizations and helplines for players who need assistance. These are typically found towards the bottom of their websites with links to organizations like Gamblers Anonymous and GamCare.
#11 Collaboration with Responsible Gambling Organizations
Many online casinos partner with organizations dedicated to responsible gambling to ensure that they meet industry standards and provide effective tools and resources. These organizations can differ depending on which country you are in, so be sure to check out the casino website's help pages for more information.
#12 Exclusion from Marketing Communications
You can request exclusion from marketing communications from online casinos. Not receiving emails, text messages and other communication forms can help keep your mind off of gambling, helping to reduce the temptation to gamble.
#13 Account Closure
Online casinos allow you to close your accounts permanently if they believe it is in your best interest. This means you won't be able to gamble at that casino anymore or be able to sign up for a new account.
#14 Wagering and Time Limits in Games
Some casinos offer settings that allow you to set wagering and time limits within individual slots and casino games to prevent excessive betting. Keeping a check on how long you've been gambling and how much you've bet in that time can be a good reality check.
#15 Customer Support
Online casinos provide customer support to assist with responsible gambling inquiries and guide players to available resources. If you think you have a problem, then you can always reach out to the customer support staff at your favourite online casino to see how they can help you.
#16 Strict Advertising and Promotion Rules
Casinos are subject to strict advertising regulations that prevent them from using overly enticing or misleading promotions. You'll notice in many countries that there are terms and conditions text clearly stated where any casino bonuses are advertised, giving you details on what you can expect from this bonus, including any wagering requirements, minimum deposits and limitations.
#17 Financial Limits
Much like setting deposit limits and wagering limits, casinos encourage you to set limits on the amount of money they can afford to lose and remind them not to gamble with money they cannot afford to lose, which is often part of their affordability test on sign up in some cases. You'll be able to manage your online casino bankroll more efficiently helping you keep in control of your money.
#18 Responsible Gaming Features in Mobile Apps
Mobile casino apps typically include responsible gaming features, including the ability to put limits in place. This ensures that you can access these tools on the go when playing on your smartphone or tablet.
#19 Ongoing Training for Staff
We've already mentioned customer support, but casino staff members are often trained to identify and assist players who may be experiencing issues related to problem gambling, giving you advice and ways that can help you combat any problems.
Conclusion
Not all casinos are created equal, with each one giving you different levels of service and tools to help with problem gambling, which means you'll often want to do your due diligence before signing up to a casino site.
Look out for any mention of responsible gambling organizations or for any tools like Mr Green, Green Gaming Tool or LeoVegas LeoSafePlay, where you can find more information and resources on preventing gambling addiction.
By implementing these measures and promoting responsible gambling practices, online casinos aim to create a safer and more enjoyable gaming environment for all players.

Remember to play safe and always gamble responsibly.
You can make our day
Sign up to our free casino newsletter and you'll get all the latest mobile casino news and promotions. And if that's not enough you'll make us super happy at the same time.
Grand Mondial Casino Our Best Casino - December 2023
150 Spins on Mega Moolah slot for €$10 Deposit
Play For Real
18+ | New Players Only | Gamble Responsibly | Wagering & Full T&Cs Apply
T&Cs Apply