Slots Strategies & Tips
Get the most out of your real money bets
Can you beat slot machines?
Is there such a thing as an online slots strategy? Aren't all casino slots just games of chance, no skill involved? We answer these questions and give you a few potentially helpful tips that won't let you cheat at slots but will help you pick the best slots to play online and mobile.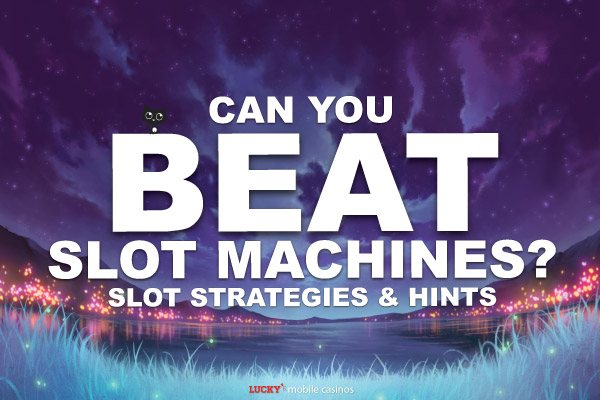 What makes playing slots online great is the fact that you don't have to think about it. Click and spin and voila! You either win big, win small or don't win at all, it's pretty much down to how Lady Luck feels on the day.
But there are ways to make your enjoyment last longer which is why we outline our top slot machine pointers and strategies here.
Knowing how to pick the right machine for you is key. Variance is particularly important to know how much to bet. Different machines will have different odds and whilst we cannot, of course, give you a breakdown of all the odds for every slot machine out there, we can give you a few tips of what to look out for and how to make your money and entertainment last.
Hints of what to look out for and how to make your money and entertainment last.
Part of this section should be 'know your slots variance'. But this is such an important part that we've created a whole special section just for it.
Stick to your casino budget
Before you even begin to play with real money decide what your budget is going to be for your game play session. €20, €50, €100 or even €2,000.
Pick what you can afford to play and do not assume you'll walk out with your bankroll. Think of it as entertainment money and paying for the pleasure of the gamble. Sometimes you'll be up, sometimes you'll be down.
Top Tip
Slots are all about luck, there is no certain outcome.
It's a slippery slope to trouble if you start spending more than your slots budget allows or you start to chase your losses.
If you win and decide to play that money too, that's fine. You are still sticking to your set budget and that's the first and best lesson you can learn as an online or mobile slots player.
Set your cash out goal
Next decide what is an acceptable win. If you manage to hit it… cashout. But if you don't hit it, don't be disappointed.
Seems like a simple enough plan, but not many slot players know when to walk away when they are ahead. It could very well be that you are happy to spend your winnings.
The point here is fun. Have fun and don't expect anything other than a night of entertainment. If you do win, cashout, celebrate and enjoy!
Don't know what goal to set? For low volatility slots, aim for about 25% of your deposit amount. If you hit it cashout. You can even go as high as 35% if you are feeling lucky that night or are playing on a machine that is closer to medium volatility.
Don't know your volatility from your left elbow?
Check out our section explaining slots volatility in more detail
For high volatility slots you can aim a little higher, but it might take you several sessions to get there. If you recoup your losses, then you are good, and if you hit anything above 3x your deposit, cash out now.
Ultimately, even if you do put your winnings back into the casino slot games, as long as you've had an evening of entertainment and got value for money, that's what counts!
Pick a mobile slot to suit your bankroll
There's no guarantee of how to win on slot machines every time, so when it comes to choosing casino games it doesn't take a genius to figure out that if you have €50 to play with, you'll play very differently and on different slot machines than someone who has €1,000 budget.
How much you can spend on a gambling slots session doesn't affect the enjoyment of the game, only the machine. Slot variance here is key (again), but more importantly, the minimum and maximum bet that a machine will allow.
If you have €20 to spend, then machines with lower amount of paylines and a penny a line bet will suit you best. If you have €5,000, you are looking for a slot machine where you can gamble €10, €20 or even €100 a spin.

Want to try a 0.10 bet slot machine?
Sign up to Leo Vegas casino for free, take a look around and give the Viking Runecraft slot a spin
Sign Me Up to Leo Vegas »
With a larger casino bankroll you can also afford to take the time to play on higher volatility slot machines like Viking Runecraft by Play'n GO or Zeus God Of Thunder by WMS, waiting for that big win or jackpot to pay out.
That's the great thing about mobile slot machines. There is such a huge amount of choice, that out there somewhere, you'll find one to suit your budget.
Want to narrow it down? Go to LuckyMobileSlots.com where we've got the largest selection of mobile slot reviews anywhere on the internet.
When should I use the max bet button?
The max bet button simply defaults to the maximum amount of coins you can bet per line. This is not the same as the maximum coin value.
To be clear, the coin value is whether you bet 0.1, 0.5 or 1 coin a line.
The maximum amount of coins is how many coins you can bet a line. So do you bet 1, 2, 3 or 5 coins of the value of 0.1, 0.5 or 1.
Whilst it may seem that betting one coin worth €1 is the same as betting 2 coins worth €0.50, but that's not true. It is usually best to go with betting 2 coins worth €0.50.
Why? Because usually a mobile slot machine offers the same payout for one, two and three coins. Your win is just multiplied by x1, x2 and x3.
So when should you bet max coins?
When you can afford it.
It's not always possible to bet max, especially with a slot with higher coin values or bigger paylines. But max bet means your winnings are often multiplied by a higher number than the amount of coins you've wagered.
Equally, jackpot slots tend to be triggered only when you've bet max.
It doesn't make a huge difference, but you do have marginally better odds when you bet max coins. If this is the casino slot strategy you are going for, make sure the coin value can match the budget you've set for yourself.
Of course the max bet button only works if you are also betting the maximum amount of lines. So if you're budget is not huge, find a mobile video slot that only has 9 paylines, with a penny a line and coin value of 5.
Your bet will only be 45 pennies a spin, but you'll be playing on maximum bet and maximising your chances of bigger wins.
Ignore the Hot or Cold Slot Machine Strategy
Not so much a casino slot strategy as a 'how not to', avoid betting on whether you think a slot machine is either hot or cold. Every instinct in your body will say otherwise, but we promise you, it doesn't work like that.
What is a cold slot machine? If a video slot hasn't paid out in a long time (cold machine), then it's going to burst. Any minute now. If I keep playing, and bet big now, it's going to payout big time.
What is a warm slot machine? The other side of the coin; a slot machine has just paid out big, it's 'hot', it's on a trend of paying out, I am going to keep playing, keep betting, because it's going to be my turn next to get this machines next big payout.
They can't both be right. In fact, they are both wrong.
Do not listen to those voices. They will be there; they will nag you, telling you to make just one, just one more real money bet. But ignore them.
Hot or Cold?
The hot/cold theory is a lie we tell ourselves to try and find patterns out of chaos.
Other than the stated payback (return to player rate) of the machine, there is no reason real money slots should be more "hot" or "cold" than any other.
A slot machine that has just paid out, or not paid out, has the same chance of paying out (or not) on your next spin. It's called a random number generator for a reason. It's random!
You can't tell if a machine will burst by looking at when was the last time it paid out. It's random for a reason – so the game is fair and so it's a game of pure chance and luck.
Know the odds & variance of your machine and bet accordingly
On that note of randomness, slot machines are made so that in their overall life span, the casino wins.
Shocking right?
Which slot machines pay the best? Is a common question we get asked time and time again and it's one that can be answered in terms of RTP and variance.
Some machines are made to pay out more than others and hence have a higher RTP. Some machines are made to get you lots of little wins but no big wins, low variance. Others give big wins, but no little wins and tend to be high variance.
The first one (how much it pays out) is about knowing the return to player rate of a machine. This is usually about 90% to 97%.
An example of a software provider with high payout rates is Net Entertainment. Their NetEnt games tend to have between 95% and 98% payout rate.

Take the Frankenstein slot for instance it has a theoretical return to player rate of 96.7%, its medium volatility and has a max win of 37,500. It's a game that will payout out relatively often but also give you the chance at some decent base game and bonus game wins. Take a look at it yourself at Mr Green casino.
The higher the percentage, the greater your chances of the machine paying out. Some mobile slot machines tell you this information straight out. Watch out for it in the paytable, usually at the end or last page of the how to play information.
How much and how frequently a slot machine pays out depends on the variance or the volatility of the slot. (This can sometimes also be called 'hit rate').
Difference between high and low variance slots
The higher the variance, the higher the risk, but the higher the payout. Where as the lower the variance, the lower the risk, but the lower the payouts.
This little fact is far more difficult to find. When we have this information we write about it on all the slots we rate on LuckyMobileSlots.com.
Generally we advise you to start with small bets and see how the machine reacts to your bets. Does it pay out often but not a lot? Is it taking its sweet time giving you cash, but when it does, more than make up for it?
Start small and when you are comfortable with how it pays, increase your bet.
Not satisfied with this explanation of slot variance? Good. Because we have a whole load more to say about it and how to tailor your game play according to how often a mobile slot pays out.
Next up: Slots Odds, Variance & Volatility »
Slots Mobile Casinos
List of all the mobile casinos where you can play mobile Slots online