Slot Odds, Variance And Volatility
The house edge, RTP and the risk
Slots Odds, House Edge & RTP
The odds of you winning on a slot are usually represented in a machine by what casino game software developers like to call 'The return to player rate'; otherwise known as the RTP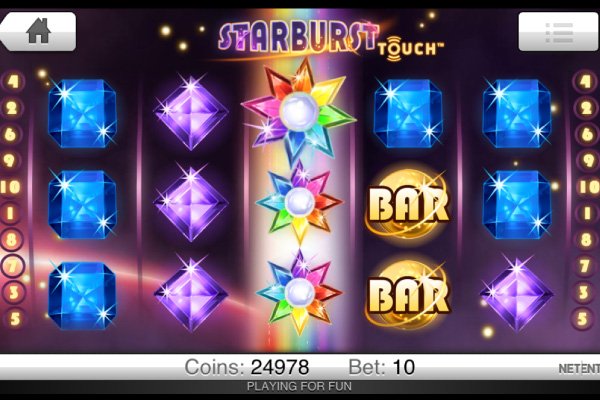 You'll see something like this: Expected RTP 95%.
Another way of looking at it, and what you'll read in other places, is: House Edge 5%.
What they are basically saying is the same thing but in reverse. In one you are specifying how much a video slot machine is expected to give back to the players, on the other you are saying how much of the money the machine gives back to the mobile casinos online.
We prefer to talk about RTP because it's what is clearly marked out on the online mobile slots we've played. So it avoids confusion when you see it.
You can think of it like this: for every 1 coin (Dollar, GBP, Euro) you put into the machine, the slot machine is going to give out 95 cents/pennies back to the player.
The RTP is calculated over the entire lifetime of the slot machine over millions of spins.
Of course if it was as simple as that, it wouldn't really be gambling, it would be paying 5 cents for a spin. That's because the RTP is calculated over the entire lifetime of the slot machine over millions of spins. It works on averages. When you win €1.90, you are getting not just your 95 cents, but the 95 cents from another player who didn't win on their spin.
It simply means that all in all, over time, the machine is going to give out to the casino 5 cents for every coin put it. Sometimes the machine will pay out huge amounts and the casino will be down, but it will average out in the long run.
Look for machines with high return to player rate.
So on this basis, it doesn't take a genius to figure out that you should head for the slot machines with the higher return to player rate.
Generally, anything over 95% is great, 96% and 97% is even better. Less than 90% and you should generally avoid. Those machines are so tight they ask their mothers to pay for a drink of tap water in their own homes.
A good return to player rate (RTP) is anything over 95%. The higher the better.
Higher payout rates don't always mean better however. Variance plays a very important factor in how often the machine will pay out.
A machine with 97% payout rate, but low variance, will give you tiny little wins often. A machine with 94% RTP rate but high variance will take patience, but you can win hundreds of thousands for your troubles.
LuckyMobileSlots.com has over 1000 reviews of all the mobile slots and gives out variance and payout information. Mobile Slots Reviews »
You need to do your research. LuckyMobileSlots.com is the best place to find all the information on all the mobile slots machines new and old and what you can expect from each.
Generally, the higher the payout, the better. It's a great starting slot strategy.
What is Slot Variance? What is Slot Volatility?
Variance and volatility are one and the same thing. Two terms one meaning; how risky is this slot machine?
Basically the volatility of a slot is directly related to how often and how much it pays out. Another way of looking at it is that volatility = risk. High volatility means high risk, low volatility means low risk.
Not many casino slot game providers like to publish this information. Sometimes it's obvious and sometimes it's not. But depending on the type of player, you might be more or less attracted to one type of slot machine over the other.
There is no right or wrong answer; different players will enjoy different types of mobile slots. You might even find a new favourite game and it might be a variance you had not expected.
Most of the time, you just have to spin to find out if this slot machine is the one for you, is it entertaining and is it fun to play?
When should I play low variance slots?
Low variance is all about entertainment. This slot game will pop, sizzle, spark. It will give you lots of little wins, and often. What it won't do is give you a big life changing win at 400x your bet.
Great lower variance slots?
Foxin Wins, Starburst, Mermaids Millions.Find them all at:
You should play low variance slots when:
You just want to be entertained
You don't have a large bankroll
You want your game play to last for as long as possible
You want to try and walk away from the mobile casino on the positive rather than negative
You want lots of actions, bonus features and everything coming at you at once! Entertain me slot!
Of course low variance slots don't always pay out small, some have even the chance to win progressive jackpots or as much as 80 or 100 times your original bet. But a low variance slot is low risk for a reason. It's there to help you make your budget last as long as possible and possibly even walk away with a little 20% extra on top.
For beginners and those who just want entertainment, we recommend low variance mobile slots.
When should I play high variance slots?
High variance slots are all about that great big win in the sky. You know. That moment when you see those 5 in a row line up and you hit a multiplier, on a free spin round, with a random instant prize bonus game and suddenly you see the big letters… BIG WIN… flash before your eyes.
But uninitiated players beware; these slots are high risk for a reason.
Great higher variance slots?
Treasures of Troy, Dead or Alive, 300 Sheilds, Gonzo's Quest.Find them all at:
You should play high variance slots when:
You have the cash to spare
You are chasing huge wins and nothing but 500x your bet will satisfy you
You don't mind walking away once you've spent your budget
You don't mind not getting a lot of action and are happy to wait for the bonus features to hit, safe in the knowledge that when those winning combinations show up… you'll be one happy mother clucker. (Yes we changed that word on purpose. This may be an over 18 website but we have manners.)
There is no doubt that if you are not willing to be in for the long haul with high variance games, you'll walk out with less than you come in.
The only possibly winning strategy when playing high volatility games is to check your budget and figure how much you would need to spend for about 150 to 300 spins. If your budget allows that, then you have a chance to walk out a happy gambler, or at least, not a poorer one.
How Can I tell the variance or volatility of a slot?
With great difficulty.
Unless we are told by the casino game software (and which we put on LuckyMobileSlots.com) the only way to really get a feel for the variance of the video slot is to play.
If however, this answer doesn't satisfy you, there is another 'indicator' or 'hint' that you can use to 'guestimate' the variance of a slot.
When in doubt
Free play the mobile slot first and get a feel for it before you play with real money.
But just in case you hold us accountable, '', means that this mantra is not set in stone, it is just a guideline. A lot depends on how many symbols, reels, in-game or progressive jackpots and paylines you have in the slot machine.
Check out the paytable
First things first. If the slot has something like 'win a million trillion coins!!' written on it, chances are it's at least medium to high volatility.
The higher the maximum win, the more chance this slot will take it's sweet time giving it to you in the base game or bonus games.
Secondly, look at the difference between what you will win when you get 4 of a kind in comparison to 5 of a kind symbol wins.
If the difference is only about 3x to 5x more, you are probably looking at a lower volatility slot like Starburst. If, however, the difference is more 10 or 15 times than the 4 of a kind win, then you might be looking at a high variance slot like WMS Raging Rhino.
What Next? Comfortable with how to manage the risks, bet within your budget and the types of slots available? Do you think you'll be able to recognise the bonus features and styles of slots? Then it's time to find a mobile casino to play at. Check out our list below of mobile casinos that offer video and classic mobile slot to play on your mobile.
Slots Mobile Casinos
List of all the mobile casinos where you can play mobile Slots online