Slots Bonus Features Explained
Get to know the bonus games and features
Online slots bonus features, the ins and outs
In classic slots, the features are pretty slim. You might get a wild, you might get a bonus game. With video slots however, the possibility for features are endless.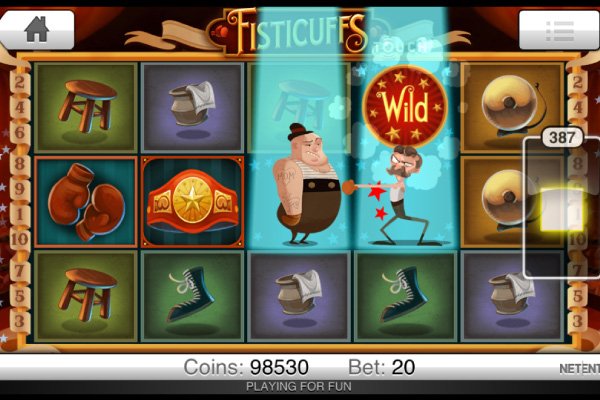 Classic slot features are simple, but for some, not as exciting. For others a bonus heavy slot machine takes away from the joy of the simplicity of the spin. Your mood will change according to what you like, so you just need to search for the slots that have the features you love most.
There are some slot bonus features you should understand if you are going to play some of the more 'complicated' casino slot games. And we mean 'complicated' in a very broad way, because, ultimately the online slot machines do all the hard work for you.
You still just spin and hope. The difference is that depending on the bonus features some slot machine games can either eat away at your budget, or keep it more or less steady.
What Is Slot Variance?
Slot variance and volatility can determine how often and how much you win. Find out more in our 'Slots Variance' section.
There are many different online casino bonus features that are very specific to different games. We couldn't list them all if we tried.
But here are the ones you'll come across most often, so you can start recognising the terms.
Scatter Symbols
There are, basically, three different ways to make the most of Scatters:
The traditional scatter: The 'scatter' symbols basically pay out no matter where they are on the reels. So if you see two, three, four or five of the scatter symbols, anywhere on the reels, you'll get a win.
Scatter as a multiplier: Different slot machines will act differently but, generally, two scatters on the screen will double your wins on that particular spin, three quadruple it and four scatters give you nine times the original payout.
Scatter to trigger bonus features: In many casino slot games, if you get 3 or more scatters, they will be used to trigger a bonus feature (like free spins) or a bonus game (like a click me or pick me feature).
You will have to read the paytable slot rules of the individual slot you are playing to determine the effect the scatters have on that particular slot game.
Wilds and Special Wilds
A wild symbol is your joker of the slot world. It can replace or substitute all other reel symbols to create more winning combinations.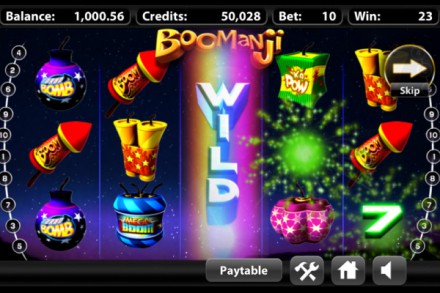 They usually do not substitute bonus or scatter symbols however, but that's also dependent on the type of machine you are playing. They can show up in anything from progressive jackpots to fruit machines and even some more modern classic slots like Elk Studios Route 777 game.
They also can be very profitable on their own as creating winning combinations using wilds can lead to multiplying your original bet and usually they are high value wins if you get 3 or more wilds on an active pay line.
In some special case you'll see special wilds to look out for that can make the mobile slot all the more exciting:
Expanded wilds: This is where the wild expands to cover the entire reel. If the wild symbol falls within the reel, and it can create a winning combination, it will expand and become 3 symbols. This is usually very profitable (see image above for example).
Random wilds: This can either be triggered by a symbol falling on a certain place in a reel or it can genuinely be 'random'. At this point you'll get extra wild symbols dotted anywhere on the screen, giving you more chances of creating winning combinations. A good example of this is the South Park mobile slot that you can find at Vera & John mobile casino.
More than one symbol is wild: This is a little more complicated, but follows on a little from the one above. Some triggering factor (you get three wins in a row, two symbols fall in the right place ot during the free spins round), you can turn other symbols into extra wilds.
The most famous 'wild' slot? NetEnt's Starburst
Get 10 free spins on sign up at Royal Panda casino
Mobile Slots Bonus Games
More and more, as online and mobile slots advance in technology and capability, they are integrating more complicated and intricate mini bonus games within the casino slots themselves.
Some people hate it. They think it takes away from the simplicity of the game. Others love it and think it makes the video slots more interesting and entertaining. It's a personal choice.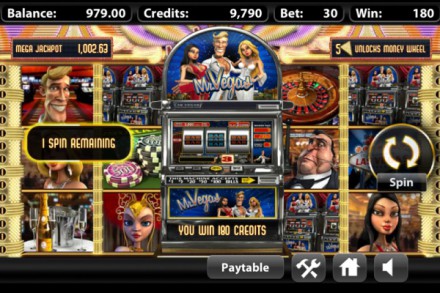 We like interesting features, we think it adds depth and excitement to a mobile slot. Plus generally, mini bonus games tend to pay out more than on the 'base game'.
Usually these are triggered by symbols hitting the right combination. It can be three scatters, three bonus symbols or a symbol falling on the center line of reel three.
Generally these bonus games take you away from the main game to another screen, where you have to 'click' to reveal prizes like in IGT Sherlock Holmes The Hunt for Blackwood slot. Or navigate a character through obstacles like in Play'n GO's Enchanted Crystals, or even a mini casino game like poker, bingo or blackjack.
It's never usually very complicated and can add to the fun.
Free Spins Bonus Rounds
Usually triggered by a bonus symbol or 3 or more scatters. Get the right combination and you'll be given a number of free spins on the machine, absolutely free, without having to pay extra.
This is by far our favourite bonus feature. You get to play for free, and win, without taking any risks. Who doesn't love a freebie? Plus, play on the right free spin mobile slot and it can make the world of difference to your bankroll.
Best free spin slots in our opinion? Thunderstruck & Thunderstruck II.
These Microgaming games have huge potential for creating bigger win combinations thanks to their free spin rounds.
Best of all, to make things more exciting, many mobile slot machines will make the free spins 'richer' in some way. So more wild symbols, or double your wins, or random multipliers.
Fun, simple, and at the heart of what makes many people play for real money. One of the best features in our opinion.
Collapsing Reels
This has become such a popular feature in the last few years that we felt we had to add them in. Sometimes also known as 'tumbling' reels or 'cascading' reels, the idea is the same.
Play Gonzo's Quest at Videoslots
Try out Collapsing Reels in the NetEnt Gonzo's Quest slot at Videoslots casino. Play the free online slot or sign up and play with real money.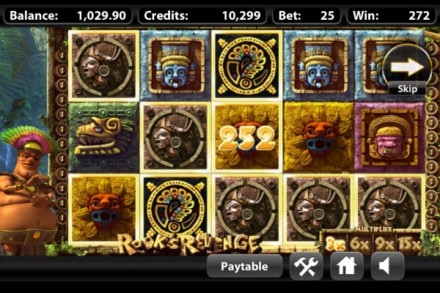 After a win, the winning symbols disappear and the other symbols 'tumble' or 'collapse' down, with more symbols coming down from the top. An example slots you can see this in would be Gonzo's Quest by NetEnt or Rook's Revenge by BetSoft.
This is a little like a mini free round. It doesn't cost you anything when the reels collapse and you get an extra chance to create more winning combinations.
It's a great feature to be on the lookout for.
Personally we are alway on the lookout for great bonus features: the more unusual the better. But bonus features are not enough, you'll need to get some solid strategies on how to make playing slots on your mobile less risky.
Next up: Mobile Slots Strategies & Tips
Slots Mobile Casinos
List of all the mobile casinos where you can play mobile Slots online