Types Of Video Poker Games & Rules
Rules & How to Play Mobile Video Poker
By now you've hopefully read or know all about the basics of how to play video poker online. This section is devoted specifically to the different types of video poker you can play on your mobile phone and the specific differences in the rules of the game.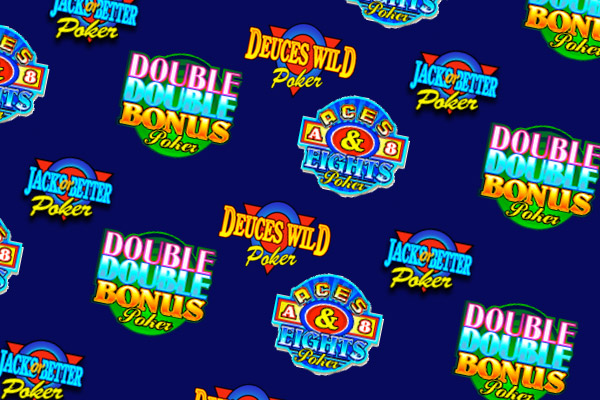 When we first started playing, we struggled a little with understanding what the difference was between Deuce Wild and Aces & Faces and Double Double blah blah….
The different versions of poker all looked the same, the basic poker hands were present… so what the freak is the difference between a Double Bonus and a Double Double Bonus game?
Our frustration in trying to find anyone who could give us a simple answer lead to this list of poker types.
Currently these are all the different types of mobile video poker available. If more become available we will add them to this list.
Different types of Video Poker for mobile
As you'll glance down you may notice that there are some glaringly obvious video poker machines missing. So no all American, no 10s or better, no 100 hands. Still the selection is growing and the games currently available are very good.
---
Jacks or Better Video Poker Rules
This is the original and easily our favourite.
Why? Because if you pick the right game, with the right paytable and the right strategy, you can expect at least 99% return on this machine. Also, it's by far the simplest machine and you can get decent returns even with a basic strategy.
This is the machine we always recommend complete beginners to get started with. Mostly because most of the other machines are simply a variation of the Jacks or Better game.
The main thing you need to remember is that you are trying to create a poker hand that is stronger than a pair of Jacks.
If you know the basic rules of video poker, you know how to play Jack's or Better.
---
Bonus Video Poker Rules
The explanation for this type of game was so simple we slapped our forehead when we asked the questions 'what is bonus video poker?'
All this means is that this Jack's or Better machine will give you a 'bonus' payout for extra hands. A typical example is simply a larger payout for four aces, or four twos.
To compensate, these usually come with smaller rewards for the smaller value hands with a pot limit.
---
Double Bonus Video Poker Rules
So you've read the bonus rules? The double bonus video poker rules are basically the same, except the paytable will place an even higher value on those 'special hands'.
Special hands can include 4 aces, four of a kind with a King as the five card etc…
Again, the paytable will decide if the machine is worth playing as you have to be careful to read the paytable properly in order to pick the right machine.
---
Double Double Bonus Video Poker
Bet you are starting to see a pattern here hey? Except Double Double Bonus video poker is slightly more intricate, with more possible combinations and higher payouts for those specific combinations.
These usually include the likes of four aces with a two, three or four as the extra fifth card, three or four of a kind with an Ace as one of the extra cards etc…
That's all the bonus mobile video poker we promise. If anyone creates a double double double bonus bonus bonus game we will be the first to complain.
---
Joker Wild Video Poker Rules
This game has 53 cards rather than the standard 52 card deck. The extra card is that wild joker which can be used to replace any card to create any winning combination.
These usually have a secondary winning amount for a royal flush using joker, which will be less than a 'natural royal flush'; i.e one without the wild.
Because of the extra card, the starting winning hand tends to be either a very high pair (Kings or Aces) or two pairs.
---
Deuce Wild Video Poker Rules
Jacks or Better video poker with 52 card deck, but the 2s (deuce) are wild or joker cards. How does this affect the game? Well, it's better than joker poker variants as there are only 52 rather than 53 cards, so the odds are better, and you get a potential 4 wild cards, rather than just the one.
But as the twos can now be used to create more winning hands, three of a kind and not a pair is the smallest paying hand, changing the odds dramatically, but with a good strategy can give you over 100% returns overall. A machine for the intermediate player.
---
Bonus Deuce Wild Video Poker Rules
Remember what we said about bonus video poker? And about deuce wild video poker? Yes…? Now combine it.
This type of machine will have additional bonus payout for a high hand (five of a kind with aces for example) AND have 'twos' (deuce) as wild cards.
---
Aces and Eights Video Poker Rules
Back to the more basic games, these machines are a little like the bonus machine, but have a more generic special payout.
You'll get extra cash for getting four of a kind with aces, four of a kind with eights and four of a kind with sevens. Why sevens? Because calling it Aces, Eights and Sevens would have been sillier than double double bonus.
---
Aces and Faces Video Poker
This game is far more accurately named, with rewards granted for four aces or face cards (king, queen, jack). An Aces and Faces machine is one of the few instances where you'll get more for hitting four aces than you will a straight flush.
This is a hard game to play, better left for when you've mastered the basic strategies as you may be tempted to keep more Aces up your sleeve than you should.
---
It's all about casino style video poker
It won't surprise you to hear that picking the right machine is 99% of the skill. The other 1% is learning some basic strategies so you don't fall into the 'look! An ace! Let's keep it! It's so pretty and high!'
Maybe, but it's not usually the best card.
You've got several options at your disposal and getting a basic strategy to ensure you play the odds is the second step. The second? Yeap. Finding the best video poker game with decent payouts is the first.
Video Poker Mobile Casinos
List of all the mobile casinos where you can play mobile Video Poker online