Online & Mobile Video Poker Pointers & Tricks
Finding a way to beat the odds
You can have the best video poker strategy in the world and know every paytable by heart, but you can still make mistakes to ruin your chances of winnings.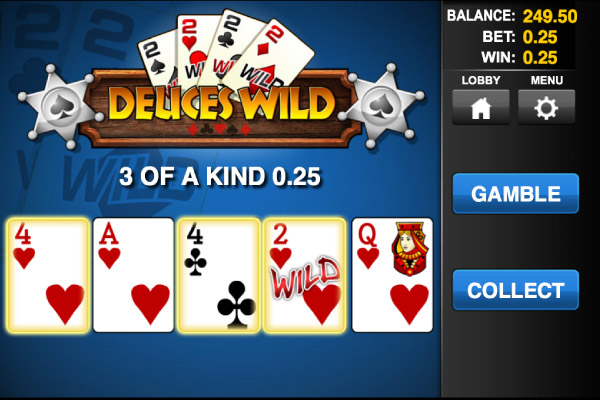 So why make the same mistake we've done in the past when you can learn from others? Here are still some little words of wisdom we can pass on.
Our top pointers and tricks for video poker
When playing Deuces Wild and you get two pairs without a deuce, keep a single pair instead. You have a higher chance of getting a three of a kind or higher, than you do of getting a full house. Two pairs won't give you a winning hand, so no point keeping.
Always bet the maximum amount of coins. We know we've mentioned this before, but we need to mention it again. Lower the coin denomination to fit your budget rather than decrease the number of coins as on five coins you get a higher chance of bigger payouts.
Never chase your losses. Set your budget, play it, and if you don't win, walk away and come back another day.
There is no such thing as a "loose" or "tight" video poker game. The games are fair and random, meaning there is as much chance of hitting two straights in a row as two pairs in a row or one royal flush and then a straight. It's random for a reason.
Double up games are great fun, but risky. If you are after a big pay off and want a jackpot sized prize, they can be great to bring the thrill of the big win. If, however, you want to play for a nice long time and build your stack slow and steady, then don't use it. This is down to personal taste and personally, we've sat on both sides of the fence. Sometimes you've got the cash to burn and you just want to hit something significant, sometimes you are there for the entertainment and fun of the game and you don't want it to end.
Find a good paytable. We can't push this enough. If you want to learn no strategy, fine, but be sure you can recognise which paytables give you a decent chance of winning and which are just taking your cash for a joy ride.
The expected returns on a mobile video poker game are just that 'expected'. These are guidelines only and are dependent on how long you play. Imagine throwing a coin up in the air one thousand times. You'd expect to hit tails 500 times right? Well, you probably won't as these machines are calculated over millions of hands. So the more hands you play, the more skill comes into play and the higher your chance of return. This is why it's usually better to bet smaller, and be in the game for several hands, than to bet too big and only play 10 hands. Longevity is the key.
Some online machines do not automatically hold the best cards. Trust us from someone who threw away a straight flush as we are so used to automatic machines… if it doesn't say 'hold' on the card, tap it a couple of times until it does. No worse feeling in the world than clicking the draw button and screaming… nooooooooooooooo… !!
And on that note, don't always trust the automatic holds. Check your hand and your video poker strategy card to make sure those really are the best cards to keep.
Complete beginner and not sure which machine is best to start with? Jacks or Better is our advice. Most of the other machines are variations of this game and have more complicated strategies to get right.
Paytables giving you headache and can't do the math? Look at how much 1 coin is worth in the paytable; usually the numbers you are looking for are right there and you don't have to take a calculator to figure out how much 9 times or 6 times your bet is worth.
By now, you should have a pretty good idea of what and which machine to play. Well done! You are on your way to winning some video poker hands. Now for the question: where do I find the best mobile video poker machines online?
We're here to help.
Video Poker Mobile Casinos
List of all the mobile casinos where you can play mobile Video Poker online