Mobile Video Poker Guide
Find Out More About Playing Video Poker Online
Whether you are playing video poker games online, at the casino, or on your Android phone, the basics of the game stay the same; and so does the strategy.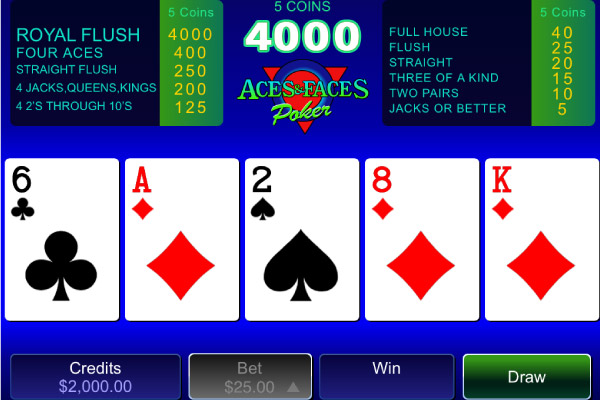 Except there is a whole load less written about online video poker for your mobile than there is about land based machines. This guide will take you through the similarities and the differences and help beginners get started on a casino game that has a whole load to offer the smart mobile casino players.
Why play online video poker?
Chances are you are either a mobile slot player who has started to look for alternative slot games or you're a poker player who has been attracted to what, at first glance, is essentially poker solitaire.
Neither of you are right, and neither of you are wrong. Video Poker is basically a skill based slot style game with better odds of winning.
Confused?
Our how to play video poker section should help
Find out more
A game of skill
You win at Video Poker by creating the best poker hand available with the cards you are dealt. You get two tries, the first draw in which you get to keep (or hold) the best cards and re-draw the rest. On the second draw, you'll soon see if you got a winning hand or not.
Which cards you keep and discard are essential in winning a game of video poker. That's the trick to a good video poker strategy: ensuring you always keep the best hand with the best odds.
A game of chance
However, unlike poker, there is no opponent to bluff, badger or read. You get your cards and that's it, the machine doesn't care about strategically placed sunglasses, hoodies or tell signs. This element of trying to create the best set of five in a row is why these are often referred to as video poker slots.
There is more skill, but still dependent on a random combination of 52 cards. Unfortunately, the difference between them is not often explained so beginners can get lost in the terms. If you don't know your Deuces Wild to your Double Bonus, read our types of mobile video poker machines.
Mobile Video Poker Screenshots
Mobile Video Poker Aces & Eights

Mobile Video Poker Deuces Wild

Mobile Video Poker Jacks or Better

Mobile Video Poker Double Double Bonus
Better odds of winning
A real video poker player will be able to tell the moment they open up the machine whether or not this game has good odds of winning. With online video poker it's all about the paytable, and this hasn't changed just because it's been moved to a mobile handheld device.
As a casino game, video poker can potentially have better returns to the player than even roulette or blackjack and certainly better than in slots. This is something we discuss at length in our paytable sections of this guide, allowing you to ensure you pick the machines with the best returns.
It sure ain't pretty
No it isn't. Video poker machines arrived at casinos around the world back in the 70's and the look and feel of most have not grown out of the era. Well, that's not technically true; you can now find a vast variety of online video poker games that look decent. But it's still very much a set of cards flipping over on a coloured piece of cloth. Hardly bells and whistles.
Mobile video poker is even more basic than the online machines (very few multihand poker currently available at the moment for example), but at least it's one of the few mobile casino games that will work regardless of the device or WiFi connection.
Android casinos, iPad casinos, iPhones… the simplicity of the games make it sit beautifully on any screen and it means most mobile casinos have a range for you to play. We've picked the best video poker casinos right here for you to look at.
Not quite ready yet? Still want to learn the basics? Get started and learn all about the rules of online video poker.
Next up: How to play video poker online »
Video Poker Mobile Casinos
List of all the mobile casinos where you can play mobile Video Poker online