How To Play Video Poker Online
Learn the hands and the rules
Like so many casino games onilne, playing video poker takes minutes to learn but a lifetime to master.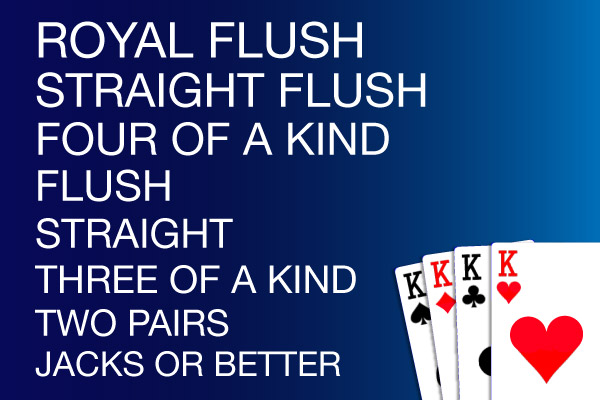 And by lifetime, we really mean a little while, maybe a couple of weeks, to get the strategy right. But that's in our next section. Here you'll learn how to play video poker machines at an online casino or via your mobile phone or tablet.
Let's start with some simple basics. We'll assume that you'll be playing these casino games on mobile casinos, so we will use 'touch' when referring to 'clicks', but it's quite similar either way.
The standard basic rules of video poker
On the top of the screen you'll see a paytable. Now you should be able to choose the number of coins you want to bet per hand; usually anything from 1 to 5 coins. You'll then be able to set the value of those coins to determine how much you want to bet in total.
Top video poker tip: Always bet the maximum amount of coins. Most machines will give you a bonus for the highest hand if you play five coins. It's better to have a lower value denomination than lower the amount of coins, but still bet the same amount.
So how do you play video poker exactly?
Choose your bet (as per above).
Press the 'deal' button.
The random number generator will pick out of a 52 card deck a combination of five cards. (Joker wild games will also have jokers cards, so 53 cards in total).
Here you'll get a choice to keep any of the cards on show. Most video poker slot machines will automatically keep any obviously good choices for you. You do not have to go with that. Simply touch the cards to select those you want to hold and touch again to deselect.
On the next draw the game will replace the cards you didn't hold and give you new randomly chosen cards.
If you manage to make a successful combination as per the paytable, you'll be paid instantly into your casino account.
I'm not so good with poker hands
You don't have to be a poker pro to be able to play this game, but knowledge of the best poker hands is essential.
Thank-fully, we've got a little explanation for each of the hands. Because we're nice like that.
Royal Straight Flush – A, K, Q, J, 10 in the same suit
What you'll probably see on a video poker game is 'Royal Flush', but it's the same thing. This is the jackpot amount. If you win this, walk away satisfied.
Straight Flush – Cards in order and in the same suit
This is any combination outside of the royal straight flush; could be 2, 3, 4, 5, 6. Could be 6, 7, 8, 9, 10. Could even be the frustratingly close to a royal straight flush: K, Q, J, 10, 9. But it has to be of the same suit otherwise it's a simple straight.
Four of a Kind – four of the same numerical value
Pretty much says it all: 4 aces, 4 kings, 4 twos… it's self-explanatory.
Full House – A pair and a three of a kind
Using all five cards you need to create one pair and one set of three of a kind of the same numerical value. So two kings and three sevens, or two fives and three jacks, for example. Any combination of card value goes.
Flush – All cards of the same suit
These do not need to be in any kind of order, simply all of the same suit: diamonds, clubs, hearts or spades.
Straight – Cards in order, but different suits
Easier to get than the Straight flush, the straight is five cards in numerical order, but can be any suit of any kind. So 2 of spades, 3 of hearts, 4 of clubs, 5 of spades and 6 of diamonds. What's important is the number on the card, not the suit.
Three of a Kind – three of the same numerical value
Like four of a kind, but one less. No need for explanations here.
Two pair – Two sets of the same numerical value
It can be any two pairs for any possible set throughout the pack. Two two's and two three's, or two aces and two kings. Both are worth the same.
Pair – One set of the same numerical value
The one you're most likely to be familiar with, most classic video poker games only allow pairs of jacks or higher as a paying pair.
Does the value of the cards matter?
Except when it comes to the pair, where as we mentioned, jacks or higher are the only pairs the game will allow you to win, then no.
Remember: Ace is always high and 2 is always low.
As you're not playing against anyone, games of video poker are not interested if you get three of a kind with fours or kings. Just the simple fact that you got a three of a kind is good enough to win you a prize.
Some bonus video poker games will reward you for certain types of 'additional combinations', such as Aces and Faces will reward you extra for four of a kind with aces.
Others may come with a 'kicker'. These are bonus cards that if you manage to make a four of a kind with, you get bonus cash. However, when it comes to odds, it is usually best to play for the hands above and pat yourself in the back if the 'kicker' shows up, rather than aim for it.
This is why so many slot players, once they learn how to play video poker slots, never look back. It's the same simplicity of slots, but with a little added skill and control.
What's the best way to learn to play video poker? Get playing!
Now, we are not saying you should get betting real money straight away, but start playing on free video poker games to start getting use to the cards, the values and how it works. You'll soon see how easy it is to play, especially on your iPad, iPhone, tablet, or Android mobile phone.
Want to play free video poker?
Check out our list of the best mobile casinos that offer free video poker
Video Poker Casinos »
Free mobile video poker machines allow you to play on a 'demo' version so you double check whether your device is compatible, and if you've never played before, the controls.
Now that you've got your head around the basic rules and controls, it's time to read about the different types of casino video poker games available. It's a big poker world out there.
Next up: Types of video poker games »
Video Poker Mobile Casinos
List of all the mobile casinos where you can play mobile Video Poker online