Elk Studios Casinos 2023
A small yet popular selection of slots await you at the best Elk Studios casinos online and mobile. With great graphics, themes and slot strategies, games like Hong Kong Tower, Poltava and Kaiju will surprise you in what they can offer compared to bigger software studios.
Why Play At Elk Studios Mobile Casinos?
Elk Studios motto has always been 'mobile first'. But since they started in 2013, that has translated into slot games that stand out, on any screen and any device.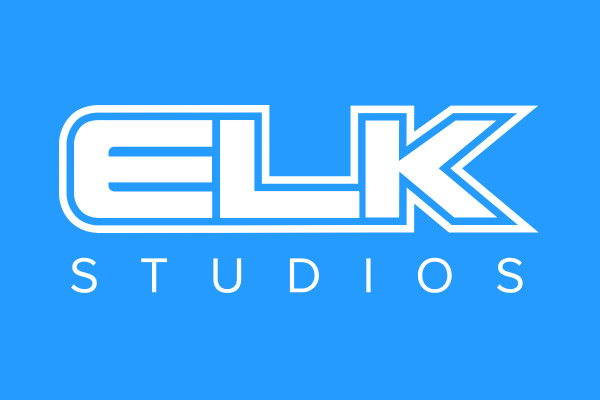 And whilst their selection of video slots and casino games might not be as wide and variety as giants like William Interactive or Greentube Novomatic slots, that doesn't stop them from having a bit of a following.
This is mostly thanks to the fact that they load fast on phone and tablet, don't use up your battery as quickly, look fantastic and stand out from the pack.
Whether by giving you a crazy theme that defies expectations, or bonus features you don't think will work, but somehow do, they generally always manage to surprise.
Why should I play Elk slots on mobile?
Elk Studios are not a big casino software creator. They are probably smaller even than the likes of Yggdrasil Gaming, or maybe even Thunderkick studios.
Best Elk Casino?
Try Elk Slots at Guts mobile casino, and get your winnings out in under 2 hours
Play at Guts »T&Cs Apply
Why do we mention those? Because they all have one thing in common; they are all based out of Stockholm and come from a long tradition of trying to stand out against the much bigger studios.
1. Themes that aren't always obvious
The first obvious thing you'll notice is that their casino slot themes are different from your standard Egyptian and Lucky Irish copies.
Elk Studios are firmly rooted in their Scandinavia roots, enjoying making us think a little outside the box when it comes to their slot machines.
For example, did you know that their Poltava slot is based on the great Northern War of 1709 between Sweden and Russia?
Neither did we. And you don't have to know this to enjoy what looks like a great revolutionary slot that brings you into the heat of the battle. 2. Elk slots like to stand out
One way or another, the Elk slots like to stand out.
Sometimes, it works. Like how you get crazy trolls living in an electric neon forest in Electric Sam full of strange wilds.
Sometimes it doesn't; the weird little characters in bloopers just remind you that Hollywood isn't actually that glamorous, and the wins reflect that.
But you know what? At least they are never boring.
3. The mechanics of the Elk games aren't incidental
With many casino slot games online, you can't help but feel like someone said 'we want this feature' and then it was up to some unfortunate soul to come up with a good idea.
With Elk slots, you feel like there is a symbiosis between the maths and the theme.
Like how in the fantastic Taco Brothers game, you get a free spin round where the wilds are 'running' across the screen as each of the three brothers tries to escape with as much loot as possible.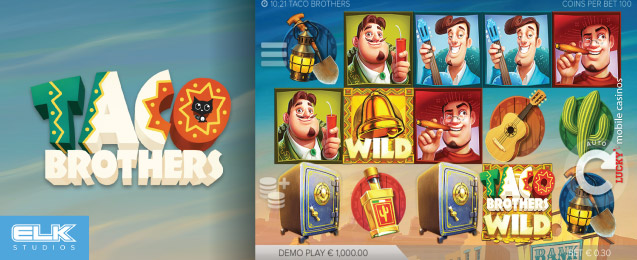 It's still a familiar 243 ways to win slot, with free spins and walking wilds, but the features help build a story around the slot.
It's almost like the creative team and the math team talk and create a slot together. Crazy concept, hey?
4. They work beautifully on all devices (but especially mobile)
The thing about Elk slot machines is that whilst they have a 'mobile first' approach, that doesn't mean they sacrifice the experience you'd get playing at gambling sites online.
It just means they create the slots first with a smaller device in mind, concentrating on making them work beautifully for Android phones, tablets, iPhones, iPads and Windows devices.
That means, for one, ensuring the games don't kill your battery in a couple of spins or crash halfway through a big win.
However, the graphics and sounds aren't simplified to achieve this.
If anything, some games like Hong Kong Tower could rival any Play'n GO phone slot, and are generally prettier than anything NextGen studios can bring out online.
What are the cons to Elk casino games?
Well, calling them 'casino games' for one.
Namely, because Elk Studios (at the time of writing anyway) mostly focuses on slot machines.
Best Elk Slots
Wild Seas
Poltava
Hong Kong Tower
So if you were hoping for a little variety in your online blackjack table games, or perhaps a few new Video Poker machines, you are fresh out of luck.
Elk mobile slots are mostly what you will get, and even that isn't a huge selection.
Elk studios are still growing, but not very quickly
At most, you get a new game every couple of months. Mainly because they still need to get the resources of Microgaming or NetEnt to bring out a copy every month.
Instead, much like the smaller indy game studios that they are, they craft each slot carefully, but slowly.
So if you love one, you might have to stick to it till you happily notice the next release, which brings us to…
Sometimes, you don't notice the new Elk slots
How many casino game software providers are there out there right now?
Videoslots casino had 50+ as part of their portfolio, and most of those are probably even smaller or less worthy of note than Elk studio slots.
But amongst all that noise, trying to make a fanfare about a new Elk gambling game is generally not a top priority for mobile online casinos.
Especially not when small software is being bought by bigger ones. Like how Quickspin is now owned by Playtech, and Bally Tech is part of the Scientific Games group that also owns WMS slots.
But Elk Games have one big ace up their sleeve…
We have four good reasons why Elk Studios casinos are worth at least investigating further, even if it means having to search for their top slot games hidden amongst thousands of others.
But there's one final reason we saved for last because, mostly, it's for those of you with a bit more gaming experience.
In-built slot betting gaming strategies
Once you've played on slot machines for a while, you'll find yourself doing one of two things:
Look for more complicated slot games with unique features
Try new betting strategies on their favourite slots
The second one is particularly difficult because, honestly, there are no fail-safe slot betting strategies that guarantee wins.
The most you can hope for is to try and limit the amount you lose whilst getting your one lucky win on your bigger-than-average bet size.
Elk online slots make it even easier to do that. You don't even have to think about it.
Choose from 4 different slot strategies
They are the same in each slot, so you can only assume one will work for some. Which of the below is the best strategy will depend on the volatility of the slot machine, but that's why this is best for those who are looking for more advance slot play.
Jumper: Bet level will increase after every win, until reaching 4 levels above starting level. Bet level will be reset on a loss.
Leveller: Bet level will increase 2 steps after 5 consecutive losing spins. After another 5 loosing rounds the bet level will increase 2 more steps. Bet level will be reset after a win.
Booster: Bet level will increase one step after every losing spins, until reaching 4 levels above starting level. Bet level will be reset after a win.
Optimizer: The bet level changes automatically, adapting to the selected percentage of your balance – ie. you are always betting 1% of your overall pot, or 5%, or 10% etc… Changing automatically if the pot increases or decreases.
Personally, we find the Optimizer the most useful, allowing us to bet more or less aggressively, depending on how we feel and which slot takes our fancy.
It's also the easiest the get started on if you've never played on an Elk phone slot before.
The Best Elk Casinos and Elk Slots
The best Elk casinos are the ones that probably don't have 50+ software and have a great search function. Casumo casino are a great choice, namely because you can simply type 'Elk Studios' in their search bar, and all the Elk video slots will magically appear on your screen.
Those of you who aren't in Europe will have to go searching somewhere like in Leo Vegas casino who, for example, provide a great Canadian casino bonus of 22 free spins no deposit with up to $1,000 in bonuses.
Our top 5 best Elk slot games for mobile
However, if we absolutely had to make a top list, these are the games you should start with:
Hidden: 178 ways to win with 2 free spin features
The Lab: For Starburst fans looking for something a little different
Taco Brothers: A crazy theme with crazy walking wilds
Poltava: Off to war we go with a game that holds the biggest wins
Sam on The Beach: The follow-up to Electric Sam, with bigger, better gameplay
You can find them all, and more, at any of our great Elk mobile casinos below.