How To Play Live Free Bet Blackjack From Evolution Gaming
March 10th, 2020
We all love the feeling of getting a free seat at the blackjack table in the casino.
Now, there's no more need to wait around thanks to Evolution Blackjack – the highly scalable online blackjack game that allows any registered player to join in!
If you've ever wondered how this Evolution Gaming live casino game works, we break down everything you need to know to get started.
What is Free Bet Blackjack?
Built on the success of the unlimited seats Infinite Blackjack game from Evolution, Free Bet Blackjack goes one step further.
It's a live blackjack game that features real dealers dealing to an unlimited number of players. How does this work without robots, you ask? Simple – one single hand is dealt to all players.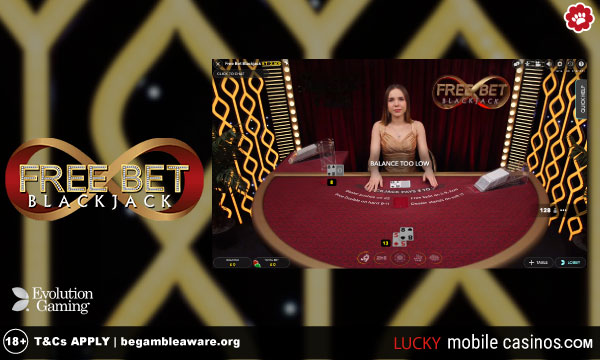 So where exactly does the 'free' part come in?
Of course, like any online casino game, you can't just walk away with a huge prize for free. The game still requires you to deposit funds and make a monetary bet.
The free comes from the options available to you. Essentially, what makes it stand out from regular blackjack is that you can play free double down bets and split bets.
If you don't know the rules of original Blackjack, nows the time to get familiar, but don't worry, we will give you a quick breakdown below.
Free Bet Blackjack tutorial – how do you play Free Bet Blackjack?
If you're struggling to know the difference between double down bets and split bets, read on. When you play blackjack, you play against the dealer.
The dealer will deal the player and him/herself two cards. Your objective is to get as close to 21 as possible without 'going bust' – being dealt a card that takes you over this value.
Get €$100 Bonus + DGame of GUTS Reward
Get your GUTS welcome bonus plus spin the wheel to get cash prizes, free spins and super spins.
#AD 18+ New customers only. Wagering and Full T&Cs apply.
If you start with a low hand, for example an eight and a three, you ask the dealer to 'hit' you – deal another card. If you're happy with your total, ask the dealer to 'stick'. The dealer then deals him/herself, but (generally) must have a minimum total of 17. If he/she is closer to 21 than you, the dealer wins and vice versa.
We give you a beginners guide to Blackjack here if you're just starting out.
Free double downs
Occasionally, you may be so confident you're going to beat the dealer, you'll want to 'double down' your bet. This gives you the chance to double your bet midway through play, even though you made a bet before the cards were dealt.
With Free Bet Blackjack, you can do this for free – i.e., a double bet costs the same as your original stake – in certain situations. If your hand adds up to nine, 10 or 11, you can double down for free.
The theory here is that you should always think a 10 is coming, as probabilistically there are more 10s in the pack. This could pay off as you've doubled your bet at no extra cost, but you need to be fairly experienced at using advanced Blackjack strategies.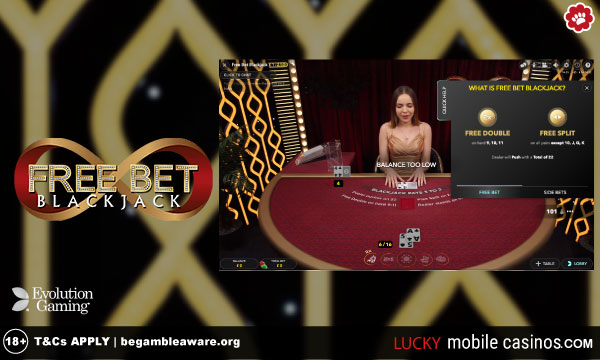 Free split bets
With a split bet, you take your two cards dealt and make them two separate hands. This may happen to people who get two aces, for example.
As these could equal 11 or one, they can make two separate hands and double your chances of winning (based on the '10 is next' principle above).
Free Bet Blackjack will allow you to make this bet for free, rather than paying again for a second hand. However, you cannot do it on 10s. Again, it could pay off with two winning hands!
Up to €$1200 Bonus + 200 Free Spins
Get up to €$1200 Bonus Money + 200 Free Spins at LeoVegas
#AD 18+ New customers only. Wagering on bonus and free spins winnings applies
Additional bets
Just when you thought it couldn't get any more exciting, Free Bet Blackjack also offers a number of side bets. You can bet on the following:
Any pair: this assumes you'll get a pair of any two of the same cards, numbers or suits.
21+3: this is when your hand, plus the first card from the dealer's hand, makes one of the following:

Flush: three of the same suit
Straight: three cards in sequence but not the same suit
Three of a kind: three of the same numbers/ranking (e.g. 7s/queens)
Straight flush: three in a sequence, in the same suit.

Hot 3: this is when your two cards plus the dealer's add up to 19, 20 or 21
Bust It: this is when the dealer busts. The payout is bigger depending on how large the dealer's hand is
Six-card Charlie: this is when you win if you have a hand of six cards that adds up to 21.
We should note that these are all very risky bets, because the odds of them happening are low – hence why they are side bets. You get big rewards if you win, but you have to accept that they happen less often.
Vital statistics
So, now you know how to play, how likely are you to win? Free Bet Blackjack has a Return to Player rating of 98.45%.
This is especially high compared to other online casino games. Blackjack is already one of the most profitable casino games around, and Free Bet Blackjack takes that to a whole new level.
Be mindful, however, that certain bets have a lower RTP, for example a Bust It has a rating of 94.3% – as we've mentioned.
You can bet with a minimum of €$£5, not cheap, but if you can afford it, it makes for a fun and strategic round of blackjack. Don't forget to make the most of the free bets available to you, as well as the authentic live dealer experience.
It's not a free game, but the returns are certainly worth your time and real money!
You can make our day
Sign up to our free casino newsletter and you'll get all the latest mobile casino news and promotions. And if that's not enough you'll make us super happy at the same time.
Grand Mondial Casino Our Best Casino - September 2023
150 Spins on Mega Moolah slot for €$10 Deposit
Play For Real
18+ | New Players Only | Gamble Responsibly | Wagering & Full T&Cs Apply
T&Cs Apply