5 Top Tips You Need To Know To Win At Blackjack Online
December 15th, 2018
Blackjack success and winning are down to luck of how the cards fall mixed in with a good strategy. Here we'll give you our top five tips to help you win at blackjack online you might not have thought of.
Blackjack is one of those casino games that everyone knows about, is easy to play, but not everyone can master.
However, with a few pointers that better help you understand this table game, along with sharing with you our top five tips, you'll have a better understanding of how to play and hopefully win.
1. Get to know the blackjack tables rules
Whether you're walking into a land-based casino or loading up a blackjack table on your phone or desktop, there's one thing you should always do first.
Take the time to read the rules, find out whether it's an American or European blackjack table where the dealer must stand or hit on a soft 17 hand.
Find out how it pays, whether its a 3 to 2 or 6 to 5 table as this can seriously affect your odds of winning when you have 21, and give the advantage to the casino if you're not careful.
There are many aspects to winning at blackjack and getting to know the rules of the table is a must for those serious about playing for real money.
If you're not sure about what all the terms mean you can always look them up here in our glossary of blackjack terms.
2. Know the tables betting limits
The table limit is a relatively straightforward piece of information to find, but one that many players still forget to take note of.
It only takes a few seconds to see if the table you are about to play at lets you bet as little as £€$1, or it's minimum bet is £€$5, £€$10, or £€$20.
You'll also get to see what the maximum bet is, so if you're feeling lucky or have a large bankroll, then you'll perhaps want to find a table with a higher limit.
Of course, if you're a beginner you can always play blackjack for free to test out how they play and your strategies, before you play using real cash or with a blackjack bonus.
Get 100% up to €$1,000 Bonus
Play slots and live casino with welcoming up to €$1,000 Royal Panda welcome bonus
#AD 18+. New players only. Wagering requirements apply. T&Cs Apply
3. Use a basic blackjack strategy or cheat sheet
If one thing we've learned about playing this popular game of 21 it's that having a cheat sheet of hands or knowing at least a basic blackjack strategy of when to stand or hit comes in extremely handy.
A strategy not only helps with making the decisions on what to do best when certain hands show up for you but also what to do depending on the dealer's hands.
It gives you the best odds of winning a hand based on mathematical probabilities but doesn't guarantee you win every time.
Unless you practice enough or have a photographic memory, you're probably going to want to have a chart showing the basic rules to play by open or at hand. Something that's easier to do online than at land-based casinos, which will undoubtedly frown if you walk in there loaded up with cheat sheets and tables of hands.
Not using a strategy is like gifting the casino your real money every time you play.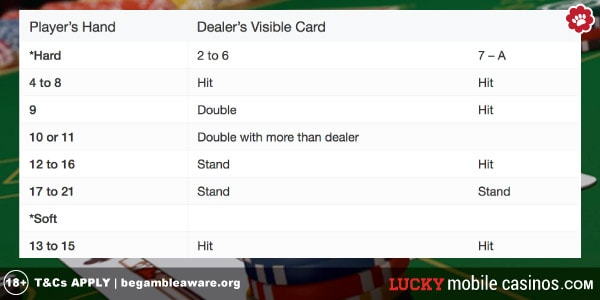 4. Playing insurance is a fools bet
Insurance in Blackjack is almost always a good way to lose money.
An Insurance bet can become active when the dealer has an Ace card face up in their hand. If this happens, you have the opportunity to place a side bet that's half the size of your original bet.
If the dealer then reveals a blackjack by finding a face card you'll win your side bet back if they show anything else you'll lose your insurance bet.
As this is a side bet, it doesn't affect your original bet so if they don't reveal a face card you always still have the chance to win on your original bet.
It's a scenario that might not show up that often, but in our experience and many other players it is an excellent way to waste cash, especially if you repeatedly use it.
5. Past results don't affect future outcomes
Previous blackjack hands you've won or lost don't change the outcome of the next hands, you're about to bet on.
If you've had a run of bad luck and lost multiple hands in a row, you might feel like its about time you get a win, so you start to bet bigger.
Unfortunately, whether you're playing slots, roulette, baccarat or blackjack your past results have no affect on your future ones. It's down to Lady Luck and how she decides to grace you.
Of course, in blackjack it's not all down to luck, you can use your mathematically calculated strategy to give you better odds. At the end of the day how the cards fall and what you do with them is a little bit of luck and knowledge combined.
What does this mean? It means you don't raise your bets to try and overcome your losses, there are no guarantees you'll win, and it's a sure fire way to burn through your casino cash.
These are just a few ways to avoid common pitfalls and mistakes many blackjack beginners make. If you want to learn more about this type of casino game head over to our blackjack casino guide where you'll find all the information you need to become a better player.
If you think you're ready to start playing then Royal Panda casino has one of the largest collections of blackjack tables as well as a few exclusive live casino ones to play on.
You can make our day
Sign up to our free casino newsletter and you'll get all the latest mobile casino news and promotions. And if that's not enough you'll make us super happy at the same time.
Grand Mondial Casino Our Best Casino - October 2023
150 Spins on Mega Moolah slot for €$10 Deposit
Play For Real
18+ | New Players Only | Gamble Responsibly | Wagering & Full T&Cs Apply
T&Cs Apply