Popular Zombie Blackjack Game Goes Online Thanks To Genesis Gaming
July 26th, 2018
The Zombie Apocalypse is upon us and it pays very well thanks to a one of a kind blackjack table game by famed casino inventor, Geoff Hall.
Most of you probably haven't heard of Zombie Blackjack or even Geoff Hall, namely because why would you? Unless you've been to the casinos of Macau or the Vegas strip, this isn't useful information to have.
Even if you do, who thinks about who makes up the rules of casino games? NetEnt created Gonzo's Quest, not Steven Stevenson*.
But you know what? Zombie Blackjack is one of those one-of-a-kind table games that deserves a little extra attention, and that, once it comes online, you are going to love.
Because it's not just themed on Zombies. You can literally bring your busted hands back from the dead! Read on to find out more.
(*Totally made up name)
What is Zombie Blackjack and why is it popular?
So if we are going to get you excited about this new Blackjack variant, then we need to give you a taste of what to expect.
Lucky for you we have a video showing you the mobile Zombie Blackjack game in action:
Alright, we will accept… this video doesn't make the game look that impressive.
Try Royal Panda Mobile Casino
Sign up for free to Royal Panda casino and get 10 free spins on Starburst, no deposit needed
18+, first deposit only, T&Cs Apply
Mostly because you are staring at a tiny portrait phone with tiny little cards and it's hard to see exactly what is going on unless you blow this up big on your desktop.
But generally, you can see the look and theme of this betting machine: you're in the middle of the zombie apocalypse. After a particularly hard day, you come home with your token zombie head, drop your shotgun and medical aid to one side, and start playing a little Blackjack with the only other sole survivor.
Because we all know that if there's one thing that will survive the Zombie apocalypse, it's gambling.
It started with the first caveman betting the other caveman to be the first to step out of the cave for an extra piece of slime, and it will end on a cold concrete floor, macheting a worn pack of cards in two till betting on the outcome of solitaire is the only option left.
A Scientific Game brought back to online life by Genesis
Scientific Games own pretty much everything. They are basically one of the biggest providers of casino games around the world – online and offline.
If you don't know who they are, you might know a few people they own online: Williams (or WMS studios), Bally, Barcrest, NextGen slots… the list goes on.
They are like the Disney of the gambling world, except they prefer to take a backseat and let all the name providers take all the glory.
Zombie Blackjack is a popular offline variant of the game that was introduced by Scientific Games mostly in Asian casinos: and it proves to be very successful for the brand.
Up to €$1200 Bonus + 200 Free Spins
Get up to €$1200 Bonus Money + 200 Free Spins at LeoVegas
18+ New customers only. Wagering on bonus and free spins winnings applies
Genesis Gaming, on the other hand, are a small game studio that started life in 2008 and whilst not massive in Europe, are very popular in Asia.
Can you guess where they found common ground?
The first online casino card game by Genesis Gaming
We are not sure what favours Genesis had to promise in order to get this new game in their online game portfolio, but they did it.
They convince Scientific Gaming that they were the right people to create and bring the Zombie table Blackjack game to life. Pun intended.
"Genesis' interpretation of Zombie Blackjack game-play is spot on. Particularly, the game's digital visual and audio effects add a thrill and excitement dimension that we simply cannot do in the land-based version of the game," Stated game creator Geoff Hall.
It is not currently available in Europe… yet. They will be launching the first version over in the Far East first, where there's already a fanbase for this version of blackjack and an understanding of the rules.
You can demo play Zombie Blackjack wherever you are of course, or just head to a good Genesis casino and bug them to bring it out for real money bets.
What are the rules of Zombie Blackjack?
What makes Zombie Blackjack so special? In a couple of words: Geoff Hall.
And who is Geoff Hall? He is the inventor of the highly popular Blackjack Switch and Free Bet Blackjack games. These games were created in order to give Blackjack players a little extra zing to their bets, all in their favour.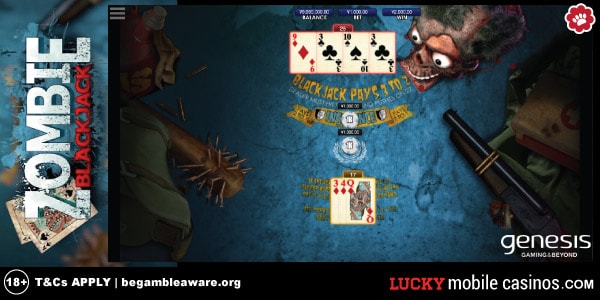 Blackjack Switch is probably what made him the most famous, it's basically a two-handed game variant where you can switch around your top cards if you wish. In particular popular in Playtech online casinos.
In Free Bet Blackjack, whenever you get a doubling hand of 9, 10 or 11 or are able to split, then the dealer will pay you double. A Literal free extra bet.
He brings his extra flair to the game and brand new set of rules for standard Blackjack.
Snapshot of the Zombie Blackjack rules:
We are going to assume you know the basic of blackjack, so here are the highlights.
Get 100 Free Spins Bonus on 1st Deposit
Sign up to Vera&John Casino & Get your 100 Free Spins on Gemix slot on your first deposit
18+ New customers only. 40x Wagering and Full T&Cs apply.
Eight decks are used
Dealer hits a soft 17
Dealer peeks for Blackjack
You can double on any two-card hand
You can double after you split
No surrender rule
Blackjack pays 3 to 2
You can re-split aces
Push 22 blackjack rule in play
Coffin bet active if you bust and the dealer has a 7 through A as an up card.
Most of the rules here are pretty standard, but you might have noticed two little anomalies that you might not be familiar even if you know how to play blackjack games.
What is the Coffin bet rule in Zombie Blackjack?
This is a way of potentially winning your hand of blackjack even if you bust.
If you exceed to the total count of 21, but the dealer has a top card of 7 to Ace (including face cards) your bust is called a 'coffin bet'.
At this point the dealer only has to not bust in order to win, but… if he then busts with either a 23 through 26, you then win the hand!
Your cards are literally revived from the dead and you go on to fight another day.
What is the Push 22 Blackjack rule?
You will find this rule in most of Geoff Hall's blackjack games, namely because you might notice that all his new blackjack rules tend to favour the player.
Get 100 Free Spins, No Wagering, No Max Win
Sign up to BGO casino and get 100 free spins on your first deposit with no wagering and no max win
18+. New customers only. 100 Free Spins on first deposit. Free Spins have 3-day expiry. Fill T&Cs Apply
Now, if you play Blackjack chances are you know this is one of the most profitable casino games online with the highest returns. Why would any online casinos add a game that gives you better odds?
Well, it demands a little sacrifice on your part.
The Blackjack Push 22 rule is simple: if the dealer busts with a 22 then he doesn't lose, it becomes a push or a draw. This rule is only applied to blackjack games where you get an extra advantage; Blackjack Switch, Free Bet Blackjack and now Zombie Blackjack.
It means you could have an 18, and the dealer gets 22, and instead of winning, you get your bet back – no one wins or loses.
It gives back the house that slight edge it lost by giving you a chance to win on a bust, for example.
Are we excited about this new version of Blackjack?
Hell yeah. We are going to admit that we didn't even know that this type of blackjack game existed in the world.
So to hear of a brand new set of rules that works in our favour, all slowly inching its way across the great the red dragon to one day land on our laps?
Man are we excited. And annoyed. Why do they get the game and we have to wait for it to finally make it's way to the west in the near future?
About the only thing you can do till then is to enjoy the game that made Mr Hall an industry name: the Playtech Blackjack Switch game.
Now available to play at BGO casino, they give you a very generous welcome bonus, and a whole array of games from popular providers such as NetEnt, IGT, WMS and more.
We will hopefully not have long to wait till we see a few more zombies on our blackjack tables.
You can make our day
Sign up to our free casino newsletter and you'll get all the latest mobile casino news and promotions. And if that's not enough you'll make us super happy at the same time.
Grand Mondial Casino Our Best Casino - August 2022
150 Spins on Mega Moolah slot for €$10 Deposit
Play For Real
18+ | New Players Only | Gamble Responsibly | Wagering & Full T&Cs Apply
T&Cs Apply