The Best Casino Slot Tournaments On Mobile Right Now
July 24th, 2016
Not all online slots tournaments on mobile are created equal. And they don't all work the same. We break down how each work, and which are the best casinos to play at, right here.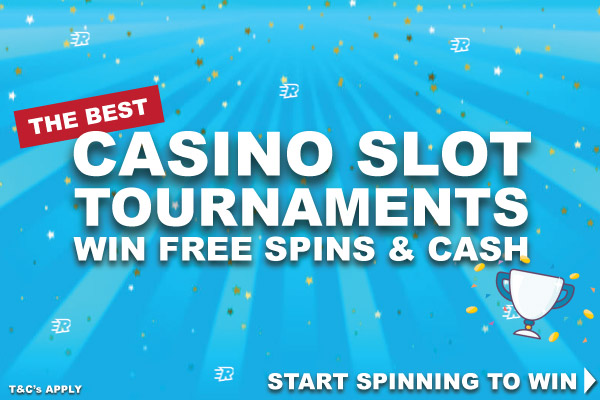 18+
There are actually a fair number of online casinos who have mobile slot tournaments, and plenty more who host online slots tournaments.
But what we are looking at here is the best, and not just the best, but the most unique. The ones who are able to provide something a little different, and who do winning at video slots well.
We picked the top casinos below because they each:
Provide fair terms of play to their casino slot tournament rules
You need to compete against other players to win real money, free spins or a prize
They are each safe and trusted, recommended mobile casinos
It's not a one off casino promotion, but a constant feature at the casino
So without further ado, here's our top tournaments in brief:
And here's a quick breakdown of the how to play, how much it will cost you, and whether you'll have fun at each of the mobile tournament casinos above.
---
The Unique Casumo Reel Races
We've actually written about the Casumo casino reel races in more detail.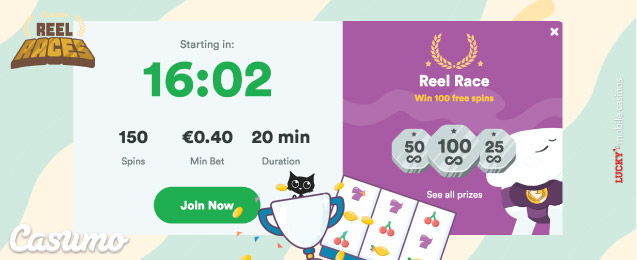 However, here's a quick recap in case you missed them. Trust us, it's worthwhile.
Get 100% up to €300 Bonus + 20 Free Spins
Get 20 free spins on sign up plus up to €300 in bonus on your first deposit at Casumo
#AD 18+ New customers only. Wagering and Full T&Cs apply.
How often do they run?
They run every hour, 24/7 days of the week. So you can't miss them.
However bear in mind that the Casumo slot tournaments only last 50 minutes, so you have 10 minutes to sign up before the next race.
Equally, watch out for the special 7pm GMT (8pm ECT) tournament which has the biggest cash prize and lasts 50 minutes.
How much to buy in and how do I win?
Technically these are 100% totally free to enter, and you can't re-buy your way into the tournament. But you have to spend your own money to play.
By signing up to the Casumo mobile casino, once you've made your first deposit, you can start playing on any of the reel races.
You simply have to register to the casino slots tournament on mobile or online, and start playing with your own deposit on the specific casino slot for that race.
You will be asked to only spin a certain number of spins, between 150 to 250, at the minimum bet of the tournament slot.
The winner is determined by a points system – 2 points anytime you get any win, 20 points for a win over 30x your bet, 5 points if you win 5 times in a row, etc…
Anything to watch out for?
Technically, this is one of the fairest ways to run a mobile slot tournament on Android, iOS or any other device.
Reason being, it's basically rewarding you for winning and playing on casino games, two things we come to do at a gambling site anyway.
The fact you can't re-buy your way in might annoy some, but it means bigger gamblers can't dominate the leaderboard. And anyway, you only have so much time in 50 minutes, let's be honest.
Of course, you need to watch carefully that you register and then play on the right game. After that, it's all down to lady luck.
How much can you win?
Here's where Casumo doesn't always compete with the rest – because the tournaments are so often, it's usually the top 5 players only who win a free spins casino bonus.
Except at the special 7pm GMT tournament, which has a cash prize pool, top amount being around £€$1,000 – 2,000.
But, it means you can win prizes every time you play at Casumo, no matter what.
Start Spinning At Casumo Casino »
---
Enjoy a Rizk Race & win free spins, super spins and cash
Rizk casino are a site that have been growing and improving ever since their launch back in the beginning of January 2016.
And with their newly enhanced Rizk Race tournaments they are rewarding their players with even more chances to get free spins, super spins (worth more than your regular free spins) and free money.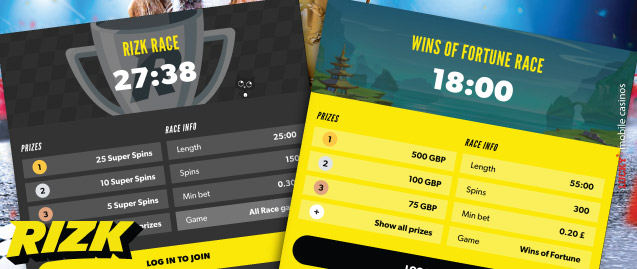 Play every 30 minutes
If you're a fan of the Casumo Reel Races then you'll love these Rizk Races. They follow the same format offering you the chance to win free spins and super spins for competing in a 25 minute slot tournament.
What makes these mini tournaments better than the ones at Casumo though is the fact that you get to choose from their full range of Video Slots to play on rather than being limited to just one or two.
Deposit €100 Play With €200 + 50 Free Spins
Get a free Wheel of Rizk bonus spin plus up to €100 bonus and 50 free spins on your first deposit
#AD 18+ New customers only. Wagering and Full T&Cs apply.
It means that you can play on your favourite games and still have a chance to win extra spins.
Simply collect the most amount of points in the number of spins specified and you'll win the tournament, just remember to join the tournament you want to play on before it starts.
And you might think that giving people the choice of games will give some people an unfair advantage, well you'd be wrong. Their point system is tailored to give everyone the fairest chance at winning, but of course pick the right game and strategy and you might just end up on top more than not.
Win cash twice a night every night
Another difference is that twice a night you have the chance to walk away cash richer, thanks to the Rizk Race Main Races.
Here you get to play in special 55 minute long tournaments twice per night if you so wish. The first starts at 18:00 BST / 19:00 CEST and gives 10 players the chance to win up to £€$500 cash.
The second starts at 20:00 BST / 21:00 CEST and you can win double that up to £€$1,000, with the top leaderboard player each winning their own cash prize.
It means you could walk away with a little something. You won't have to wait long at Rizk mobile casino for another tournament to start and enjoy beating the competition.
---
Drake's huge cash casino tournaments
Running at least once a day, Drake casino also host special weekend and monthly slot tournaments, which have the biggest prizes.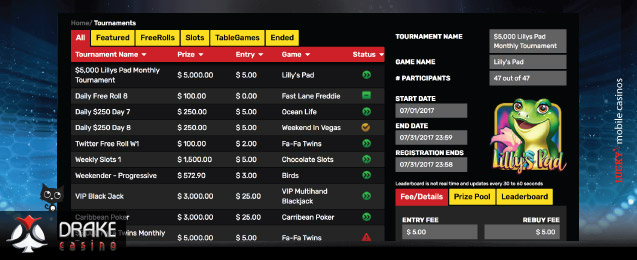 You do need to keep an eye out for the time.
How much to buy in and how do I win?
Again, that depends. There does tend to be at least one casino free-roll a day where all you need to do is register and claim your chips.
Get 20 Free Spins to Try Drake Casino for Free!
Click on the link below and use bonus code FREESPINS to get 20 spins on Alkemor's Tower, Good Girl Bad Girl, or Rook's Revenge.
Get Yours Now »
The biggest cash tournaments, or the week/month long tournaments, tend to have a buy in of $2 to $5 for slots, $10 to $25 for table games like Blackjack or mobile roulette.
That will give you around $100 to $500 chips to play on the game in question, be it slots or tables. Your goal, then, is to win as much as possible using those chips, in the time allotted.
You can re-buy more chips at around the same price, but there is usually a limit to how many re-buys you are allowed.
Anything to watch out for?
Timing. Obviously these online slot tournaments can last anything from a day, to a week, to a month. So if you are in for the bigger tournaments, make sure you watch carefully the leaderboard, and re-buy if you are falling behind.
If you can't afford to re-buy often, we'd stick to the shorter Drake casino slot tournaments instead.
How much can you win?
Here's where Drake do better than most – pretty much every single one of their tournaments end in cash prizes.
These can range from $100 for the free-rolls, to $10,000 or even $25,000 for the bigger slots competitions.
This is for those of you who are looking to win big in a very traditional type of tournament with no entry fees.
---
The regular Vera & John slot tournaments
There's a different slot tournament on at minimum every week, sometimes every 2 to 3 days.
Usually there is only one Vera & John casino slot tournament at a time, so it avoids confusion,  and the most you'll find is about 2.
It's as simple as registering and playing on the casino slot of the day.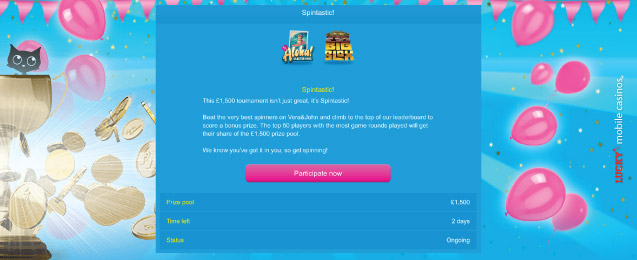 How much to buy in and how do I win?
Much like the Casumo Reel Races, these are technically free to enter. You don't even have to register to the tournament, just start playing on the game in question.
Vera&John casino just ask you to spend your own deposit playing on the slot game in question.
Most of the tournaments are won either by the most game rounds played, or more usual, the highest percentage win over 20 spins.
Get 100 Free Spins Bonus on 1st Deposit
Sign up to Vera&John Casino & Get your 100 Free Spins on Gemix slot on your first deposit
#AD 18+ New customers only. 40x Wagering and Full T&Cs apply.
Anything to watch out for?
Re-read that last sentence and think about it for a moment. The Vera & John slot tournaments that reward you for most rounds played are better left off for those of you with big budget.
Personally, we don't like it as the winners are purely based on who has the biggest budget, or who is willing to play back the most winnings. Neither of which we like.
Now that best percentage win over 20 spins, on the other hand, is the best way to play slot tournaments on mobile. Why? Because it's the fairest way.
You get a week, or a couple of days, to get the biggest win, regardless of your budget. Much more thrilling.
How much can you win?
This is more fans of the pink and blue site, as most of the tournament events pay out mobile casino bonuses.
They tend to top amounts from £€$1,000 to £€$1,500 in bonus cash, and pay out varying amounts to the top 50 players.
The point here is to have as many satisfied winners, who then tend to get a little extra to keep on playing on some of their favourite slot machines.
They do, from time to time, have special real cash tournaments, but they are the rarity rather than the rule.
---
The Innovative Battle of the Slots at Videoslots Casino
They run around 7 to 10 a day, depending on the day and the prizes you want to win.
Battle of the Slots wasn't always available on the Videoslots mobile casino, but overtime Videoslots have made sure mobile players can enjoy the mobile freeroll slot tournaments just as much as those online.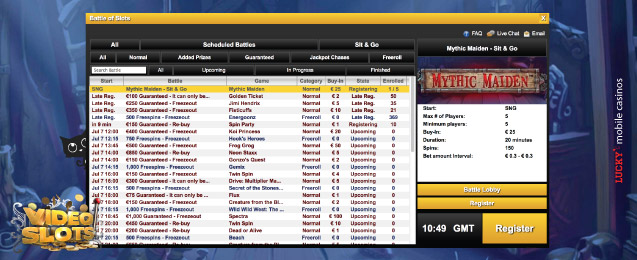 And that's good cause it's such a unique and wonderful concept that it has to make it on the list of tournament casinos, especially as we know that once you start playing on the mobile casino, you'll end up online soon enough.
How much to buy in and how do I win?
They do have at least a couple of free-rolls a day, but mostly the tournaments cost between $1 to $10 a go, depending on the cash prize being given away.
There is a minimum number of players that need to be involved in order for a battle to begin, but that is usually met very easily.
More importantly, they have several different types of tournaments, which means you'll rarely be bored, and you can chat to the other players in the tournament, giving this a nice social aspect.
Get 11 Welcome Spins + up to €$200 Bonus
Try Videoslots casino with 11 welcome spins plus up to €$200 in bonus money on your first deposit
#AD 18+ New customers only. Wagering and Full T&Cs apply.
Scheduled battle: You win the prize pot of however many players join in.
Added prize: These have extra cash added to the prize pot by Videoslots casino.
Sit & Go: This battle will only start once enough players have registered.
Freeroll Tournaments: No money is required to join, but mostly you will need to have made at least 1 deposit at this casino site.
Jackpot chase: You are chasing an in-game jackpot within a specific slot – sometime the jackpot is shared by all the players, sometimes it's whoever triggers it than wins.
Guaranteed battle: Whether 2 or 2,000 players join in, there's a guaranteed prize for the winner. If it's exceeded by the amount of players who have bought in, then it continues to grow.
Turbo battle: A super fast tournament that has limited number of spins and time to complete.
Anything to watch out for?
Because of all the different type of slot battles, it's well worth reading their quick FAQs about the Battles, how each different one works, and how to win a slot tournament.
But mostly, you just need to watch how long they last, about 2-3 hours in general, and how many spins you get for your buy in.
Because you can re-buy, but never usually more than once or twice, to avoid players with huge amounts of cash to dominate the leaderboards.
Equally, the top prizes change depending on how many players join in. So if you get 14 players playing, you might only have 3 cash prizes, but if 1,000 players join in, you'll probably have 10 or 20.
So have a closer look at the Videoslots Battle of Slots you're about to open.
How much can you win?
The top prizes tend to vary from a few hundreds to a few thousands, depending on how many players join in.
You can also win several extra bonus spin casino bonuses, especially on the daily freeroll slot tournaments.
The good news is that Videoslots casino are super open about every single detail of each of their video slot tournaments, and when you open 'more information' you get everything you could possible want to know about it including the online slot games to play.
So they are actually super easy to join in. Plus, you can use bonus money in order to buy in, and technically try out these online slot tournaments risk free.
You can make our day
Sign up to our free casino newsletter and you'll get all the latest mobile casino news and promotions. And if that's not enough you'll make us super happy at the same time.
Grand Mondial Casino Our Best Casino - June 2023
150 Spins on Mega Moolah slot for €$10 Deposit
Play For Real
18+ | New Players Only | Gamble Responsibly | Wagering & Full T&Cs Apply
T&Cs Apply