How To Win A Casumo Reel Race & £€1,000 Every Day Playing Slots
May 15th, 2016
Casumo Casino have started their very own online and mobile slot tournaments, only these aren't like anything you've seen before. Here's how to get prizes every 30 minutes.
The good thing about anything that comes out of Casumo mobile casino is that, more often than not, it's totally unique.
Which is a pretty hard thing to do when you're talking about providing a good online gambling experience – most of us just want good games, and good service, and we're happy.
But Casumo like to do things a little differently. Don't worry, they still have all your favourite casino games, and more, with fast cashouts on an easy to use, safe, platform.
But much like their casino loyalty program allows you to travel to whole new worlds and adventure, so their fast paced slot tournaments, or the Casumo Reel Races, reward you for winning any time of the day.
How do these casino slot tournaments work?
Standard slot tournaments generally work by giving the player who has the biggest win, in comparison to how much they are betting, during a time period.
Casumo Welcomes All, From Sweden, to UK, to Canada
Unfortunately, you will need to choose to play in either Euros or GBP. But it's worth a look we promise.
The Casumo Reel Races work, essentially, the same way, except they have their own little twist that makes them special.
For one, they run every 30 minutes, 24 hours a day, 7 days a week. Meaning you can get a prize every half hour you play at Casumo.
For two, whilst you still get points for winning big, it's not the only points you can get.
How to win a Casumo Reel Race:
The points system is simple.
2 points anytime you have any win, big or small.
20 points anytime you have a big win (over 30x your bet).
5 points if you win 3 times in a row.
If you win big twice in the time allowed, you'll get an additional 35 points.
100 points for a Mega Win (over 50 times your bet).
So you can see in real time, up to the very last second, it's anyones tournament: more importantly which video slot you choose, and which strategy you go with, can make or break whether you end up in the top 5.
You get the same amount of spins, but can choose any slot
When you log in to Casumo mobile casino, you'll see under the 'reel races' tab, all the upcoming tournament.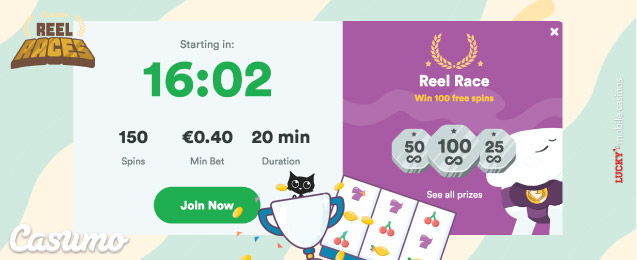 There they will give you the following information:
When the tournament starts
How many spins you have to get the most points
The minimum bet you need to trigger points
How long the tournament lasts (usually 20 minutes)
The amazing prizes you'll win for coming in the top 5
Now note that a tournament can end in one of two ways; you either run out of spins or you run out of time. From our experience, you usually run out of spins before the timer runs out.
That's because you usually only get anything from 150 to 250 spins to get the most points. It might sound unusual, but it evens out the playing ground.
It means that gamblers with big budgets can't run 1,000 spins in 20 minutes, whilst smaller gamblers have to simply hope for a big win to get to the top.
We think it's the fairest way to run a tournament, as it's not dependent on how much you can bet, but on luck and a good slot strategy.
Get £€1,200 in Bonus at Casumo »
Free spins bonuses and £€$1,000 in cash
Needless to say, a tournament is only as good as it's prizes. And with Reel Races running every 30 minutes, you could pretty much guess that they weren't going to be giving out huge cash prizes every time.
That said, Casumo has never been shy about giving away great mobile casino free spin bonuses.
Usually, depending on how much the minimum bet is to enter this Casumo slot tournaments, the top free spin prizes range from 50 to 100 free spins on a specific game.
The minimum bet rarely goes over 0.40 a spin mind you, so you don't have to worry that the big prizes are only for the big gamblers.
And then there's the 7pm Reel Race, which is the daily main event and gives away £€$1,000 in real cash to their players. Yes it's the more competitive one, but it also has the biggest value in terms of real money.
Which you choose to play is completely up to you.
How easy is it to win on the Casumo casino Reel Races?
Personally, we think they are great fun, and with tournament every 30 minutes, luck is bound to be on your side at some point.
Because the truth of the matter is, they don't stop you from playing like you would usually, or force you to play on one specific game.
Which is a huge advantage as you can play on IGT, Microgaming, Net Entertainment, Play'n GO, QuickSpin, Thunderkick, or WMS machines.
Who would want to be restricted with that much choice available? The kicker, of course, is that if you don't choose the right slot machine, you might not end up anywhere near the top five spots.
It's totally free to enter a tournament
The bright side is that all the tournaments are free to enter. You just need to click on 'join now' and you'll start accumulating points once the timer kicks into play.
From the UK, Sweden, Norway or Finland?
Try Casumo risk free with 20 free spin when you register.
So you don't lose anything by joining in, and if you win big whilst playing on your favourite mobile slot machines, you might even end up with a free spins mobile casino bonus on the other side.
Discover which are the 'winning' slots
Here's a quick tip: as the tournament goes on, by hovering over your opponents on the leaderboards you can see not just how many spins they have left, by which game they are playing.
So if at first you don't find yourself getting anywhere, check out some of the slot games that seem to get others up on top of that slot tournament ladder.
Is it low volatility slots that give you lots of little wins? Or is it big win slots that give you 100 points guaranteed?
If nothing else, it's a great way of discovering new casino games to play, not just for the slot tournament, but generally for when you simply want to win.
Play when no one else is playing
There's a slot tournament every 30 minutes. We guarantee you that some probably won't have more than a handful of players joining in.
And whilst that doesn't mean you should stay up till 1pm on a Monday night to get a bonus, you'll be surprised how normal times during the week could give you a fighting chance.
For example, why not take an early lunch, and play on the 11.30 tournament on a Tuesday? Or if you're an early riser, the 6am tournament is an easy win over a bowl of cereal.
Cheat a little; use the generous welcome bonus
Nowhere on the T&Cs does it say that you need to use up the Reel Race spin using real money. In fact, Casumo casino doesn't care what money you use; they care whether you win or not.
Which means that you can use their very generous £€1,200 bonus over 5 deposits, and any winnings you make from the 200 free spins after your first deposit, to spin those tournament reels.
You can't ask for fairer than that, so go enjoy playing your favourite slots and enter a tournament or two for even more chance at winning a little extra.
You can make our day
Sign up to our free casino newsletter and you'll get all the latest mobile casino news and promotions. And if that's not enough you'll make us super happy at the same time.
Grand Mondial Casino Our Best Casino - December 2023
150 Spins on Mega Moolah slot for €$10 Deposit
Play For Real
18+ | New Players Only | Gamble Responsibly | Wagering & Full T&Cs Apply
T&Cs Apply