How To Win Free Spins & Cash Prizes In The BGO Slot Tournaments
August 2nd, 2018
Slot tournaments are becoming a staple feature at some of the best mobile casinos we play, the latest of which is the free-to-enter BGO Tournament on IGT games.
If you're a fan of playing big name games from IGT, like Siberian Storm and Wolf Run, then read on. Because this is all about the slot tournaments at BGO casino and they are worth taking a look.
Unfortunately, you can't play IGT slots in all countries, so if that's not for you, then you're better off going to look at some of our other top mobile slot tournaments from the likes of Casumo and Rizk.
For everyone else who can enjoy these great slot games read on as we detail:
What types of tournaments there are
What free spins and cash prizes you can win
How you can win them and beat the rest
When to play each day at BGO
5 Different Free To Enter Tournaments
These IGT casino tournaments aren't as frequent as other casino sites, they don't run every 30 minutes or even every hour.
Get 100 No Wager Free Spins with No Max Win
Make a deposit of €10 and get 100 free spins with on wagering on a selection of slots
18+. New customers only. 100 Free Spins on first deposit. Free Spins have 3-day expiry. Fill T&Cs Apply
What they do well though, is allow you to enter for free and give you the chance to win without spending any of the real cash you deposit into your casino account.
There are five different tournaments, some run every day of the week, some run for just a few days and the one with the biggest real money cash prize only runs once per week.
There's really no downsides
Often the only requirements for you to enter are that you must have made a deposit into your account in the last 24 hours. And seeing as the minimum deposit at BGO casino is £€$20, that's easily done for many slots fans.
It might mean you don't enter every competition every day of the week, but you'll still be able to have fun, and just one deposit within 7 days of Friday's Big One lets you enter that one too.
So what are these different tournaments we've alluded to?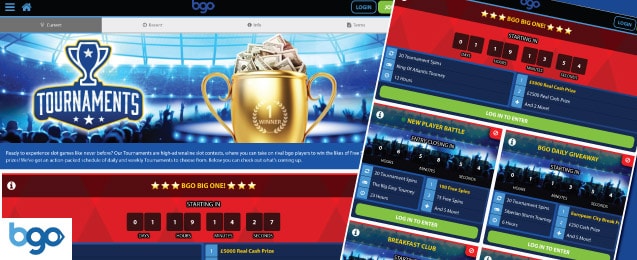 Breakfast Club – Every day from 6 am – 9 am
Every day for 3 hours between the hours of 6 am and 9 am you can enter the Breakfast Club tournament.
Here, once you've logged in and entered, you'll get 20 Tournament Spins to play on the tournament game. You can spin your spins any time within the 3 hours that the tournament runs up to 15 minutes before the end time.
This gives even those who aren't the earliest 6 am risers the chance to spin.
There are usually 20 prizes up for grabs which include 100 free spins for the winner with less as you go down the rank position in the leaderboard.
The minimum you can win is 5 free spins going to those who make it to positions 11 – 20 in the leaderboard.
A good way to start your day.
Lucky Break – Every day from 11 am – 2 pm
This Lucky Break tournament is for those who like a little lunchtime fun. Available every day of the week the format is pretty much the same as the earlier Breakfast Club tourney.
Reasons To Play At BGO Casino:
One of the best welcome bonuses around
Fantastic NetEnt, Playtech and IGT games
Play in GBP (£), CAD$, SEK, NOK
Great rewarding loyalty program
Easy to use mobile and tablet casinos
Simply log in at the great BGO mobile casino, enter, and get your 20 Tournament Spins on the days game and see if you can get into one of the top twenty positions on the leaderboard.
The prizes are the same with the top player winning 100 free spins bonuses. A good way to while away your lunch break, after maybe playing the night before.
New Player Battle – For First Time Depositors
This tournament is only open for those who have made their first deposit within 24 hours. Basically, new depositing players to BGO won't want to miss out on this exclusive tournament that's just for them.
Unless they've taken a good look around or read this post, not many new casino players will probably know of this New Player Battle tournament, so your odds of winning are pretty good.
The format is pretty much the same as the previous two, apart from after you've made your first deposit you'll have a 23-hour window to spin your 20 tournament spins on the chosen game.
Again there are 100 free spins on offer for the winner with free spins for other players that come in the top 20 leaderboards too.
BGO Daily Giveaway
This tournament offers you the chance to win cash prizes, city breaks, and free spins.
It runs every day of the week (apart from Friday) between 6 pm and midnight until 2nd September 2018.
The window to play here is slightly longer than the previous tournaments at 6 hours, but you get the same number of Tournament Spins to play on the tourney game, which could be another popular IGT slot machine, Siberian Storm.
What's good about this, is that if you come in the top 10 of any of the Daily Giveaway's, you'll instantly qualify for a 'Winners' tournament that will be held between 3rd and 5th September.
What you win in this special tournament will be impressive. Maybe one of the best travel destination in the world? We're just guessing, of course.
The BGO Big One! – Win Real Money Every Friday
This is the BGO tourney with the biggest prize of the lot.
It only runs once per week every Friday between 12 noon and midnight. The format is the same as the others, as you'll only get 20 spins on the chosen IGT casino game and only one chance to enter that week.
It's simple, fair, and worthwhile as the top prize is a whopping £€5,000 in real cash. Even second and third prizes are a deserving £€2,500 and £€1,000 respectively.
But even if you don't make it into the top 3 positions, there are still another 150 cash prizes of £€10 available to win. A nice little boost to add some extra slots and casino game play over the weekend.
What's better is that to enter you just need to make a deposit in the last 7 days before the start of the tournament, meaning it's easy to get involved.
That does, of course, mean more competition to win one of those no wagering cash prizes, but still how you win is all down to the luck of the spins, not skill or the size of your bankroll.
How to win a BGO slot tournament
The concept is pretty simple and, as we've already stated, pretty fair for all players that choose to enter.
Make sure you qualify by having made a deposit in the last 24 hours or 7 days (depending on the tournaments)
Enter the tournament via the tournament page
You'll get a set number of tournaments spins (usually 20)
Get the biggest wins possible using those spins
These tournament spins are the only spins you'll get to play on the tournament game. Real money or even bonus money wagers don't count here.
How they calculate the biggest win:
How you win this BGO slot tournament is all down to the luck of the spins, as you'll be wanting to get the biggest win possible from your spins.
Get 100 Free Spins, No Wagering, No Max Win
Sign up to BGO casino and get 100 free spins on your first deposit with no wagering and no max win
18+. New customers only. 100 Free Spins on first deposit. Free Spins have 3-day expiry. Fill T&Cs Apply
The bigger your wins the better your chance of getting to the top spot of the leaderboard.
Your overall winning total will then be converted into points by BGO and those with the most points from their spins will get to the top positions on the leaderboard.
With usually the top 20 players winning a prize there are lots to play for here.
What differs to say, the likes of Casumo's Reel Races, is that you aren't playing your own real money or bonus money, so anything you win with your 20 Tournament Spins here you won't be able to keep.
But seeing as you don't have to spend anything to enter, and you still get the chance at winning prizes, that really shouldn't dissuade you from entering.
Reasons to enter BGO casino tournaments:
Free to enter
Everybody has the same chance to win
Can win real cash prizes, free spins and city breaks
Fair for big and small gamblers
Everyone who plays at BGO gets a tournament, whenever you decide to play
What's the best day to play?
Well if you're new and you've made a first deposit, then the next 23 hours are a pretty good time to check out the New Player Battle as you've got a good chance at winning a prize.
And once you've done that you should still be able to enter one of the other daily tournaments within 24 hours of that deposit and of course the BGO Big One on Friday.
For loyal players then, to be honest, any day you feel like you are going to top up your casino balance with a deposit, within 24 hours of that is a good time to spin as this is usually the only entry requirement needed to qualify.
The Entry Criteria:
New Depositor tournament: with 23 hours of making a first deposit
Daily tournaments: within 24 of making any deposit
The Friday Big One: within 7 days of making any deposit
Breakfast club at 6am to 9am: within 24 hours of making any deposit
Lucky break at 11am to 2pm: within 24 hours of making any deposit
Every time you make a casino deposit is a good time
There's no point missing out on the chance for some extra slots free spins casino or cash prizes, so be sure to check back every time you make a deposit to see what tournaments are available to take part in.
And of course Friday, everyone who has made a deposit should enter the BGO BIG One.
Because missing out on up to £€5,000 in cash, when you could easily take 2 minutes out of your day to take 20 free spins on a great IGT game, is an opportunity wasted.
These IGT slot games are waiting to be spun
There's only one thing left to do. If you've already got an account at BGO mobile casino or online, then head over there and check out their tournaments page. You'll find everything you need to know right there and then.
If you're looking for a new casino to play, and BGO has caught your interest, then head over there and take a look around. They offer some great NetEnt and Playtech games alongside their IGT slots collection.
And if you can't make your mind up just yet, go read our BGO casino review, or better yet take a look at a few reasons why we think it's a good fit:
Lots of regular promotions and generous welcome offer
Play slots, live casino and bingo
Loyalty program gives you free spins, bonuses and more
New games released every week
Deposit in GBP, CAD, EUR, SEK & NOK
Free to enter tournaments (of course)
Go see for yourself and see what else there is to play for at BGO casino.
You can make our day
Sign up to our free casino newsletter and you'll get all the latest mobile casino news and promotions. And if that's not enough you'll make us super happy at the same time.
Grand Mondial Casino Our Best Casino - December 2022
150 Spins on Mega Moolah slot for €$10 Deposit
Play For Real
18+ | New Players Only | Gamble Responsibly | Wagering & Full T&Cs Apply
T&Cs Apply