How To Beat The High Roller Casino Metrocity For Huge Rewards
January 10th, 2018
High Roller Casino has opened its doors, leaving most of you asking… what is it all about? How do you travel through this Metrocity? And how do you claim your rewards?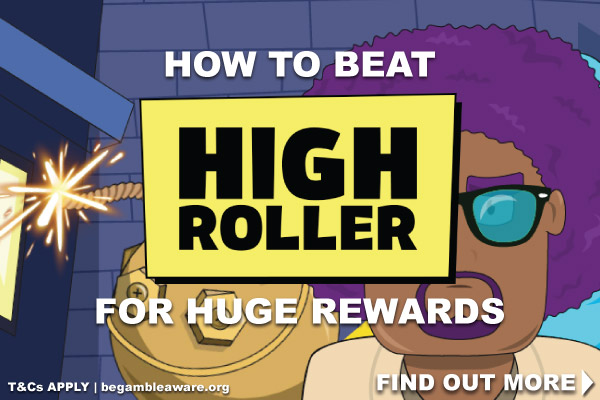 18+
Most casinos online like to reward you for playing on their website in one way or another.
The most common loyalty programs tend to work in a fairly standard way: you deposit, and for every spin on a slot machine, you get a point, which you can exchange for cash or extra bonuses.
However, the High Roller casino loyalty program dares to be different by introducing "Metrocity", which you travel through for rewards.
How does it work? What is a High Roller Sting? How often do you have to play? Are the Rewards worthwhile? We answer all.
What is Metrocity in High Roller Casino?
Let's start with the basics: What exactly is Metrocity and how does it work?
Described as "a dark metropolis full of thrills, games and rewards. Play casino games, progress through Metrocity districts and accumulate a wealth of rewards in the process."
In other words, it's a loyalty scheme. You play, you come back, you get points, you get rewards.
That's the basic description, but once you take a look at it with a little more attention, you'll find some surprises along the way.
Under your avatar, you'll find your progress map
The first thing you do is create an avatar for yourself. The second is check out the little bar with checkpoints, which represents your first neighbourhood.
You progress through your neighbourhood by playing slot games, mostly.
A bet on a slot counts 100% towards your progress in the neighbourhood, whilst playing on a live casino game only counts for 50% that amount, less if you play on online blackjack or video poker games.
Mostly because you can, generally, place more bets if you play the right casino game strategy.

How to level up and collect more coins:
As a Metrocity resident, you get coin allowances every day, whether you play, or even whether you login or not.
Meaning that even if you don't play that day, you'll still get 5 coins for doing absolutely nothing.
As you progress through the city, you'll get more opportunities to collect more coins, until you finally get to level up and move on to a new neighbourhood.
When you level up, you'll be rewarded with bonus prizes (more on those later).
How quickly will I progress through the neighbourhoods?
That depends on what you play and how often. They don't reveal how much you have to wager to level up.
But generally, if you play twice a week, maybe €$50 to €$100 a week on slot machines, sometime within the first couple of weeks, you'll have your first level up.
Quicker if you have lots of little wins, as your progress is made on wagers on the casino games, not on deposits.
The deeper into the city you go, and the better the neighbourhood, the harder it will get to level up.
But the more Stings you'll find along the way, so it all balances out.
What is a High Roller Sting and how to beat it
So far, nothing in Metrocity has been that unusual; Rizk casino has a similar idea where you collect points till you get to spin a wheel full of prizes, for example.
Where things get a little different and a little controversial depending on where you stand, is with the online casino stings.

As you can guess by the name, Metrocity isn't a shiny gem of splendour, like Metropolis.
It's a little more of a dark gutter of sin, like Gotham. And much like in Gotham, it requires a Dark Knight, or (better) a Clown Prince of Crime, to conquer it's secret.
You experience a sting the moment you register
Before anything is explained to you, you're told there's a sting waiting for you. So what is a High Roller casino Sting?
You get presented with cards with peoples Avatars on them. These are real casino gamblers online. You then get to pick from one of the cards and depending on who you've picked, you will collect their coins.
Some are small stings; in the very first one, you will maybe steal 5 coins from someone else's account.
Later you can collect over 300 coins, potentially more.
But basically, anyone who has seen the 1973 movie with Paul Newman and Robert Redford will quickly see where High Roller got it's inspiration.
As you progress through the map, you get more stings
Remember how we mentioned in the progress bar how each neighbourhood had checkpoints?
These checkpoints are actually mobile casino Stings where you can go in and steal more coins from other players. The better the neighbourhood, the better the payload of coins you'll get.
Sweet right? Not only do you get coins for not doing anything, but you can steal bigger amounts of coins the more you play.
Win-win, right? Well, not quite…
How to avoid getting your coins stolen
If you can steal coins from other players, the logical ones amongst you would have figured out that that means others can steal your reward coins as well.
So how do you protect your hoard from the Penguins, Cat-Woman, and Poison Ivy's of this world?
You make sure you come back and play every 5 days.
So wait, I have to play at High Roller casino at least twice a week?
You have to play every 5 days, yes, in order to avoid being part of a Sting, which more or less means taking a spin in a slot machine twice a week.
Now bear in mind that:
You collect coins even if you don't play. Meaning if you don't want to play, you can afford to lose the coins you collected for doing nothing.
The Stings won't take all your coins; generally, just a small slice, getting bigger the longer you don't login. Meaning you can afford to miss a couple of sessions, or even just play once a week.
You never lose your progress on the map, meaning that even if you lose all your coins, you can still get rewards once you get through your neighbourhood.
Just because you haven't played in 5 days doesn't guarantee that you'll be in a Sting, just makes it more likely.
You won't lose coins if you contact customer support and decide to time out from the casinos for a while.
So whilst at first this can seem like a difficult thing to ask, when you take a closer look, you'll see that it's actually not that crucial.
The mobile casino High Roller is basically trying to reward those who are loyal and play week to week, whilst still giving something back to those who just want to come and go as they please.
Top tip to keep your coins: play just a single spin on a slot
Casual gamblers who like to play once or twice a month might be put off by this casino loyalty adventure, but that's ok. We'd recommend you read our GUTS casino review instead which has a more traditional setup.
We don't know about you, but when we have a big win, we like to click the withdraw button and get it all out of a casino.
Only sometimes do we leave money in an account – generally if it's no more than what we've deposited and we were planning to come back later and play.
And whilst you shouldn't change your habits for High Roller, try and leave $1 in there just in case. You can then come back within 5 days and and take a single 0.10 spin on a slot like Starburst or Book of Dead.
You'll automatically remove any chance of being part of a Sting, and it's only taken a couple of minutes.
The Rewards and High Roller casino bonuses
Now we get to the good part. After all that, after progressing through Metrocity, collecting coins, navigating your way through Stings… is it all worthwhile?
We think it is. Because what you can get is more than just your standard casino deposit bonuses.

But in the end there are two ways of getting bonuses at this casino: by levelling up and by buying them using loyalty coins.
What do I get for levelling up in Metrocity?
If you've managed to get through a whole neighbourhood, then congrats! You are on your way to becoming the king of crime in this beautiful casino city.
You will also have won yourself one of these instant rewards:
Instant real money cash into your account
Free spins played at $€0.10 a spin
Super spins played at $€1 a spin
Mega spins played at $€3 a spin
Coins which you can trade for freebies in the shop
How many free spins depends on the neighbourhood, and a little bit of luck. Usually, around 5 to 20 free spins, less if they are super spins or mega spins, obviously.
How to spend your coins in the casino shop
Whilst many casinos on mobile online tend to swap points for real money, instead asks you to collect coins and then to go shopping.
Your coins will buy you free spin bonus rewards at the High Roller loyalty shop.
How many depends on the game in question, and how many free spins you want, and at what value (see the super spins and mega spins above).
But generally, even if you don't want to play along with Stings and such things because you earn coins even when you don't play, you will eventually be in a position to get yourself a new casino bonus.
How many coins do I need to collect to get High Roller rewards?
Now bearing in mind that you start playing with a decent 25 coins, and then keep collecting for doing nothing or something, you can quickly see how easy it is to buy bonuses.
Here are some examples of some of the free spin casino bonuses at the shop:
Buy 5 free spins for 50 coins
Buy 20 free spins for 100 coins
Buy 5 super spins for 200 coins
Buy 3 mega spins for 450 coins
Buy 10 mega spins for 1,500 coins
Of course, not all bonuses cost the same: 20 free spins on Starburst would cost fewer coins than 20 free spins on Sakura Fortune slot by Quickspin, for example.
That's because Starburst has a minimum bet of 0.10 a spin, whilst a spin on Sakura is worth twice that at 0.20 a spin. Plus you can win more on Sakura.
It's a great way to let you choose the value of your bonus, especially if you are used to betting higher than the minimum bet and want to try and buy yourself some super and mega spins.
Is the High Roller mobile casino worth playing?
If you are reading this, chances are that you've come across this new mobile casino site and wondered what it's about.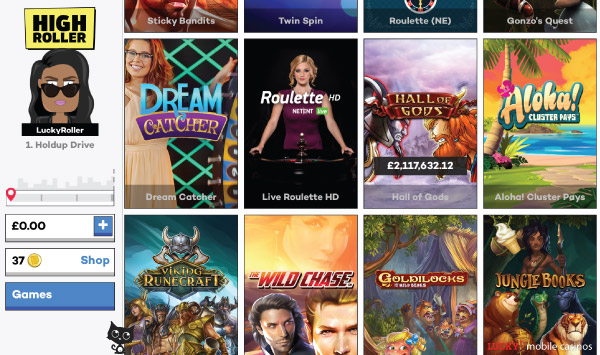 Now, you should have a little more idea; it's one of the latest mobile gambling websites that tries to do things a little different.
And yet, the beauty of this set up is that you don't have to get involved in all that Metrocity has to offer if you simply want to bet on casino games.
Just by playing, you'll naturally level up and get rewards, whether you care about Stings, coins, or shops.
A fantastic selection of the best casino games online
That, more than anything is the main reasons to play. Choose from:
Slots from the biggest and best providers; from NetEnt to Microgaming, to Play'n GO, Yggdrasil and NextGen gaming.
The best online table games including baccarat, blackjack, roulette, and poker
Huge jackpots like Hall of Gods, Holmes and the Stolen Stones and Mega Moolah Isis.
Live casino tables on mobile and online
Video Poker, Keno, and scratchcards all available
Better yet, their search is one of the best we've seen. You can literally type 'Microgaming' and get all Microgaming games, or just Video Poker and get all video poker table machines.

A growing casino that keeps getting better
High Roller is still relatively young, meaning it's still developing as we speak.
Currently, for example, they only have Euros, GBP, SEK and NOK. So if you want to play casino in Canada, you'll have to do it using Euros or GBP. Not the best, but not a terrible compromise for trying a casino with a difference.
Equally, they are still adding payment providers, meaning currently you can choose to pay via Visa, MasterCard, Paysafe Card or a Bank transfer.
A few more e-wallets would be nice in future please High Roller.
It gets all the basics right
And more, if you count the one of a kind adventure you get to experience through Metrocity.
But what's important is all the small details. Like how you get customer service round the clock 24/7, or how they happen to be friendly and knowledgeable.
Or how your cashouts are processed in under 24 hours, and almost instantly if you want it back into your Visa or Mastercard.
Or how about the fact that a minimum deposit of just €$10 will get you a 100% bonus, doubling your first deposit, up to €$200 in cash.
Once you've made that first deposit, not only will you start travelling through the Metro City of High Roller, but also trigger 50 free spins on a fantastic slot.
Experience something totally new and different in casino today.
You can make our day
Sign up to our free casino newsletter and you'll get all the latest mobile casino news and promotions. And if that's not enough you'll make us super happy at the same time.
Grand Mondial Casino Our Best Casino - June 2023
150 Spins on Mega Moolah slot for €$10 Deposit
Play For Real
18+ | New Players Only | Gamble Responsibly | Wagering & Full T&Cs Apply
T&Cs Apply