Yggdrasil's Sonya Blackjack Games Breaks New Ground At Online Casinos
June 8th, 2018
Using groundbreaking motion capture, 3D dealers, and social gameplay, Yggdrasil have released a real money blackjack game like no other called Sonya Blackjack.
Yggdrasil Gaming studios are promising to re-invent casino game with the launch of the first in what will, no doubt, be a series of table games.
We gave you a hint of that back in February 2018 when they announced that they'd be working on something very new, and very different.
Well, today is the day when they start to break new ground, and at none other than Vera & John mobile casino.
What are the Yggdrasil Sonya Blackjack casino games?
For one, it's the first Yggdrasil table game from a studio that usually creates slot machines.
Get 100 Gemix Free Spins
Sign up to Vera&John casino, deposit €$10 and get 100 Free Spins Bonus
#AD 18+ New customers only. 40x Wagering and Full T&Cs apply.
But if you are worried that this means that they will be far inferior to their primary bread and butter, you'd be very wrong.
Namely, because Yggdrasil pride themselves on always trying to stand out from the pack and never just do what everyone else is doing.
The Sonya Blackjack tables are basically a 3D social game which sits somewhere between live casino and online casino.
The dealer has been created using stop-motion capture, and up to three players can sit at one table and interact, whilst hundreds of others watch.
The name of the red-headed standard avatar is Sonya (hence the title), but she can easily become a he, or a blonde, or a Viking.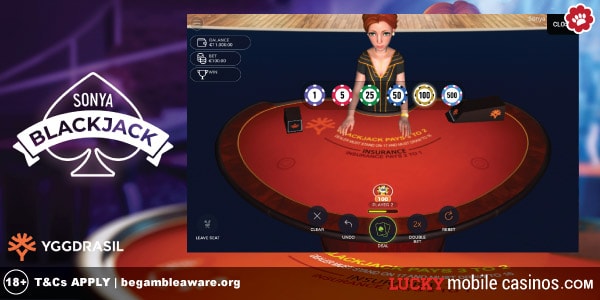 A 3D real money social blackjack game? What do you mean by "social"
As soon as we use the word social images of Facebook apps or Android game apps probably popped into your head, but that's not even close to what we are saying.
We mean social in the traditional way: you get to talk to other blackjack players at the table. A bit like online bingo basically.
Yggdrasil CPO Krzysztof Opałka said: "Yggdrasil has a track record of ripping up the rulebook to deliver products that reinvent online casino and Sonya Blackjack is no different."
And whilst many amongst you might hiss at the idea of interacting with your fellow gamblers, plenty of us like to talk to other like-minded individuals who are here to play blackjack.
Better yet, you can watch other players, see how they bet and learn. Just like in a real casino venue.
4 reasons we like this better than live blackjack
Look, we are not going to sit here and say we hate live casino, far from it. In fact, if you've read our previous posts, you'll know that we've been more than happy to help live casino players find offers and casinos to suit you.
Vera & John Boast 2 Different Live Casinos:
Casino Cosmopolitan From Top The Experts Evolution Gaming
Casino Paris From Top Provider NetEntertainment
But, on mobile at least, we find the live casino experience a little restricting.
We get the appeal, and on desktop and even iPads it's fun enough, but on smartphones and iPhones it's not always as enjoyable.
What Yggdrasil are hoping to do here is provide an in-between space that makes it cheaper for the casinos to run, and easier for the gamblers to play and socialise. Everyone wins.
1. You get realistic but not distracting casino dealers
Whilst we can't deny that many casino aficionados may show up to the live casino tables to ogle at the Eastern European ladies shuffling cards, most of us are here to get that real casino feel.
A little banter on the table, talk to our neighbour, that feeling of getting a real-time win rather than beating a computer.
And yes, with the Yggdrasil Sonya Redux Table Games, you are still beating a computer, but it's a clever computer.
One that has been designed to mimic the movement of a real live dealer and that can be changed by the online casino to make the experience a little more exciting.
Because let's be honest, the real fun is watching real-life people play on real-time tables, rather than the dealers themselves.
2. You get all the standard options and rules blackjack
Like in any respectable casino game, the product offers all the standard Blackjack options and rules.
You get Insurance, Even Money, Split, Double and Double after Split and a wide betting range meaning most Blackjack players should be able to comfortably place a few bets.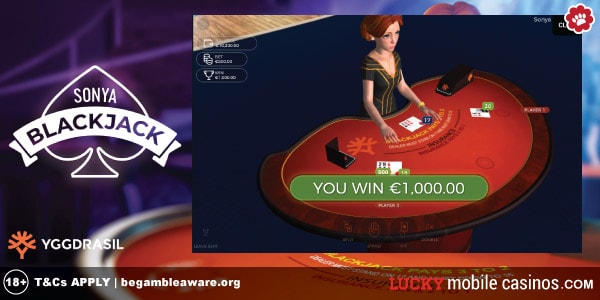 So ultimately, even if you hate all the social stuff or the live-action stuff, you can still just play a familiar, beautifully presented, online blackjack game.
You don't have to get involved with the special features if you don't want to.
Recommended Reading: Try our Blackjack crib sheet for easy to follow hand guides
3. Easy to enter missions, rewards, tournaments and cash races
We know you don't care that this is cheaper to run than a live casino, because no one is out there crying for the hard life of these poor (ha!) gambling sites.
Get 100% up to €$100 + 100 Free Spins
Sign up to Mr Green casino and get 100% up to €$100 Bonus + 100 Free Spins
#AD 18+ New customers only. Wagering and Full T&Cs apply.
But you should care. Because cheaper costs for them, makes for more generous casinos. Ever wondered why there's so many more promotions on slots than on live table games?
Mostly it's because it's easier to win on table games, granted, but it's also because the 'rent' on slots is a lot cheaper than on live games – for obvious reasons. Live dealers and film studios don't come cheap.
"With our 3D modelling, operators have unlimited opportunities to create event-specific environments, at a significantly lower cost than with live dealer." Continues Yggdrasil CPO Krzysztof Opałka.
That means the casinos will be able to create custom missions that give out free spin or bonus rewards far more frequently and easily – because money they don't have to spend on running costs, can be spent on players.
And who doesn't love a little blackjack tournament now and again?
4. Graphically striking, but easier to play at mobile casinos
Yggdrasil's proprietary tech platform REDUX™ has been developed internally from scratch. It means you won't find this Sonya blackjack games anywhere but at Yggdrasil casinos.
Specifically one casino: Vera and John who have exclusive rights to these games for a few months yet.
Better yet, Redux ensure a seamless desktop and mobile game experience with rapid loading – perfect for when you're not playing on Wifi (something live casino cannot boast).
Yggdrasil have promised a Roulette and Baccarat game in the future, but until then, you know where you need to go to try a one of kind Blackjack casino game.
Note: Unfortunately it's not currently available to play in the UK but will be at some point soon, so be sure to check back when we will let you know.
You can make our day
Sign up to our free casino newsletter and you'll get all the latest mobile casino news and promotions. And if that's not enough you'll make us super happy at the same time.
Grand Mondial Casino Our Best Casino - September 2023
150 Spins on Mega Moolah slot for €$10 Deposit
Play For Real
18+ | New Players Only | Gamble Responsibly | Wagering & Full T&Cs Apply
T&Cs Apply