Double Double Bonus Poker – Microgaming
Mobile Video Poker Review
Play at GUTS »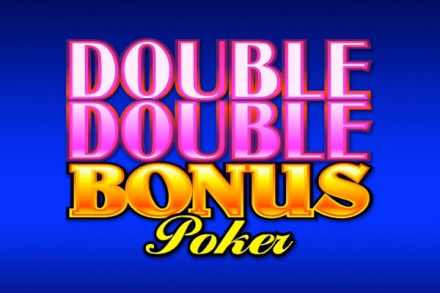 How to play Double Double Bonus Poker – Microgaming
Draw from 100 decks of 52 cards, this Double Double Bonus video poker machine is pretty in pink and sharp as a newly opened pack of cards.
This machine may look prettier than IGT's Double Double bonus machine, but in terms of use it has a few flaws.
For one when you win, the only indication of that happening is a slight flashing on the paytable. Nothing very exciting. Add that it took us a while to figure out that you had to tap on the paytable to reduce the coin size, and it's not quite as intuitive mobile video poker game as we would have hoped.
That said, the return is good, giving you at least 99% return to player rate if you play with a good double double bonus video poker strategy. Equally, the betting range is good and Microgaming casino games are great in that they work on every device known to man, from iPads and tablets to Android smartphones and iPhones.
The trick with this machine is to aim for the bonus hands, all of which pay better than the straight flush. Two pairs and jacks or better will only get you your bet back. So aim high or go home. The bonus hands you'll need to get are:
4 Aces with the extra card being a 2, 3 or 4
Four of a kind 2s, 3s, or 4s but with the extra being an ace or five of a kind of those numbers.
4 of a kind aces
4 of a kind 2s, 3s or 4s
4 of a kind all the other cards that are not 2s, 3s, 4s.
All in all, we probably still prefer the IGT machine because it has marginally better odds (0.5%), though this one has far sharper graphics and the cards are far easier to see on the smaller screen.
Screenshots
Video Poker overview
| | |
| --- | --- |
| Game Software | Microgaming |
| Min / Max Bet: | 0.25 / 25 |
| Max Win: | 20,000 |
| House Edge: | 1% |
| Number of Hands: | One |
Conclusion
A great Double Double Bonus Poker machine that is bright, fun and easy to play. Some of the controls could have been thought about a little more and no where does it explain the rules of video poker, so make sure your read up before you start playing.
Review by Lucky Mobile Casinos, Last updated: April 17, 2018