2014 B2B Award Winners: Who Made The Cut?
June 23rd, 2014
Every year the online gaming industry hold an awards ceremony to celebrate those who make players lives a little bit better. Here's our highlights and who you should be watching in 2014 for true greatness.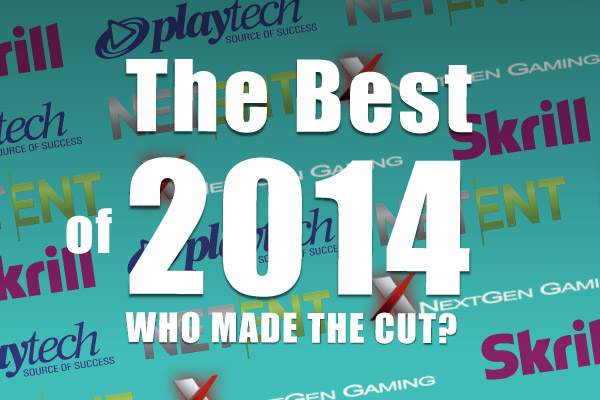 18+
The EGR 2014 B2B Awards are not about casinos. This is more about the people behind the mobile casinos; the recruiters who get them the best staff, the PR companies that make the biggest splash and the best casino software that creates the best games.
As such, many of these awards are terribly, dreadfully boring. Best Fraud & Compliance Solution? Yawn. Of course we know it's important, but to us it's a little like making sausages; we like the final product but we're not that keen to know all the fine details of how they get to us. As long as they are made well.
That's why you have people like us who look into it all for each casino and write anything that will affect you as a player. Keeps us busy and keeps you safe.
As such, you can, if you like, read the full list of winners here. Or you can read our far more entertaining analysis of the best cherry picked winners below, because we are way more fun than those EGR guys.
Innovation in Mobile – Realistic Games
Surprised? So were we. Don't get us wrong, Realistic Games have some fine attributes and are a great mobile software but… well… they are hardly widespread. Most of us who play their games will probably also scratch our heads wondering what's so innovative about them.
Best Realistic Games Casino?
Well, it's not about the games themselves, but more about how they've created their mobile casino games. They change depending on what device you use. If on tablet, you get a real 'in a hall playing slots' look. If on a phone, it's takes up the whole space on the screen. You can take a phone call mid play and not lose a beat. Add the new pull tabs games and you can see how they are trying to push the boundaries in mobile.
These games are basically indestructible, flexible and good looking. They are mobile games with superpowers.
Best Mobile Payment Solution – Skrill
This one doesn't surprise us one bit. In fact, we've shouted about the awesomeness that is Skrill in more than one post and casino review.
Previously known as Moneybookers, Skrill is by far one of the easiest ways to deposit and withdraw funds from your casino account.
Full stop. It's usually the fastest and safest way too.
On mobile they take it one step further because when you're playing on the go, sometimes you don't have your credit or debit card at hand. And typing those details in every time is boring as… typing in credit card details on teeny weeny screen keyboards.
With Skrill you have an email and a password and you can go to any mobile casino anywhere and start playing. They never need to know your personal payment details. Plus, with many casinos, most withdrawals can be processed in under 2 hours.
It's not the first time Skrill has won this and it won't be the last. If you haven't heard of this service, you should check it out.
Mobile & Slot Provider of the Year – NetEntertainment
This is technically two awards which we've put together into one for laziness and because for us, it kind of means the same thing. If you are going to bring out awesome slots, they better be awesome mobile slots. That's all we are saying.
Too many good NetEnt Casinos to pick from but we love Guts Casino at the moment.
The awards are actually 'Best Mobile Supplier' & 'Best Slot Provider'.
The first category says what we all know. NetEnt not only create great mobile casino games (not just slots) but they create a lot of them throughout the year. Not as many as some, Microgaming do more, but NetEnt casinos tend to receive all the latest and best releases across both their mobile and online platform as soon as possible.
We didn't have to wait a year to get Aliens on mobile. Players were able to start playing this blockbuster game hiding out in the toilet with their iPad so their other halves wouldn't tell them to stop playing games and wash the freaking dishes for god sake. Not that we are projecting here.
The second category basically says that they make the best slots. Again, no surprises here, but nice to know that everyone else has the same love affair with this provider as we do.
Platform of the Year – Playtech
This is an odd one for players, who may not quite get what this means. Basically, and mostly, casinos create a website and then go to people like Playtech and say 'Hey, I want your games, let's do this!'
Sometimes however, they go 'Hey! I don't have a website, but would like a casino. Can I just use your game platform for everything?'
That's how you get Microgaming only casinos such as 32Red. Or even the likes of Leo Vegas, who are on the NextGen platform, but then they plug in extra games, cause NextGen is nice like that.
Best Playtech casino?
Ultimately, these game providers are really good with technology and can offer an all round solution for up and coming casinos. Sometimes you can just plug in their platform with your existing site. Like adding a waistcoat to a beautiful suit jacket.
Which is what Playtech do so well in fact. Not just providing the full solution, but also giving casinos an easy plug in to their games. Which is why you have big names like Paddy Power & Betfred all having a special casino section for Playtech.
Special Achievement – NextGen Gaming
Talking of which, guess who won the biggest, most bad-ass award of all? The little Swedish casino software that could, that's who!
NextGen Gaming like punching above their weight. They are not the biggest and they are not always the best, but by god are they the one that try the very hardest to stand out from the crowd and shake up how we think about casino games.
What does this award mean? In plain terms, and to be frank, it means 'NextGen have been doing tons of special and different stuff with all their games and making a splash'. Or as the award organisers put it;
"The Special Achievement award is to recognise a company that has consistently shown a breadth of innovation… especially in mobile, NYX Gaming Group has demonstrated a desire to push the industry forward."
Nyx Gaming and NextGen Gaming are the same company. The first is the platform (as we mentioned earlier) the second is the name of the games. But it's all the same company at the end of the day. It's a little like congratulating George Lucas for Star Wars. Or should that be Disney now?
Either way, we think NextGen deserve this award. Well done them and well done to all the winners of what was a brilliant industry award ceremony.
If you want to play their games, we couldn't recommend anywhere better than Vera & John Casino who have their whole collection (plus NetEnt and Skrill, two of the other winners). Good luck!
You can make our day
Sign up to our free casino newsletter and you'll get all the latest mobile casino news and promotions. And if that's not enough you'll make us super happy at the same time.
Grand Mondial Casino Our Best Casino - June 2023
150 Spins on Mega Moolah slot for €$10 Deposit
Play For Real
18+ | New Players Only | Gamble Responsibly | Wagering & Full T&Cs Apply
T&Cs Apply