It's Raining Cash Thanks To This Guts Casino Free Spins Promo
November 2nd, 2017
Start Spinnin' in the rain this November, as Guts casino give away 10,000 in cash every week, with guaranteed free spins bonuses as a sweetener.
What's the main problem with big cash casino raffles? Basically, the short story is that you are not guaranteed a win.
Hey, it's not called gambling for nothing.
Guts casino are changing the rules a little, giving you the chance to not just win huge amounts of cash if you are lucky, but also guarantee you free spins as a consolation prize if you are not.
We love a good win-win situation and it's what makes the latest promotion from Guts worth taking a closer look at.
There's 3 parts to this Guts casino promo
And whilst you might think that this would complicate matters, it doesn't.
In fact, it's really rather simple; you just need to be willing to play video slots at Guts casino throughout November.
Any and all slot games will do, they are not being that picky. Just start playing, and you'll accumulate points.
[bonusside code="gutsndp"]
1. The month long leaderboard challenge
We start, to be honest, with the least appealing part of this Guts promotion.
Mostly because only high rollers have a chance of winning this one, it's a points leaderboard based on how much you spend.
So for every £€$10 you spend, you'll get 1 point towards to leaderboard. The top 150 players with the most points win a share of £€$10,000 at the end of the month.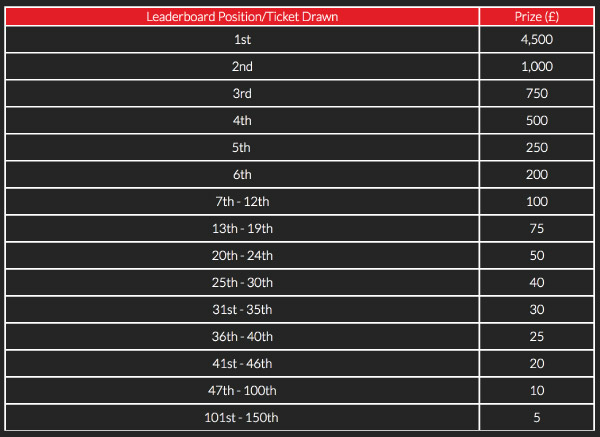 It's not one of the best casino promotions if we are honest, and will happily skip over it, for the better parts.
2. £€$10,000 give-away every week in November
Now things get a little more interesting because you don't need a huge budget to win a slice of this give-away.
10 points, or £€$100 worth of wagers, will give you one entry ticket into the weekly raffle, as well as guarantee you a free spins bonus.
But the latter is for the next part.
[bonusside code="gutsd"]
For now just know that every time you play and wager at least 10 in either real money or bonus money at Guts in November, you are automatically put in a draw to win anything from 5 to 4,500 in cash.
3. Guaranteed free spins every week for participating
Say you don't win the weekly raffle, and you know you'll never get enough points to compete in the leaderboard. What now?
Now you get some sweet, sweet, free spin bonuses on the game of the week as a consolation prize.
If you managed to get those 10 points, or make £€$100 worth of wagers, you'll walk away with 10 free spins on a different online phone casino game each week.
Is this Guts casino Rainy Day raffle any good?
We love the simplicity of it, that's for sure, any promotion that can easily explained in 300 words or less is great.
It means, for the most part, that there's no hidden or complicated T&Cs to worry about.
That said, there are a few things you should be aware of before you start spinning away.
This is, primarily, a video slots player promotion
Whilst you will accumulate points if you play on table games or live casino, you won't accumulate as many point as if you play on a video slot.
So, for example, $1 on a video slot, counts as $1 worth of wagers towards getting a ticket.
But if you wager $1 playing online blackjack table games, for example, it only counts as 0.10 towards your wagering.
You can still get your tickets this way, namely because you tend to win more on table games, but it's not as quick or as efficient than if you stick with the mobile slot machines.
[bonusside code="gutsg"]
You don't have to deposit $€£100 to wager £€$100
Making 100 worth of cash wagers sounds like more than it is.
That's because you can wager a whole load more on a slot game using a fairly small deposit, namely because most of us tend to play back all those little wins that don't amount to much.
So if you bet $1, and then win $1, as far as you are concerned, you haven't won anything, so you bet $1 again.
However, the machine is counting this as $2 worth of wagers, because it is counting those little wins.
Generally, if you don't play with a risky slot game strategy, you can wager £$€100 worth of bet with at least half that amount in deposit, possibly less if you're lucky.
We like that you just have to play casino games
Unlike Leo Vegas casino, which has a similar promotion, Guts don't limit your choice of casino games online or on mobile.
Sure, if you play table games you won't acquire points as fast, but you can still play them.
More importantly for slot players, you can choose any of your favourite slots and play as you usually would.
No need to do anything out of the ordinary.
We love this slick mobile casino platform
Of course, that last point isn't really that important if you don't love playing at Guts casino. Which we do.
It's been in our top 5 casinos for as long as we can remember and there's good reasons for it.
Namely they have a huge selection of games, but the fact that their terms are very fair also helps.
No wagering on free spin casino bonuses
For example, did you know that all their free spins bonuses, once you've taken their welcome offer, come with no wagering requirements?
They don't like complicated promotions or secret T&Cs made to trip you up at a later date.
What you see is what you get: great games, fast cashouts, excellent customer services, and this month, the chance to get guaranteed free spins every week.
Oh and a top prize of £€$4,500 on those weekly raffles. Because we can but hope right? It's why everyone loves a good spin on the slot machines.
You can make our day
Sign up to our free casino newsletter and you'll get all the latest mobile casino news and promotions. And if that's not enough you'll make us super happy at the same time.
Grand Mondial Casino Our Best Casino - December 2023
150 Spins on Mega Moolah slot for €$10 Deposit
Play For Real
18+ | New Players Only | Gamble Responsibly | Wagering & Full T&Cs Apply
T&Cs Apply