Get 300 Free Spins On The Two Tasty New Berryburst Slots At Royal Panda Casino
August 23rd, 2018
Royal Panda casino are giving away free spins on the new Berryburst slot by NetEnt from now until the 6th of September 2018. Here's what you gotta do to get you those sweet 300 free spins.
Don't worry, you don't need to jump through a million hoops to get those 300 casino free spins on the new NetEnt Berryburst slot games.
And yes, there are two of them, Berryburst Max and 'just' Berryburst, and right now at Royal Panda mobile casino, you get 150 free spins on both of the games, giving you a total of 300.
We take a look at the difference between the two games, how you get your hands on those thirst-quenching casino bonuses, and whether it's all worth it in the end.
The answers might surprise you.
How to get those Berryburst slot free spin bonuses:
As always Royal Panda likes to keep things simple, so the idea is that you can get 10 free spins on each of the two new slots by NetEnt per day.
Every day you play on one or the other of the Berryburst games between the 23rd of September and the 6th of August, you'll get free spins on the same slot that same day.
The good news is that you if you prefer one or the other, you can just play on your favourite one and just have free spins on that one.
Try Royal Panda Mobile Casino
Sign up for free to Royal Panda casino and get up to $1,000 welcome bonus on your 1st deposit
18+. New players only. Wagering requirements apply. T&Cs Apply
Get 10 free spins for 10 real money slot spins
This is a very fair promotion in the end; you get like for like.
Play 10 spins at any bet level on both or either of the Berryburst games, and when you reload the game, you'll have 10 free spins bonus waiting on the exact same game.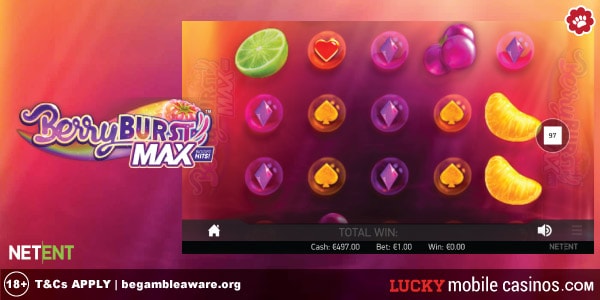 So if you play 10 spins at 0.10 a spin on Berryburst Max, when you're done playing, or even straight after those 10 spins, reload Berryburst Max. You'll then get 10 free spins to play straight away.
How easy is that?
Get up to 20 free spin bonus every day until the 6th of September
In order to get the full 300 free spins, you will need to play on both games every day until the 6th of September.
Chances are, most of us will just go in and play on Berryburst when we show up at Royal Panda casino. But that's still very cool, you basically have two weeks where every time you show up you can claim a free spin bonus offer.
And because you can get 10 spins on each of the two games you can swap and change as you want, and test out both to see which one ends up being your favourite.
You might be surprised by the results.
Any T&Cs I should know about?
There's always a few T&Cs to any casino promotion, so we always recommend you read them in full before you go ahead and start playing.
That said, as with the promotion, Royal Panda has kept things relatively simple.
Any winnings from the free spin bonus have to be wagered 35 times before they can be taken out
You can only claim a maximum of 10 free spins a day on Berryburst slot
You can only claim a maximum of 10 free spins a day on Berryburst Max slot
This promotion ends on the 6th of September
You have to play 10 real money casino slot spins on either of the game to claim your bonus
The bonus is available to you instantly once you reload the machine and after making your qualifying spins
You can play the NetEnt games at any bet level, but all paylines have to be active
You can use the free spins on either the desktop or the mobile slot version of Berryburst / Berryburst Max
In short, if you want to try the new juicy game by one of the best providers around, Royal Panda is where you need to go to get started.
Because not only will you get free spins on both of the machines, but you can keep on claiming all the way until September 6th.
Play Now at Royal Panda Casino »
Should I play Berryburst slot or the Berryburst Max slot?
So what is the difference between this two similar looking and similar sounding machines?
It's so little, and yet so much.
In short, the look and feel of the two games is almost identical.
The Berrybursts are 5 reels cluster pay slots where when a wild symbol shows up, that wild will expand to cover the whole reel and you will then get a free re-spins of the other 4 reels.
Sounds familiar? A little Starburst like maybe? That's pretty much done on purpose.
Get 100% up to €$1,000 Bonus
Play slots and live casino with welcoming up to €$1,000 Royal Panda welcome bonus
18+. New players only. Wagering requirements apply. T&Cs Apply
Are these sequels to the Starburst slot machine?
It's not a secret that Starburst is one of the most successful NetEnt slot machines of all time, and yes, to a certain extent this casino game vendor is trying to re-create their success.
But they are not doing a cheap copy, instead they are trying to provide something for everyone.
The theme is certainly similar enough, with juicy orange segments, flavoursome raspberries, and sharp limes covering a 5×3 reel slot machine that brings about imagines of summer cocktails.
It zings on the screen, and those wild re-spins are always a welcome addition.
The main difference is in the math models
We know that sounds boring, but it won't take long to go through the difference:
Max has a higher maximum win of 6,000 times your bet VS Berryburst where you win 1,868 times your bet
Max has an RTP of 96.23% and hit rate of 14.06% VS Berryburst's 96.56% and hit rate of 20.17%
Max is a higher variance slot than 'just' Berryburst which is lower on the slot volatility scale
In short, Max has bigger wins, but it doesn't have wins as often as the normal Berryburst which keeps your balance ticking along a little smoother.
Is this casino promotion worth it?
It depends.
You just have to read our Royal Panda casino review to know that this is one gambling site we rate highly. They have a great selection and variety of games and betting options, quick payouts, and a friendly team.
The Berryburst slots are one of those that you are either going to love or hate, but at least one should appeal to you.
We prefer the original Berryburst rather than the Max version because we think those wild re-spins work better when they show up often. But, we guess, we never had that much patience – we like high action slot machines.
The good news is that you can discover for yourself which of the two machines suits your taste because all you need to do is spend £€$1 of your real money to get an additional 10 free spins to see how the two machines work.
And there's only one casino that gives you that opportunity, everyday, for two weeks. Go play and find out more.
You can make our day
Sign up to our free casino newsletter and you'll get all the latest mobile casino news and promotions. And if that's not enough you'll make us super happy at the same time.
Grand Mondial Casino Our Best Casino - January 2023
150 Spins on Mega Moolah slot for €$10 Deposit
Play For Real
18+ | New Players Only | Gamble Responsibly | Wagering & Full T&Cs Apply
T&Cs Apply