iPhone & iPad Casinos: Driving Mobile Casinos Forward
November 10th, 2013
In a moment of whimsy we started thinking about when we started truly enjoying mobile casino games.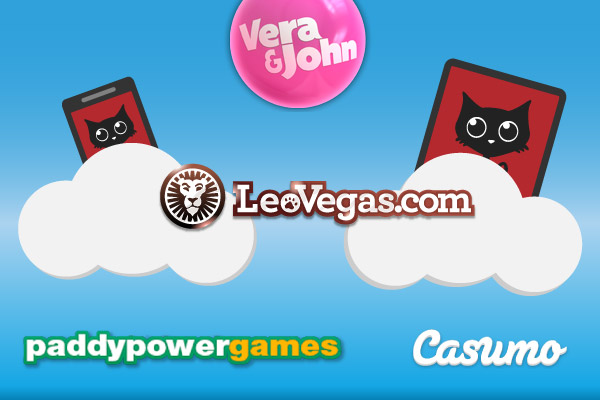 18+
And so this blog post was born. Although these days we are as likely to play on our Android phones as on our iPad, here we explore why the iOS devices, and specifically the rise of iPad Casinos and iPhone Casinos, started a wonderful chain of events.
Namely getting casino game software's to create better mobile games and online casinos to build beautiful intuitive platforms.
The popularity factor
Chances are you'll have at least one kind of iOS device in your house and home, like an iPad or iPhone. If you don't – well done you for breaking the mould! But consider this: it only took 9 months from the creation of the app store for Apple to reach one BILLION downloaded apps. In 2012, 25 Billion apps were downloaded from the app store. Even if we take a huge average and accept that one person will download 100 apps in a year, that still means that there are at least two hundred and fifty million people using Apple devices. And that's us being conservative.
In 2012, 25 Billion apps were downloaded from the app store.
Why are iOS devices so popular? Do we need to break it down for you? How about the ease of use, the intuitive touch screen, the brilliant HD screens or the vast choices of multi-use apps downloadable straight to your Apple device?
The iPad Casino breaks the mould
Without the iPad, we doubt we would have the great and growing range of mobile casinos today. It's true. iPhone's have been around since… 2008. Now when did you really start noticing mobile casinos? Not 2008. Sure, there were a few online casinos out there that jumped on the mobile bandwagon straight away and gave some decent offerings. Absolutely.
But let's be honest, you had an incredibly small range of very simple mobile casino games and it barely entertained for more than a minute or two. As soon as you lost connectivity you gave up in a huff and went on to play another game on your iPhone, waiting to get home to your desktop to gamble online.
The end of 2010 was when it all really started, led primarily by the sportsbook operators.
So when did mobile gambling become the race it has now become, with every operator rushing to build a mobile platform? The end of 2010 was when it all really started, led primarily by the sportsbook operators. Online casinos came onboard in 2011 when they saw the sporstbooks were making decent profits and 2012 was when the world went a little mobile casino mad.
Guess what was launched in 2010?
The iPad. And what came out in 2011 that became the must have item now that everyone else had the first version? (Don't try and work out the logic in that last sentence – popularity doesn't always equal intelligence) Yes, the iPad 2.
One of our top 3 iPad casinos: Leo Vegas
Now we are not saying that the iPad is solely responsible for the growth in mobile casinos. There are a number of factors involved, one of which was the casino games softwares realising that they only way forward was mobile to compete with the growing number of mobile game apps. The average person spends about 127 minutes a day using apps, of those 43% are games. So is it any wonder the casino game softwares decided to start playing ball?
But the iPad made it possible for online casinos to provide players with an experience similar to that of their desktop browsers. Beautiful, immersive, and with WiFi, as perfect as any online gaming experience.
Steve Jobs said it perfectly:
"The strategy is really simple. What we want to do is we want to put an incredibly great computer in a book that you can carry around with you and learn how to use in 20 minutes."
Mission accomplished.
A special place in our hearts
With the iPad came every other tablet out there and no casino dares launch a mobile version of its site without ensuring it was iPad and generally tablet friendly. iPad Casinos led the way to creating flawless iPhone casinos and Android Casinos that you didn't have to download.
The point was, instant play was now a reality and an expectation for mobile casinos. Your iPad or smartphone takes a minute to turn on, you can quickly start playing AND watch TV or pretend you are listening to your other half. Perfect entertainment.
So, in our books, you have the iPad and iPhone to thank for the rise of beautiful mobile casinos and for LuckyMobileSlots.com & LuckyMobileCasinos.com.
You can make our day
Sign up to our free casino newsletter and you'll get all the latest mobile casino news and promotions. And if that's not enough you'll make us super happy at the same time.
Grand Mondial Casino Our Best Casino - October 2023
150 Spins on Mega Moolah slot for €$10 Deposit
Play For Real
18+ | New Players Only | Gamble Responsibly | Wagering & Full T&Cs Apply
T&Cs Apply