How To Play Super Sic Bo Live Online
March 5th, 2020
If you are looking to play the live casino game Super Sic Bo, then we've got good news. Here's a how-to guide to make sure you know what you're doing.
It may have an intriguing name, but the concept is very simple. With Super Sic Bo, it all comes down to the role of the die.
Sic Bo originates in China, and the objective is to guess the values when the machine rolls three dice.
It sounds easy enough, but the total number of combinations of three different dice can mean there are almost infinite opportunities – which means there are almost infinite opportunities to win.
We focus on the Evolution Gaming version of this game, which gives you a live casino online gaming experience with classic Super Sic Bo gameplay.
What makes Super Sic Bo Evolution different?
With this live online version, the key difference is the multipliers. While the Super Sic Bo rules are more or less the same as the standard game, the opportunities to scale your winnings are enormous.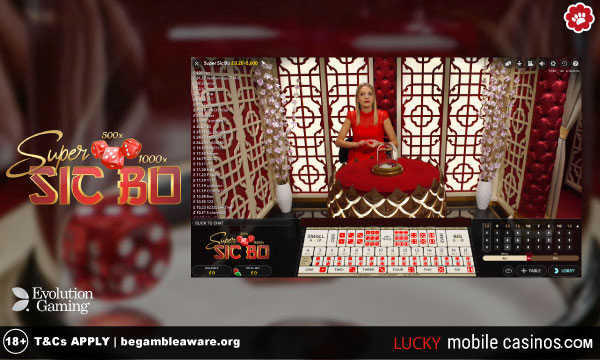 When you begin gameplay, you place your bet on one or more result combinations shown on the betting table.
The machine will then get ready to roll the dice – the dealer is here to assist you instead. If the shake matches your bet, you win.
It sounds like the odds are astronomical, but there are so many more ways to win, which we will get to it in a moment. First, let's talk about the unique version of this Evolution Gaming machine.
How the multipliers work
Just before the machine rolls the dice, random multipliers are applied at several bet spots in every game round. Quite simply, you never know when your bet might be multiplied before the dice are thrown.
So, if the multiplier applies and you win, you could see your winnings double, triple or even more!
Get €$100 Bonus + DGame of GUTS Reward
Get your GUTS welcome bonus plus spin the wheel to get cash prizes, free spins and super spins.
#AD 18+ New customers only. Wagering and Full T&Cs apply.
The multipliers are selected randomly – there's no input from the dealer. This makes everybody else's chances just as good as yours, so there's no excuse not to bet.
What is the minimum bet on Super Sic Bo?
With so many potential winning combinations, it's easy to see why the minimum bet is so low – as little as 0.20 a go.
That makes Super Sic Bo a fun, low risk game to play while you're perusing the table games – but the winnings could be sky-high.
Mostly, that's thanks to the fact that you can get up to 1,000 multiplier in this version of the Super Sic Bo game.
Maximum winnings on Super Sic Bo
With such huge random multipliers available, you'll be forgivng to bet on the results and try your luck. But there are also a high number of different ways you can bet, for example, increasing or decreasing your odds of winning.
Totals: this improves your odds slightly, as you can make a bet on the total value of the three dice. Therefore, there's not as much emphasis on the value on each individual die. The amount you win varies depending on the bet you make; for example a total of four pays 50 to 1, but a total of 12 pays 6 to 1. Of course, with Super Sic Bo, the multipliers could mean even larger wins.
Triple bets: this means you bet that all three die will be one of the same number, giving you a pool of six different options. This usually pays out at 150 to 1, depending on multipliers.
Non-specific triple bets – for a smaller payout, you can bet on any triple to appear, which will typically award odds of 24 to 1.
Double: this bet assumes that two out of three of the dice will have the same value. It pays out at 5 to 1, multiplier depending.
Any number: here you can bet that any number comes up on any of the dice. So, if you get one match, you'll win twice your stake, and it rises incrementally up to three times your stake.
Big/small: these are 50/50 odds. It basically means the total value of your dice will be 'big' – i.e. 11 to 17, or 'small' – 4 to 10. The payout is usually 1 to 1.
Odd/even: again, this is the same as big and small, but relies on all the dice being odd or even. Be warned: this bet is not available on all tables.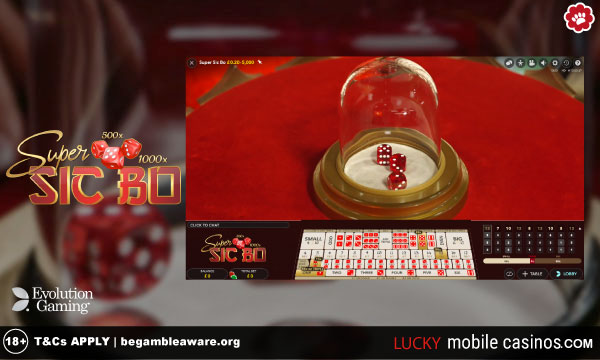 Is there a Super Sic Bo strategy?
You may have noticed by now that there are many similarities with roulette on Super Sic Bo – for example, betting odds and evens. Just like roulette, it is entirely a game of chance, but you may get further with the following tips:
Try betting on a total value rather than specific dice numbers for better odds.
Single dice bets have better odds but be wary that the payouts will be smaller – if they announce a big multiplier, make these bets then!
Small and big bets have the biggest number of winning combinations, with the smallest house edge.
Remember: the RTP is around 95%.
It is not the most profitable casino game online, but it's a whole load of fun to play.
Make it more fun with Super Sic Bo live
Not only are the multipliers there to make your bets more valuable, with Super Sic Bo from Evolution, you can also play with live dealers.
These help to provide a more authentic casino experience, with carefully positioned cameras and friendly experts to take you through your bets.
Whether you've got a strategy or just love a stab in the dark, this ancient Chinese game is back with a modern twist.
Time to play at a great live casino that gives you the best experience, welcoming bonus, and all the best live table games at Casino Cruise.
You can make our day
Sign up to our free casino newsletter and you'll get all the latest mobile casino news and promotions. And if that's not enough you'll make us super happy at the same time.
Grand Mondial Casino Our Best Casino - June 2023
150 Spins on Mega Moolah slot for €$10 Deposit
Play For Real
18+ | New Players Only | Gamble Responsibly | Wagering & Full T&Cs Apply
T&Cs Apply