How To Play Monopoly Live Online
December 19th, 2019
Evolution Gaming has released a casino game based around the most famous board game of all. We take a look at the rules of this Monopoly Live Online and how you win.
It's a classic brand that's managed to reinvent itself countless times over the years. We've seen everything from Star Wars to Frozen II Monopoly – but now we can play Monopoly Live online at casinos near you.
If you want to walk away with more than just coloured money from a plastic bank, and end up tyccoon of your own pile of bricks, read on.
We take a look at this live casino game by Evolution Gaming, how to win, and how to play.
What is Monopoly Live Casino?
As the name suggests, this is no ordinary online gambling game. Instead, rather than just playing a computer, you'll be playing with a real live dealer!
These kinds of games are set up with high quality video streaming and feature a real human player (we'll call them the banker in this case) playing with you.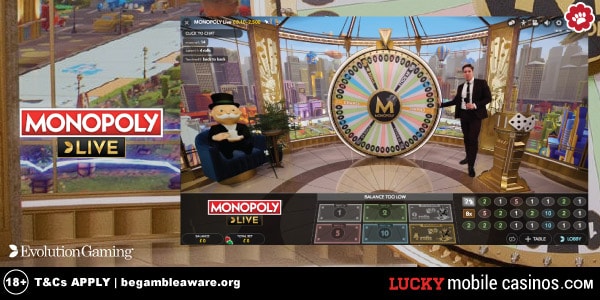 How do they do this? They use a state of the art studio with cameras positioned all around to help you get the best idea of what's going on.
It's not quite as easy as walking past GO to get €$£200 though – read on to see how you can win at Monopoly Live.
The rules of Evolution Monopoly Live
This is no ordinary Monopoly board. Instead, it resembles something more like a Wheel of Fortune style game show.
You may have heard of the Dream Catcher casino game, which is exactly what this is: Dreamcatcher with a Monopoly twist. Don't worry, we explain how it all works in a second.
Get 100% up to €$1,000 Bonus
Play slots and live casino with welcoming up to €$1,000 Royal Panda welcome bonus
#AD 18+. New players only. Wagering requirements apply. T&Cs Apply
There are different ways of playing and winning – including Monopoly Live, The Money Wheel Game, and the 3D Bonus Round.
(This last one is particularly exciting. Imagine all the elements of modern-day augmented reality gaming!)
The set up of Monopoly Live casino game
When you first open up the game, you'll see your live dealer standing next to a life-sized wheel.
All you have to do is take a bet on which section of the wheel you think it will stop once the dealer spins the wheel. This is divided into individual numbers, as well as those classic Monopoly cards we all know and love, mostly the mysterious "chance".
The wheel could also land on '2 rolls' and '4 rolls' segments. As the name suggests, this gives you the chance to double or quadruple your rolls. This also unlocks the bonus round, so we hope you're in it to win it!
If you bet correctly that you'll land on a chance, you'll also guarantee a multiplied sum of your stake, or an instant cash pay-out.
What happens on each segment of the wheel:
You can bet that the wheel will stop on 1, 2, 5, 10 or 2 and 4 rolls. If you bet on a number and your bet is correct, you'll win that many times your stake. For example, if you bet it will land on a 5, you'll get five times your original stake.
Land on a chance card with a multiplier bonus, and your bet stays in the same place. The dealer will spin the wheel once again, and whatever multiplier you land on will be your final prize.
If you land on another multiplier chance card, your multiplier will be multiplied!
If it lands on the 2 or 4 rolls, the famous bonus game will start.
What is the Bonus Game?
This is no ordinary bonus game. This is a 3D, augmented reality game that's triggered by the 2 or 4 roll segments.
This will look a little more like the Monopoly slots you're used to playing at online casinos. Join Mr Monopoly as he makes his way around a 3D board, where he'll collect you multipliers, cash prizes and maybe a little bit more.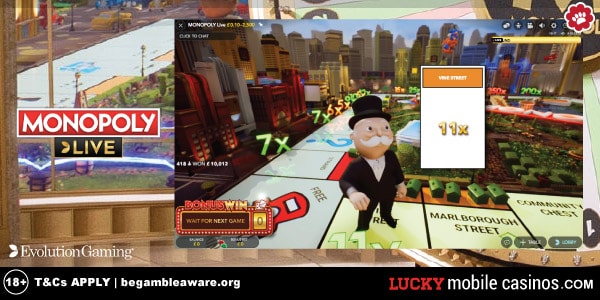 How the bonus round works
If you've bet on a 2 roll or 4 roll, you can participate in the game directly. If not, you can still watch Mr Monopoly make his way around the board. If you are playing, you can roll the dice.
Similar to the board game, you can land on go, chance and community chest. Watch out though – you can also go to jail or land on the dreaded super tax!
These bonus rounds are a great way of picking up extra prizes, either by deciding your own fate or watching Mr Monopoly play it out.
Try Royal Panda Mobile Casino
Sign up for free to Royal Panda casino and get up to $1,000 welcome bonus on your 1st deposit
#AD 18+. New players only. Wagering requirements apply. T&Cs Apply
Be careful with your bets
Take a look at all the segments on the board before you place your bets. Here you can predict probabilities, though there's no magic key to winning.
Obviously, it's trickier to bet that you'll land on a 2 or 4 roll, than to bet on a 1 or 2 roll – but you'll win more on the first bet. The best way to play is to figure out how much you are willing to lose and how much you want to win, and find somewhere in the middle.
It's all done with a live dealer, so there's no fixing. In true Monopoly style, it really is a game of chance!
Play Evolution Monopoly Live at our Recommended Casinos
Brought to you by the team who made Dream Catcher and the exclusive Topwheel Treasures game for Casumo Casino, this nail-biting take on the classic family board game may not quite be the same as playing on Monopoly with the family, but we bet you'll get in a lot less fights.
Enjoy the high-thrills entertainment of a Wheel of Fortune gameplay style, plus the personality of a live dealer and high-tech augmented reality.
Place your bets today and try your luck on the bonus rounds – you could just beat the banker.
The best place to play is at Royal Panda casino who love nothing more than putting live casino players first and celebrate every victory. Add a generous welcome bonus and a huge selection of games, and you'll quickly understand why we choose this casino over the rest to play live casino.
You can make our day
Sign up to our free casino newsletter and you'll get all the latest mobile casino news and promotions. And if that's not enough you'll make us super happy at the same time.
Grand Mondial Casino Our Best Casino - November 2023
150 Spins on Mega Moolah slot for €$10 Deposit
Play For Real
18+ | New Players Only | Gamble Responsibly | Wagering & Full T&Cs Apply
T&Cs Apply