Casumo's Topwheel Treasures Game: Exclusively Good Or Bad?
October 6th, 2018
It's been 8 months in the making, but Casumo Casino have released a brand new exclusive Live Casino game with Evolution Gaming. But was it worth the effort?
You might not play Live Casino, but if you're thinking of dipping your toes, then Casumo Casino is exactly where you'll want to start.
If you are an expert at Live Dealer Casino then you'll be happy to know that this is Casumo's own re-imagination of the Live Dream Catcher wheel by Evolution Gaming.
8 months is a long time to put together a new casino game, but on the other hand, you don't build a studio in a day; which is kinda what they asked Evolution Gaming to do.
We take a look at the Topwheel Treasures live game show and ask the all-important questions: is it any good? What kind of game is it?
The differences: Topwheel Treasures VS Dream Catcher
Topwheel Treasures game is basically a customised version of Evolution Gaming's renowned Live Dream Catcher wheel.
The mechanics of the wheel of fortune is pretty much the same as is the bets and results. At the end of the day, you don't change the rules of Roulette when you build a new roulette table for your casino.
What you do is make it look AWESOME. Which is basically what has happened here.
The back wall is a giant custom wall of LEDs that showcase results, player messages, and special offers as you play. Because if you have your own live studio to talk to your players, you might as well add a little VA Va Voom!
The animations, the colours, the logos… basically anything could happen on that wall behind the dealer.
Get 100% up to €300 Bonus + 20 Free Spins
Get 20 free spins on sign up plus up to €300 in bonus on your first deposit at Casumo
#AD 18+ New customers only. Wagering and Full T&Cs apply.
18 new Casumo Topwheel Treasures hosts
Yeap. That probably took the longest amount of time, which was to find the right hosts to spin that wheel.
It may sound crazy, but anyone who has played live casino knows that part of the fun is ensuring the host is (at minimum) friendly.
For a game like Dream Catcher or Topwheel Treasure, this is twice as important because the game is based on a game show wheel of fortune format.
They have to have a little showbiz flair to make spinning a wheel time and time again… exciting. It's what will give Casumo an edge over the more generic Dream Catcher games at other live games casinos.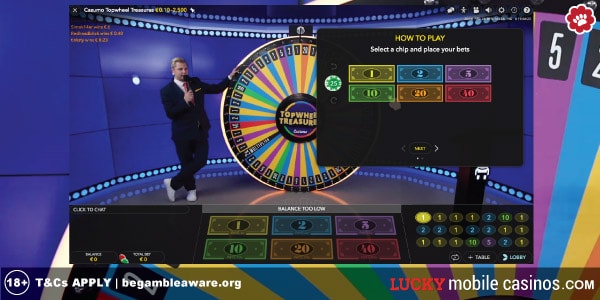 How to play the Topwheel Treasures live game
Having large mounted money wheels is something that probably showed up in brick and mortar casinos in the last couple of decades.
It doesn't have the years of history like Blackjack which claims to have been around since the 1700s, or even the likes of 5 Card Poker which has it's earliest written report of the game in 1829.
This is a fairly modern game and, in many ways, is made all the better for it. Instead of having to read any convoluted rules, they've made a beautiful simple live table game.
A perfect entry-level casino game
Where's as so many modern slot machines require a PhD in slot features and mechanics and the rules of video poker can get mathematically crazy, these Money Wheel games are the opposite.
The idea is simple: you bet on which of the coloured number segment you think the wheel is going to stop at: 1, 2, 5, 10, 20 or 40. If you bet on the correct number you win the corresponding payout (e.g. 1 to 1, 2 to 1, 5 to 1, and so on).
You can now understand why it's so important for the dealer to be more than just friendly.
They have to make each spin exciting and lively to keep the audience captivated, otherwise you're just watching a wheel spin, with few graphics, animations or storylines to keep you hooked.
The chance for super-sized payouts
There are a 2x or 7x bonus spin multiplier segments which offer the chance to get a bigger payout on the next spin.
Think of it much like a multiplier on a slot machine: if you catch it during your spin, the next spin won't cost you any more but will now have a 2x or 7x multiplier if you win.
It's little details like that that have made Evolution Gaming's Dream Catcher so popular and why they can boast that this is a precision-engineered bespoke wheel.
It was built exclusively for Evolution Gaming, and now Casumo casino, by TCSJOHNHUXLEY which have been making gambling game for casinos since 1973.
Get 20 Book of Dead Free Spins
Sign up and get 20 free spins no deposit needed at Casumo Casino
#AD 18+ New customers only. Wagering and Full T&Cs apply.
Is Topwheel Treasures game worth playing?
We like the simplicity of these Money Wheel games, but then (at heart) we are basically slot players who dabble in other casino games.
And Topwheel Treasure appeals to us because of the simple 'spin and win' mechanic that makes mobile phone slots one of the most popular gambling games online.
The good news is having tested it on mobile, tablets and desktop, this game can easily be played on all devices, though it's fairly heavy on the streaming.
So make sure you have the data to cover playing live casino games.
We love Casumo and we love their unique flair
At the end of the day, this TopWheel Treasures game is basically Dream Catcher but with prettier backgrounds and interesting hosts.
So the question you have to ask yourself is whether you like; 1. Dream Catcher and 2. Casumo Casino.
For the first, trying the game is the only way you'll truly know for sure. For the second, the gambling house Casumo has been one of our favourites for many years.
They have a generous welcome bonus, a wonderful loyalty program that doubles as an adventure, and one of the best selections of casino games online.
Add fast cashouts, easy to use website and friendly customer services, and once you go Casumo you won't go back.
You can make our day
Sign up to our free casino newsletter and you'll get all the latest mobile casino news and promotions. And if that's not enough you'll make us super happy at the same time.
Grand Mondial Casino Our Best Casino - June 2023
150 Spins on Mega Moolah slot for €$10 Deposit
Play For Real
18+ | New Players Only | Gamble Responsibly | Wagering & Full T&Cs Apply
T&Cs Apply