A Third of UK Gamblers Do This 3 Times A Week
January 18th, 2014
Probability Gaming has recently released a report talking about the habits of UK mobile gamblers. For fun, and because we can, we wanted to theorise what these numbers really mean.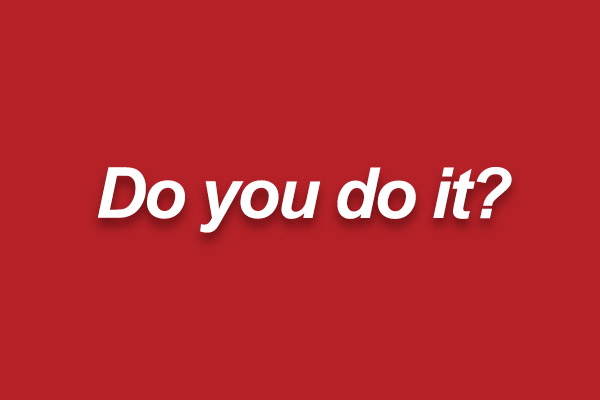 18+
Probability Gaming, in case you were not aware, are the people behind some of the UK mobile phone casinos you might recognise. We have two on this site in fact, with the likes of LadyLucks and Moobile Games.
Their expertise is gambling. Their very specific expertise is UK casino as that's where they are licensed and where most of their players enjoy playing their selection of HD mobile slots, roulette and blackjack.
Even if you're not from the UK, it's still fun to poke holes at other people. We could even learn a thing or two about ourselves.
70% of adults are already known to participate in gaming and betting activities
Yeah… we don't think so.
Look, what Probability Gaming is basically trying to say here is that we are all one big happy gambling family. So let's play casino games peeps! It's all ok!
Now, we are not saying they are lying. In fact we fully believe this stat to be fairly accurate. But, theoretically, if we were to hang out with our ten friends (yes ten, makes the math easiest) and I ask around, I can guarantee you that of those 10 friends, finding one that plays casino games with any regularity, will be difficult. Never mind seven out of the ten.
Look at the wording. 'Betting and gaming activities'. You know what that means? That means lottery, instant win scratch cards, bingo, placing bets on sports.
Sorry Probability. We regular mobile casino players may not be alone, but we are probably a far smaller group than 70% of the population. Even if all those 70% are playing the roulette wheel every weekend, we somehow doubt that…
87% of players would recommend playing mobile entertainment gambling games to friends, family and colleagues
Why are we in doubt? After all, aren't we writing, talking and breathing mobile casino slots and games in our website?
Sure. In fact we would love nothing better than for 87% of the people on this site go post this on their Facebook wall and their Twitter feed. "WE LOVE MOBILE CASINO!" (Do it. Prove us wrong.)
But generally, we think that us casino gamblers are a fairly low key community. We know gambling is just entertainment, but having to explain that to everyone every time the subject comes up gets boring. So if it comes up in conversation we will be the first to defend it and then even recommend it. But we are more likely to talk in forums with other gamblers. We find our own kind and talk shop, it's human nature to seek out those that have similar liking to us. And to them we would have no problem recommending playing mobile casino games online.
But are we going to shout it from the rooftops? Probably not. Yes Probability Gaming, we are one happy gambling family, but we are the distant kind who send Christmas and Birthday cards every once in a while.
One third of UK players play on their mobile 3 or more times a week
This stat boggled our minds, but also, is the one we are more prepared to believe.
Why? Because when "we" and "they" mean mobile, they also mean tablet, as in tablet casino and mobile phone casino. And we've been so use to using our tablets whenever we want to play a long session, and then our phones to play a couple of spins here and there and everywhere, we forget that most casino gamblers still prefer online casinos. Because then we remember it's our job to be this obsessive over mobile.
1/3 of UK casino players us their phones and tablets to gamble online
But then, we started to think and looked at it the other way around. One third of UK players use their mobiles to gamble on casino three times a week? That's… pretty much the primary choice of gambling right?
Most of us gamble for the fun of it. Maybe we take a couple of spins on our mobile when waiting at the dentist, and then a couple of nights a week you sit down and play for a couple of hours. Because let's be honest, not many of us can afford to gamble every single day, unless you are having one hell of a lucky streak. So gambling three times a week is quite a large portion of your gambling time. And one third of gamblers is actually a large chunk of us.
So whoa. Well look at that. We might just be one big happy family after all.
Do you agree or disagree with our points? Let us know below, we'd love to know what you think.
You can make our day
Sign up to our free casino newsletter and you'll get all the latest mobile casino news and promotions. And if that's not enough you'll make us super happy at the same time.
Grand Mondial Casino Our Best Casino - August 2022
150 Spins on Mega Moolah slot for €$10 Deposit
Play For Real
18+ | New Players Only | Gamble Responsibly | Wagering & Full T&Cs Apply
T&Cs Apply