Rival Gaming Is Going Mobile
January 23rd, 2014
Rival Gaming has announced plans of making their online slots and casino games available to players on their mobile phones and tablet. How do we feel about that?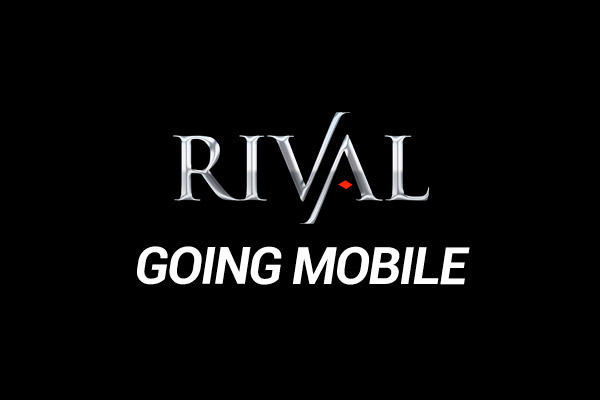 18+
Rival Gaming is the Marmite of the casino software providers. You either love it or you hate it. We, of course, are not going to take sides. But if we were, let's just say that our healthy dose of cynicisms wouldn't just be present, but standing over our shoulder having a cup of coffee and pointing out our grammatical errors.
Because despite some great online casino games it's been a while since Rival have released anything new in their portfolio that is worthy of note. Sure, some of their old games are still favourites with many, but with the likes of NetEnt ramping up the graphics in their slots games and Sheriff and BetSoft nipping at Rivals heels with their 3D slots drama, the old software hasn't been doing that well against it's younger counterparts.
And Rival has been around for a while, since 2006 in fact. Rivalling (see what we did there?) only Microgaming and Playtech in longitude in the business. And now they are going mobile. Can they compete?
That's a very solid, perhaps, definitely, maybe.
Which Rival Slot Games Will Go Mobile?
Undoubtedly the first load of HTML5 casino games to be available on an Android or iPhone screen near you is going to be a few of their very many online slots. Currently we don't have any Rival casinos in our mobile casinos list, but that's because most Rival casinos ONLY provide rival games. And until they start mobile, we are not going to add them on Lucky Mobile Casinos. The clue is in the title.
Similar mobile casinos that you can play on now?
We don't know the date yet. We do know that Rival has sent a general 'Get ready people! It's coming!' to the wider gambling world and we are listening. So, for fun, we've listed the top five rival slots and games we think they are going to release on mobile first. If we are right we will buy everyone who reads this a real live unicorn.
Scary Rich 1/2: It's cheating to put two slots in one you say? Well boo hoo, this is our post and that's just the way it's going to be. We'll bet our right foot that one of the two most famous of the Rival slots will go mobile, or our name is not Lucky.
Scary Rich 3: What? Another one? Yeap, but not half as popular or as good. However it was only released last year, so this mobile slot will probably aim to try and beat the competition at it's own games with 3D slots graphics rather than the usual, simpler, Rival style.
As the Reels Turn ep. 1: If their is not at least one i-slot on the list then we will actually personally hunt down that unicorn for you. By far one of the casino games that have made Rival stand out, this is their series of comedic story based slots where you unlock more of the story lines as you progress through the slot game.
Major Moolah: Not to be confused with the Microgaming progressive slot, this is the Rival progressive jackpot slot that is classic in look and style – we are talking money, cash, the whole golden bucks. 3 reels and with usually a few thousand up for grabs.
Blackjack / European Roulette: Yes we are edging our bets here, but how can they say they will release a 'mobile casino' without at least covering some of the other casino games out there, not just video slots?
Ok, we know that's technically more than five, but you get the general idea. Three old slots, one new slot and one of their table games. That will be for starters and that's our bet.
If any Rival fans want to give us their opinion of their favourite Rival slots that they hope will be made into mobile we would love to hear from you, so comment on the box below or like us on Facebook or Twitter. We will let you know as soon as we hear of the first Rival mobile casino.
You can make our day
Sign up to our free casino newsletter and you'll get all the latest mobile casino news and promotions. And if that's not enough you'll make us super happy at the same time.
Grand Mondial Casino Our Best Casino - August 2022
150 Spins on Mega Moolah slot for €$10 Deposit
Play For Real
18+ | New Players Only | Gamble Responsibly | Wagering & Full T&Cs Apply
T&Cs Apply