mFortune Casino Launches New Website for Real Money Play
February 21st, 2014
mFortune has always been a very decent mobile casino app. But, not content with the mobile world, they've now released an online casino to compliment their tablet and phone offering.
We really do have a fondness for mFortune casino games. We wish they would release some more often than once every couple of months, but hey, if this post was going to be about wishes and dreams we'd never end.
So back to the point, mFortune have just announced that they've launched a brand new version of their online casino site, allowing players to place real money bets on any of the mobile games (slots, roulette, bingo, poker), but no longer just on your favourite tablet or phone.
It's now re-branding itself as a brand new online casino for your pleasure.
Is this really good news?
The reason why mFortune slots and games are so very wonderful to play is because they are part of a larger download casino app, so they respond to the mobile device at hand.
It means that you get flawless games on the Android casino version just as you do on the iPad or iPhone casino.
They were custom made for phones. You could answer your mobile, have a 20 minute conversation, come back and the roulette wheel would still be spinning from your last go.
They are unbreakable mobile casino games. But will they stand up to scrutiny on the mFortune desktop site?
mFortune Casino cannot escape it's mobile past
We've played a few rounds of the online games and we have to admit, they were… ok? The mFortune bingo online probably holds itself better than the rest.
The roulette is frankly average in comparison with some of the beautiful tables available at Guts Casino, or the wide selection of blackjack at Vera & John.
If you add live casino tables then you also have the likes of Royal Panda and Casumo taking the gold stars.
mFortune, for all it's 'can do' attitude, differentiated itself by providing one thing really well: mobile slots and games that work really really well on mobile.
But if you are going to try and compete with NetEnt and Microgaming who've had years of experience creating online casino games, mFortune has a lot of catching up to do. Decades in fact. It's the equivalent of upgrading from a gourmet burger to steak and fries, whilst competing with the culinary equivalent of Coq au vin, a savoury soufflé and a baked alaska for dessert.
Except the difference here is that unlike the kitchen metaphor, as a punter you can choose to have whichever you want for no extra cost. So will you choose 5 star dining or homely comforts?
Steak and fries ain't so bad
Point taken. The mFortune games are not plentiful, they are not the prettiest and they are not the cleverest, but that doesn't mean they are not fun.
Their slots online fare better than their table games, but mostly because many of us will find these online mobile slots almost familiar. The style and feel is very much that of many slot games found in pubs all over the world. Simple, if not elegant, machines.
Why we think mFortune has a chance
Personally we think that that the mFortune online casino may be a good thing for them. They've proven that they are more than capable of creating great mobile casino games because they don't think like others.
Instead of going the way of Microgaming and simply releasing old slot games for mobile phones, they decided to do something completely new and tailor-made for the mobile generation.
So now they are going the other way around, will they learn some of the tricks of the trade?
For one, they may actually start releasing more games (hurrah!) to stay competitive. For two they may be able to bring to the table a completely different type of casino game to appeal to very different styles of players.
Most of the big casino software providers tend to forget about classic slots, putting all their time and effort in creating complicated 3D and video slots. But we all need a few classics from time to time, something that mFortune excels at.
At worse, it may just be that you'll find a new favourite mFortune game, or finding yourself on a lucky streak, and get to continue online without any fear of a broken WiFi network.
Try their casino for yourself and see what's new.
You can make our day
Sign up to our free casino newsletter and you'll get all the latest mobile casino news and promotions. And if that's not enough you'll make us super happy at the same time.
Grand Mondial Casino Our Best Casino - September 2023
150 Spins on Mega Moolah slot for €$10 Deposit
Play For Real
18+ | New Players Only | Gamble Responsibly | Wagering & Full T&Cs Apply
T&Cs Apply
Latest Casino Bonuses & Offers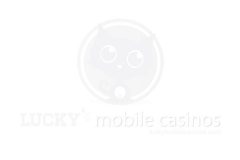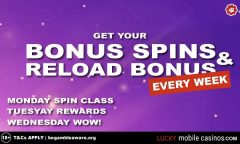 New Casino Promotions