How To Play Live Mega Ball By Evolution Gaming
April 30th, 2020
We take a look at the Live Mega Ball Game by Evolution Gaming, how it works, what are the rules, and how you can get those sweet, sweet, multipliers.
You may have heard of the National Lottery, but have you heard of Mega Ball?
Evolution Gaming Mega Ball is the modern-day answer to those Thunderballs and huge cash prizes, taking the form of an exciting online game.
So, how exactly does it work, where can you play and how easy is it to catch on? We take a look at all the inner details of this Live Casino Game.
How to play Live Mega Ball
Just like watching the lottery at home, Mega Ball Live is available as a Livestream to you direct from the studio. You can watch in real-time as the presenter takes you all the way through to potentially huge cash prizes.
You can interact with them, and they'll be able to see the results and call you out when you win!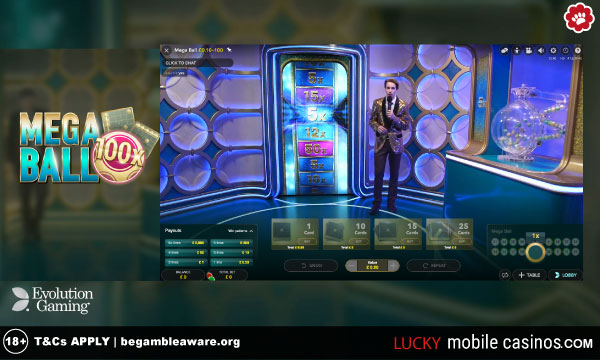 The objective of this casino game is to achieve as many lines per card as possible. Think of it like bingo – the more matching lines you get, the bigger the prize.
Mega Ball live is a combination of bingo-style rules and classic game shows, bringing you nail-biting entertainment without leaving the house. You can buy as many cards as you want.
You might like: Our list of Evolution Casinos
The two different variants of Mega Ball Live
Online Mega Ball takes two different forms: Mega Ball, and Mega Ball Draw. The key difference is the bonuses, with multipliers taking your prizes up to even further heights.
Get €$100 Bonus + DGame of GUTS Reward
Get your GUTS welcome bonus plus spin the wheel to get cash prizes, free spins and super spins.
#AD 18+ New customers only. Wagering and Full T&Cs apply.
Playing Mega Ball
Filmed from within a studio with multiple camera angles for optimum viewing, Mega Ball is centred around the classic drawing machine.
This custom-made piece of kit looks just like what you might see on the lottery, and plays host to 51 colourful balls, each with their own individual number.
When you start, you'll be given a card. You need to set the value of your card and then purchase your desired number. Perhaps you're a lucky seven kind of player, or you have a special birthday in mind. You can buy up to 200 cards per game round, so there are a huge number of ways to win!
The live game host will turn on the machine and watch the balls bounce around inside, before drawing a small set. If the numbers on the balls match the numbers that are shown on your cards, you can start to draw lines – just as you would in bingo. If you get a full line, you can walk away with a huge prize!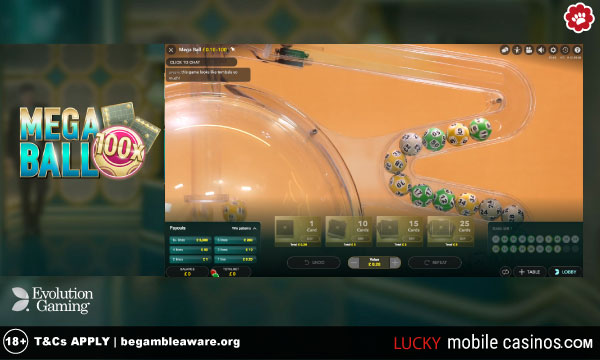 Playing Mega Ball Draw
This is where it gets really exciting. Rather than relying on the host, in Mega Ball Draw, the numbers are drawn in a quick-draw fashion using an automatic ball drawing machine.
You'll still have your cards, but with the quickfire fashion, the numbers will be automatically marked off your cards if they match.
This is a truly hands-off experience. Sit back and watch as your cards are automatically rearranged right there in your user interface. The cards that are closest to winning are pushed to the top, right in your line of sight.
You'll also see which numbers you need to get a winning line, as they will be automatically highlighted on your card. Making it even more exciting, your interface will also show you what your potential winnings could be if you do strike it lucky at your favourite online or mobile casino sites.
Where the fun starts: the multipliers
That's not all. Just because you're sitting back and letting the machines do the hard work for you, doesn't mean it's any less exciting. When the final ball is drawn automatically, (Randomly and not on every turn) the Mega Ball will apply a multiplier, between 5 and 100.
You'll know when this has happened as the whole studio will light up – just as though you were inside a real game show studio!
If you're lucky enough to get a winning line, you'll win a multiple of your prize depending on whatever random multiplier flashed up. So if your prize would have been €$£10, a 100 multiplier could see you walking away with £€$1,000 – no skill required.
You thought the fun stopped there, didn't you? Even rarer, but even more exciting, you could just see the "second mega ball".
As the name suggests, the random occurrence of one huge multiplier happens again – so if you missed out on the first go, you might just get a second chance.
Up to €$1200 Bonus + 200 Free Spins
Get up to €$1200 Bonus Money + 200 Free Spins at LeoVegas
#AD 18+ New customers only. Wagering on bonus and free spins winnings applies
Improving your chances with Mega Ball
Just as in bingo, the more cards you purchase, the bigger your chance of winning. The same applies here with Mega Ball. The difference is, this is far more exciting than a Friday night round down at the bingo halls.
It features real-life hosts, all available via a video stream, making you feel like you're taking part in the game in real-time – just like a television studio. You can have music on as loud as you want, and play with multiple people online.
Remember, only bet what you can afford to lose, and try not to get too attached to certain numbers. Like the lottery, sticking to one set may make you feel like you need to carry on playing "just in case".
Try a lucky dip approach instead – pick a random selection and see if luck is truly on your side at one of our top live casino sites.
Who is LuckyMobileCasinos.com?
We are a team of dedicated writers and professional who loves nothing more than to test out new games, lookout for the best casino bonuses and promotions, and play on only the most reputable gambling sites.
We are all about having fun, and ensuring you play smart and play safe.
You can make our day
Sign up to our free casino newsletter and you'll get all the latest mobile casino news and promotions. And if that's not enough you'll make us super happy at the same time.
Grand Mondial Casino Our Best Casino - June 2023
150 Spins on Mega Moolah slot for €$10 Deposit
Play For Real
18+ | New Players Only | Gamble Responsibly | Wagering & Full T&Cs Apply
T&Cs Apply