How To Play Deal or No Deal Live
December 26th, 2019
If you're thinking of playing live casino and looking at the games, you might be wondering: how do I Play Deal or No Deal Live? We can help.
You've seen it on the telly and you've probably seen it on pub quiz machines. Now you have the chance to play it yourself – for a prize worth taking home!
Brought to us by the team behind the Dream Catcher live game, Evolution Gaming Deal or No Deal brings a live casino game element to the popular gameshow.
So how exactly do you play, how does it work, and is it fair? We take a look at everything you need to know to get started.
How does Deal or No Deal Live work?
The live element makes this gameshow a truly immersive experience. It's one step away from opening the briefcases and speaking to the banker himself. Sadly, Noel Edmonds isn't available 24/7, but you will have the chance to chat to a friendly, fun host and banker!
With live gaming, a presenter addresses you via a high-quality video stream. Cameras are strategically placed all around a state-of-the-art studio to give you the best viewing experience.
This time around, you're not just playing with you – you've got a whole team of players around you. It's a progressive game and you'll need to work your way through the rounds. Here's how it goes.
Get €$100 Bonus + DGame of GUTS Reward
Get your GUTS welcome bonus plus spin the wheel to get cash prizes, free spins and super spins.
#AD 18+ New customers only. Wagering and Full T&Cs apply.
Round one: the qualifying round
It's just as exciting as the real thing – only you're playing this time! In the qualifying round, you and any other online players spin a three-reel bank vault.
This could produce any result thanks to random number generators, so don't be fooled into thinking there's a way to trick it!
With every spin, the amount of money in the briefcases multiplies, by between 75 and 500.
What do we mean by prize briefcase? This is the one you select at random to have the biggest amount of money inside. Once you're through, you're into the prize top-up round: even more chance to ramp up your money.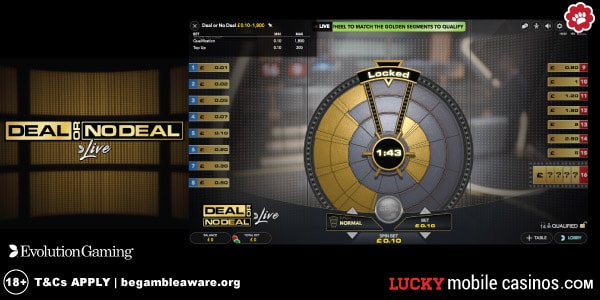 Round two: the prize top-up round
Once you've unlocked the famous "bank vault door", you'll make your way onto the Top Up wheel.
Here you'll be faced with random multipliers. Each of the prizes in your 16 briefcases can be multiplied between five and 50 times.
Round three: The Evolution Deal or No Deal live game
Now is your chance to really immerse yourself in the whole Deal or No Deal experience. Here is where you'll get the opportunity to see those 16 sealed briefcases in action. Having added cash to them in the previous rounds, these briefcases now all contain cash prizes in varying amounts.
To you, they look identical, but inside, there's no telling how much you could win! Just like the gameshow, they've been numbered from 1-16, but these numbers are only revealed once they're opened.
As the game progresses, a select number of briefcases are opened. This is when you'll get to see the mystery number inside. Once every briefcase has been opened for that "session" the Banker will offer you a cash amount.
This cash is offered in exchange for what's inside the briefcase. Then it's up to you, as your host asks you: "Deal or No Deal?"
What makes the Deal or No Deal live casino game different?
Unlike other live games where the multipliers are obvious to see, Deal or No Deal has that added element of mystery.
There are also two qualifying rounds. As you're up against anyone and everyone playing all around the world, there's no guaranteeing you'll get through these difficult stages.
It gives an extra element of thrills that makes you feel like you're competing in an actual TV show, as much as gambling.
How much can I win on Deal or No Deal Live?
You can win up to 500 times your stake with Deal or No Deal, making this a thrilling, quick-winning game.
Of course, you'll have to be strategic, and look at how many briefcases you've already eliminated before considering the banker's offer.
It's not as much as you can win in some Deal or No Deal Evolution game.
500 times your bet is enough to make your day.
Get Rewarded at Guts
Spin the Game of Guts wheel for cash prizes, free spins and super spins
#AD 18+ New customers only. Wagering and Full T&Cs apply.
What other fun features can I expect from the game?
Deal or No Deal Live is a pretty sociable game! As people are playing from all around the world, you can chat to them and the dealer via the online chat box.
You can also keep a close eye on your bets with minimum/maximum bets tab right in front of you on the screen. This will display your game number to help you keep an eye on how long you've been playing.
Don't forget to turn the sound up to make the most of this immersive experience, whether you're playing on your desktop or at mobile casinos online.
Where can I play Deal or No Deal Live?
You'll find a great selection of Casinos with Live Casino Games, including Deal or No Deal, plus plenty of other thrill-seeking games from Evolution Gaming including Lightning Roulette, right here at Lucky Mobile Casino. Play 24 hours a day with others from all corners of the planet!
The game is available for play on both desktop and mobile devices, so you can play while you're on the go or just kicking back at home.
Remember – know your limits, play strategically and be prepared to ask the all-important question: Deal or No Deal?
Play on one of the best live casinos around at Guts, with a huge selection of games and friendly customer service.
You can make our day
Sign up to our free casino newsletter and you'll get all the latest mobile casino news and promotions. And if that's not enough you'll make us super happy at the same time.
Grand Mondial Casino Our Best Casino - June 2023
150 Spins on Mega Moolah slot for €$10 Deposit
Play For Real
18+ | New Players Only | Gamble Responsibly | Wagering & Full T&Cs Apply
T&Cs Apply