A Beginner's Guide To eSport Gambling and Betting
November 14th, 2019
Thinking of betting on eSports? We've got a quick guide on how to bet and the best sites to bet on.
If you're new to betting, you've probably heard of the more common online casino games such as slots, blackjack and roulette.
One kind of gambling you might not have come across is eSports betting. This is partly because it's relatively new – it's only since gaming technology has upped its game that it's become so popular.
eSports has a way to go before it beats real sports betting, but it's predicted to be worth $1.5 billion worldwide by 2020.
So what is it, how do you bet on it, and where can you find the best odds? We investigate.
What is eSports?
eSports, otherwise known as electronic sports, is "competitive video gaming". You're probably no stranger to playing games or even watching others, but with eSports, you can bet directly on players and teams.
As video game popularity has increased, we've seen more and more esports tournaments cropping up around the world.
And you can say many things, but betting sites know an opportunity when they see one.
Get €$100 Bonus + DGame of GUTS Reward
Get your GUTS welcome bonus plus spin the wheel to get cash prizes, free spins and super spins.
#AD 18+ New customers only. Wagering and Full T&Cs apply.
How eSports works
eSports games are laid out in tournaments. They can attract teams or individual players, who can compete from anywhere. Players can play on consoles or PCs, either over the internet or using a Local Area Network.
Larger tournaments, which usually have players from all over the world, often attract sponsorship and media coverage.
This is one of the ways of regulating eSports – because it has its own set of rules, and indeed, players get paid, it's very strictly scrutinised.
It's also hugely popular among some of the world's best gamers, who play at professional level. It's easy to see why it's such a money-spinner for everybody involved!
How you can bet on eSports
So, what's in it for you? The chance to win, of course! How much you could potentially win depends on how much time you're willing to spend looking at the teams, the odds, and the bets.
There are a few different types of eSports markets:
Money line: just as you would bet on a football game, this is the most standard form of eSports betting. You simply pick which player/team you think is going to win.
Handicap: this is where the operator makes things a little more interesting. If two opposite players or teams have very different odds, they'll award one a "positive handicap" or advantage, which is a specific figure e.g. number of points.
Likewise, the operator can award the better player a "negative handicap" to give them a disadvantage.
If you bet on a positive handicapped player, you can only win if they win, draw or lose by less than the handicap figure.
If you bet on a negative handicapped player, you'll only win if they win by more than the figure set.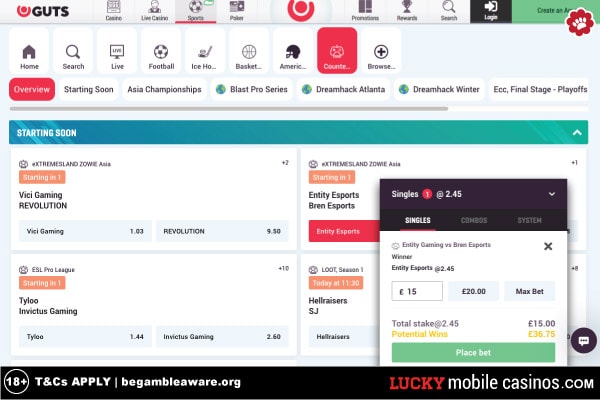 Totals: think of this as betting on goals in a football match. The operator will offer bets on something that can be counted, for example number of kills in a game. You can bet on the total number of kills/rounds/whatever fits that specific game.
Outright betting: rather than just betting on a winner, this is when you bet on the overall outcome of a tournament. This is what you'd call the long-haul – you can only win this if the player/team you've picked has consistently won throughout the tournament.
eSports betting odds
If you're familiar with horse race betting, eSports odds are calculated in a similar way.
Bets usually expressed as a fraction, so for example, if a team is listed as 4/1, you'll win once for every four games played.
In monetary terms, if you wager £10 at 4/1, statistically you should win £40, plus your original stake.
What kind of eSports games are available?
Some of the most popular eSports games include League of Legends, Dota 2 and Counter-Strike: Global Offensive (CSGO).
However, generally, eSports games are broadly set out as below. New games pop in, but the classics stay the same.
First-person shooter
Otherwise known as FPS, first-person shooters are individual or team-based.
You play by taking part in a firefight across a map and win by getting the highest number of kills or another objective, like defusing a bomb.
CSGO eSports betting is one of the most popular FPS bets.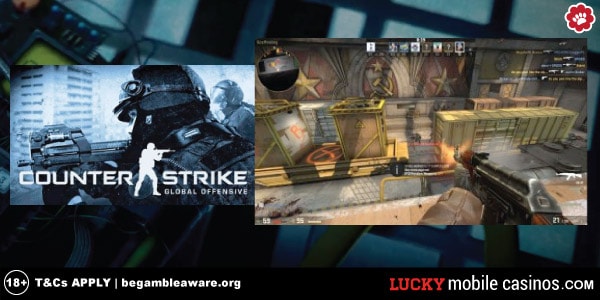 Real-time strategy
Real-time strategy (RTS) games are popular with PC gamers and involve building armies using limited resources.
You can win by advancing further than your opponents, who are building at the same time as you.
Starcraft is a popular RTS game.
Fighting
Closely linked with arcade gaming, fighting games involve two individual players fighting against each other.
You win by simply depleting the other player's health to zero. You'll find classic titles here like Mortal Kombat.
Sports
Some of the world's biggest sports console games have made it into eSports. Tournaments on games like FIFA are becoming increasingly popular for bettors.
It's a popular sports bet, why wouldn't it be a popular e-sport?
Multiplayer online battle arena
Without a doubt the most popular eSports betting games, MOBA involves individual players working for teams to destroy another team's building.
There are also challenges that aren't controlled by players, giving MOBA an added RTS element.
League of Legends betting is particularly popular, as is Defense of the Ancients 2.
Can I play the games?
eSports is a spectator sport. Just as you'd watch a team of professional footballers but wouldn't try to play at their level, you wouldn't want to come up against these professionals!
It's much more fun to sit back and watch, and even win a few bets in the process.
Play the games if you like, get better, have fun. But when it comes to betting stick to the professional tournaments.
Where can I find the best eSports betting sites?
At Lucky Mobile Casinos, we'll point you towards the best eSports betting sites for all kinds of wagers. We can personally recommend:
May the best team win!
You can make our day
Sign up to our free casino newsletter and you'll get all the latest mobile casino news and promotions. And if that's not enough you'll make us super happy at the same time.
Grand Mondial Casino Our Best Casino - June 2023
150 Spins on Mega Moolah slot for €$10 Deposit
Play For Real
18+ | New Players Only | Gamble Responsibly | Wagering & Full T&Cs Apply
T&Cs Apply