Exclusive Peek At The NEW Casumo Mobile Casino And All The Extras You'll Get
June 11th, 2015
We caught up with Casumo who have revealed that they are in the process of launching a brand new mobile casino. Here's all the extras you can expect.
Casumo casino is a marmite type of site: you're into the idea or you're not.
The "idea", in case you are wondering, is the "Casumo adventure".
Otherwise known as progressing through worlds, completing challenges, collecting crystals and trophies, and increasing your ranking within the Casumo universe.
Oh, and those crystals can be exchanged for bonuses… obviously. After all, we are gamblers; we play to win, as much as play for the love of the spin.
Or the bet, or the hand, or the flush. Whatever your favourite casino game is.
The point is, they want to offer you more than the standard old 'open a game and play' mobile casino site. They want to give you an experience.
If you are intrigued, or more likely have a spare 5 minutes and nothing better to do, then lets explore this new mobile platform and see exactly what we're getting.
Get 100% bonus + 20 free spins »
Why do Casumo need a new mobile casino?
If you've read our Casumo review, you'll know that we rate them quite highly.
In fact, they probably have one of the easiest casinos to move around. Navigation is faultless, and finding your way is as easy as clicking on one of the three big buttons in the home screen.
So basically, it is a great mobile and tablet casino as it stands.
What it isn't, is an adventure. An experience. A world of casino joy like their desktop site.
So what's new pussycat?
So we were talking to the Casumo folk. Actually one folk in particular. Christian Ferreri, the man who looks after the likes of us media sites and gives us some tasty extra info.
Play on NetEnt, WMS, and Thunderkick games
A beautiful selection of mobile casino games, from Bruce Lee and Rainbow Riches, to Gonzo and Esqueleto Explosivo.
He let slip that they would soon be launching a new mobile casino platform.
How? It went something like this:
"The new Casumo Mobile product is simply astonishing!" Stated Christian.
Ok, so maybe it wasn't so much a 'slip' as a good old fashioned telling us the good news.
"We can't say more than that." Continued Christian however, "but you'll be able to experience it yourselves very soon. So stay tuned for more info."
Only of course they could give us more information.
We can be surprisingly annoying, until we get our way.
Some of the new features they've let slip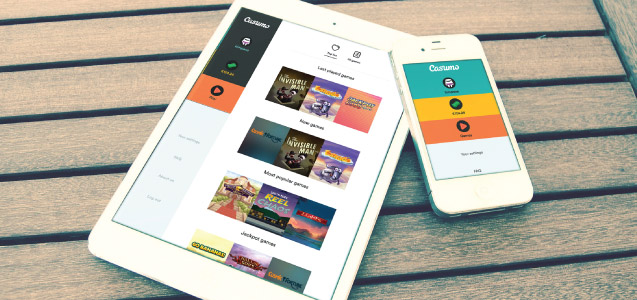 Well for one, we can tell you that the design of the mobile platform will be brand new. In fact, it will now more closely resemble what you'll see when you go to the online casino version.
With bright bold colours, and separate menus for each of the casino sections within.
Casumo welcome all, but you'll have to play in Euros
Whether you're a Brit, Aussie, Kiwi, Canadian or anything in between, they love you. Just, in Euros.
But that's all we can tell. We've been promised:
Faster deposits – always a good thing.
New personalised dashboard – so you can pick and choose your favourite games perhaps?
Top lists for games – inspiration is always better when you're given more choice.
Brand new notification system – euh… so… like… alarms? Or just maybe news?
True responsive tablet design – we suspect this means it won't be a one size fits all type as it is at the moment, allowing for smaller tablets to look as good, rather than squashed.
Login and play your last played game with one tap – for those of you who have a favourite or need to quickly shut down mid game whilst in a boring work meeting. Not that we've ever done that. Ever.
Big, bold and beautiful game graphics – this just means that the images of the games will be larger. So easier to get the theme and find what you're looking for.
See your current level and planet – we will explain this in a moment.
Collect space crystals in travelling mode and exchange for great rewards – again, we will leave that for further explanation below.
And if you think that's all you get, think again. Apparently, if all the above isn't enough:
"We will add some more cool features after the launch as well" Continued Ferreri, unaware that we were writing down every little thing he said.
No pressure, but we're now expecting an all singing, all dancing, mobile and tablet casino site.
Why this new casino update is exciting
Ok, so we're not suddenly going to open up Casumo and a casino will jump out of the screen straight into our living room, in a 21st century Weird Science type of experiment.
It's going to look nicer, it's going to be easier to browse new games, and it's going to be faster to deposit. Cool. It's already pretty awesome at all these things anyway.
An improvement on the adventure?
In the current mobile version the adventure you couldn't see the worlds, where you were, or sometimes, the latest challenges.
Don't get us wrong, when logged in at the Casumo online casino, any game-time you put in on mobile was added to your adventure.
So it wasn't like you lost out for playing on mobile. You just couldn't see what you were achieving, or trade in your points for bonuses.
Now you might get all of that AND be rewarded for playing on the go.
Because what's more exciting is the fact that you now have 'travelling mode'. So does that mean you'll be rewarded extra for playing on your tablet or mobile?
We can but hope.
Head over to Casumo now and get double your money, up to €300 in bonus, + 20 freespins on Starburst. Because you know you want to know what all the fuss is about.
You can make our day
Sign up to our free casino newsletter and you'll get all the latest mobile casino news and promotions. And if that's not enough you'll make us super happy at the same time.
Grand Mondial Casino Our Best Casino - November 2023
150 Spins on Mega Moolah slot for €$10 Deposit
Play For Real
18+ | New Players Only | Gamble Responsibly | Wagering & Full T&Cs Apply
T&Cs Apply