Get Up To 50% Cashback For Playing Slots At Guts Casino This Week
June 25th, 2018
Guts Casino are giving away 30% and 50% money back on any of your net losses when you play on a selection of classic style slots. Here's everything you need to know.
There are basically two different offers this week at the mobile casino Guts; you can choose to take both, or just one.
Get 30% cashback up to £€$30 whenever you play Monday to Thursday on select slots
Get 50% cashback up to £€$50 whenever you play Friday to Sunday on select slots
The good news is that your cashback offer is for any bets you make over this period. However, the rules change slightly for each offer.
The really, really good news is that the cash you get back is real money: so no wagering requirements.
We take a look at both below, which one is better and what slots you get to play.
Get €$100 Bonus + DGame of GUTS Reward
Get your GUTS welcome bonus plus spin the wheel to get cash prizes, free spins and super spins.
#AD 18+ New customers only. Wagering and Full T&Cs apply.
Monday to Thursday offer: how to get your Casino Cashback
Let starts at the beginning of the week, because that's logical and we don't want to burn the world down.
This offer looks like the smaller of the two but is just as if not more generous than the second offer.
The reason is that you get 30% Cashback over your net losses over any one day, rather than the 50% cashback which is over you net losses over 3 days.
The most amount you can get is €$£30 worth of cashback within each daily period.
So essentially you could get as much as £€$120 worth of cashback if you have a really unlucky 4-day streak of casino loses.
Wait, what? How does this Guts casino offer work?
Alright, so say you deposit £50 on Monday and spend it all. Then you deposit £25 on Tuesday and win £100, so you withdraw £125.
Finally, you come back Thursday, deposit another £50, and spend that without winning any more.
You'll then get 30% Cashback on the net loss of that two £50 deposits, and Guts will ignore that big casino slot win on Tuesday.
The cashback will be paid to you as two sums within 48 hours of the day you played. So you'll get 30% cashback within 48 hours of Monday, and again within 48 hours of Thursday.
Friday to Saturday cashback offer is different
For one, it's a bigger amount, but the net losses are calculated over the total of your gameplay over the three days.
Basically, you get 50% cashback on your net loses over the whole period between the 25th of June to the 2nd of July 2018.
That said, the total cashback is a much bigger percentage, but then so is the amount you get back: up to £€$50 in cash.
You'll get lump sum of money within 48 hours of the Sunday at midnight.
Wait, what? Can I have another example, please?
Sure. To take the same number as above: say you deposit £50 on Friday and spend it all.
Then you deposit £25 on Saturday and walk away with £125. Finally, you Deposit another £50 on Saturday and spend it all.
Your 50% cashback offer will be based on all your bets from Friday to Saturday with your £125 in deposits and will take into account the big win on Saturday into its calculation.
Seeing as you came out even (we are actually simplifying the calculation for ease, we will explain about net losses in a second) you probably won't get any cashback.
Get Rewarded at Guts
Spin the Game of Guts wheel for cash prizes, free spins and super spins
#AD 18+ New customers only. Wagering and Full T&Cs apply.
How are cashback offers calculated?
It changes from casino to casino, so it's worth looking at the T&Cs carefully (always).
But generally most stick to the format that this Guts offer has in place; ie. net loses.
Cashback offers are rarely calculated on your deposit amount, but on net loses. Net loss is the total amount you bet minus the total amount you win.
The reason for this actually works in your favour: the total amount you bet tends to be higher than the total amount you deposit.
That's because you can wager and make far more bets than the amount you've transferred over, thanks to all those little wins you make and put back in to the machine.
So that's why our examples above are broad and not specific. With a £25 deposit, you might just wager £25 if you are super unlucky, or make £150 worth of wagers if you keep getting those small win top ups.
The amount of cash you get back will change person to person, luck by luck.
Which "classic slot machine" do I need to play?
Don't forget, this offer is only when you play on a very specific selection of slot machines, not just every game in the Guts slots catalogue.
But it's not just classic slots. In fact, it would be better to describe this as an offer for 'classic style fruit machines'.
You've got 3 reels and 5 reels. You've got video slots and 3 reel classic slots. You've even got some with bonus features, some uber popular names, and some real unknowns.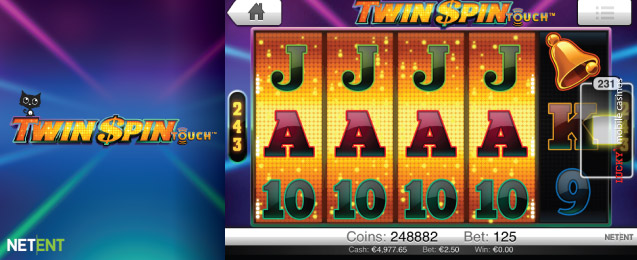 Which are the best games to play?
We are going to let you know which of the games below we like to play best. This is a personal opinion and in no way will decide whether some lose more or win more than others.
They are each very different, so do a little research before you play, but here are the highlights and our preferences:
Twin Spin: With 243 ways to win and that feature that links one or more symbols together this is a must play a volatile NetEnt slot machine.
Seven's High: An under-rated Quickspin slot game, this 25 payline 5 reel slot gives you a free spin every single time you win, and tons of wilds.
Red Diamond: A simple one payline slot machine with a multiplying wild that gives you a free re-spin of the reels.
Blue Diamond: This Red Tiger Gaming slot is the sister to Red Diamond, and feels similar, except for the amount on the paytable that blue diamond wild.
Second Strike: A 10 payline fruity with a very quirky and unique feature where every win could see you win a whole load of wilds added to the screen.
Jackpot 6,000: A simple 5 payline classic slot by NetEnt that dares you to put your winnings back to get bigger wins. Not for the faint of heart.
Joker Strike: This is basically the same machine as Second Strike except with a Joker theme and the big bet options that gives you bigger better wilds. Best left for High Limit slot players.
Diamond Strike: This isn't the prettiest of the games here, but if you hit the 1,000 times your bet jackpot in this 3×5, 15 lines Pragmatic video slot, you certainly won't be needing any cashback.
Casino WinSpin: This is last on our list because, honestly, we've never played it before. We did a little research and it's a 5 reel slot by NoLimit City studios, you get hot zones, expanding wilds and guarantees wins bonus.
Personally, we will probably stick to the top 5 on this list, but other than the WinSpin slot (which we know very little about), this is a good selection.
So which of The Classics Special Offer is better?
They are both very different, but both very good. If you like any of the games above, it might be worth playing this week at Guts casino.
The good news is that whatever you do, you are a winner.
If you play on the slots above and win big, you're a winner. If you bet on the slots above and lose, chances are you could have an extra £30 or £50 in your pocket just for playing.
And let's not forget, this is real money cashback. So you won't have to wager it, you could even withdraw it if you don't want to keep playing.
A little safety net for those days when we want to play, but don't want to risk it all. All thanks to Guts mobile casino.
You can make our day
Sign up to our free casino newsletter and you'll get all the latest mobile casino news and promotions. And if that's not enough you'll make us super happy at the same time.
Grand Mondial Casino Our Best Casino - October 2023
150 Spins on Mega Moolah slot for €$10 Deposit
Play For Real
18+ | New Players Only | Gamble Responsibly | Wagering & Full T&Cs Apply
T&Cs Apply