3 New Casino Slot Games By NextGen Gaming; What, Where and When
October 26th, 2014
NextGen Gaming have just launched 3 new casino slot games. The 'when' is easy; you can play these right now. We break down the what and where below.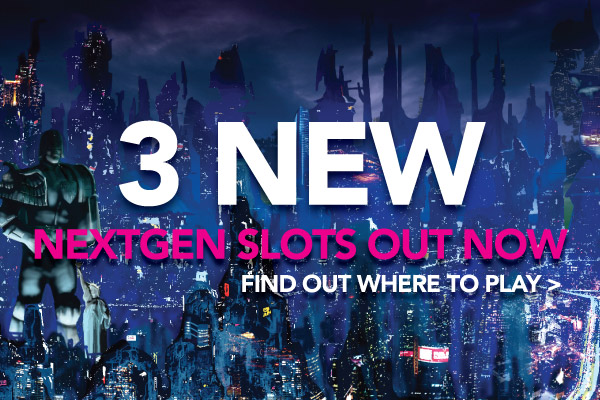 18+
NextGen Gaming have had a blazing end of October 2014, releasing 2 mobile phone slots and 1 online, in the space of a couple of days.
And they have tough competition, with NetEnt's South Park Reel Choas having only just come out on the 23rd of October and grabbing everyone's attention. Can the release of three games compete with players?
Surprisingly, we believe so. South Park Reel Chaos is brilliant, don't get us wrong, but the choice that NextGen have provided will probably appeal to a wider network of players, giving something a little bit different as a genuine alternative.
So let's have a quick look and see what's on offer and where you can play three very decent casino games – starting from low "safe and entertaining" variance to the very high "holy crap, I'm gonna lose, I'm gonna lose… Yipee! I freaking won huge!!!" levels of slot play.
The Entertaining Wild West Slot
Here's something a little different. The Wild West casino slot has the strange honour of being one of the few machines in history where you won't be paying any attention to the 10 paylines over these five reels.
Vital Statistics:
5 Reels / 10 Paylines
RTP: 95.9%
Online & Mobile Slot
Variance: Low to Medium
The simple reason is that you'll need to activate the Superbet option on the side to get a 2x or 5x multiplier on the wilds. If you don't do this, Wild West is barely worth playing. In fact, we'd even go so far as to say that the x5 is the only credible option.
The reason is simple; you trigger the free spins by getting a win with a wild symbol.
The free spins then come with stacked scatter symbols, each of which will be worth however much you won during that wild win. The bigger the multiplier, the bigger the win, the bigger the value of the scatter.
Which means that anything under a five of a kind win on the base game probably won't cover your bet anyway, and during the free spins, with no other multiplier, you are reliant on the scatters to give you big wins.
See? These 10 paylines are just there to get you a wild win.
It's a funny little game, with free spins that show up often enough that you'll seldom get bored. Some players might not see past this original twist, preferring something a little more familiar in game play, but we enjoy it as something a little different from the norm.
The Lawful Judge Dredd Slot
If Wild West was all for the entertainment value, the Judge Dredd slot machine ramps up the stakes with bigger potential wins and a superbet option that's a little friendlier. Here you can win decent amounts without it, but we won't lie when we say that you get more for your bucks if you play at max superbet level.
Vital Statistics:
5 Reels / 25 Paylines
RTP: 95.6%
Online Slot only
Variance: Medium
You get bigger instant wins in the I Am the Law feature for one, where Dredd shows up randomly to shoot at your screen and hand out justice and money. For two, you get more wilds on the reels, leading to more wins, and even more wilds during the free spins, where all wins are doubled.
Be a little more careful with your budget on this online slot machine however, the free spins is where you'll find the big wins, but they are hard to catch.
Instead, enjoy a slot machine that's true to the original comic books. Fans of the Judge Dredd film might expect all dark tones and broodiness, but lets not forget that the height of popularity of this comic book character started in the late 70s / 80s. The colours are bright, the punches ring true, and the background looks like a mix of bright city hope, and human chaos.
Do we wish they'd added a few more characters from Mega City One instead of your standard 9 to Ace high cards? Absolutely. But it's a fitting tribute none the less.
The Titanic Titan Storm Slot
And we don't mean 'titanic' in the "crash and burn on an iceberg" kinda way, but rather the original meaning of the word: "of exceptional strength, size, or power". All three of which are true.
Vital Statistics:
5 Reels / 243 ways to win
RTP: 95.4%
Online & Mobile Slot
Variance: High
This is what we call high variance gaming. Which is hilarious, as of the three, it's probably the one that will be overlooked as people try the cuter Wild West or the more well-known Judge Dredd slot game. But you'll know better as a reader to Lucky Mobile Casinos.
To us,  Titan Storm mobile slot was the clear winner, though our hearts wanted it to be Dredd, as we are fans. Yet Titan Storm does have as much nostalgia factor as the comic book character. Why? Because it's been clearly 'based on' He-man and The Masters of The Universe. If NextGen want to say otherwise, we'll eat our words and change our name to She-Ra. It even has a battle-cat for Skelettors sake.
However, even if you are not fans of 80's alien fantasy, we would still give this little beauty a go. No superbet here, just simple spins with big wins at any point, anywhere.
But, these gods are as likely to take away as to give. So if you don't like risk, head back to the other two games. But if you are chasing huge wins, this is the one for you.
It's all down to the wild symbol with Titan Storm slot, which can replace scatters to trigger the free spins, and then turn scatters into wilds during the free spins, creating bigger 5 of a kind wins. Get a good winning streak, and you can end up screaming "I have the power" in your deepest, thunderous, voice.
Some Great New Casino Games by NextGen
We are impressed. Well done, NextGen, indeed. And of course, you'll be able to find them all at all good NextGen casinos online.
When releasing three games at once, it would have been easy to do it Microgaming style and release three exact copies with different themes. Or three games that were the same from an older version.
What NextGen Gaming have created here is three slots that are completely different one to the other (though not unique within their portfolio), appealing to three very different types of slots players.
Yes we would have loved to see Judge Dredd as a mobile slot as well. But we've been told that it's coming, so until then, play a thoroughly enjoyable online slot. And if not, you have two very good mobile alternatives.
You can make our day
Sign up to our free casino newsletter and you'll get all the latest mobile casino news and promotions. And if that's not enough you'll make us super happy at the same time.
Grand Mondial Casino Our Best Casino - August 2022
150 Spins on Mega Moolah slot for €$10 Deposit
Play For Real
18+ | New Players Only | Gamble Responsibly | Wagering & Full T&Cs Apply
T&Cs Apply