Win A Share Of 1,000 Bonus Spins In Mr Green's Sept Reel Thrills
September 14th, 2018
The Mr Green Reel Thrill slot tournaments are going into overdrive this month as you get the chance to win a share of 1,380 bonus spins every night in a massive wild west shootout.
Not everyone likes slot tournaments, but very few of you could dislike the Mr Green Reel Thrill tournaments.
If you don't know what they are, we'll give you a quick catch up here, but read the link above – it gives you a full idea of how to play and win.
We've written about it at length because we love these tournaments that happen every 15 minutes.
And this September 2018 it gets even better because the prices have increased, giving you the chance to win huge free spin casino prizes – bigger than usual.
The Reel Thrills and September Bonus Spin Law Enforcer
Mr Green casino likes to travel, and this September he's heading to the Wild Wild West. Can you protect yourself and lay down the REEL law?
Every evening you'll get to travel via stagecoach through the Reel Thrill world, and with it, the chance to survive a stickup or a shootout.
If you survive, you get to win a huge amount of loot: a huge share of 1,000 in bonus free spins. Here's how you do it.
Try A New Casino Today
Visit Mr Green Casino and play slots, live casino, bet on sports and more
18+ New customers only. Wagering and Full T&Cs apply.
CatchUp: what are the Mr Green Reel Thrills?
In short, the Mr Green Reel Thrills are free to enter slot tournaments where you spin real money spin on slot machines and the bigger your win in relative size to your bet, the more points you get.
Choose a Thrill: Click on 'Join' on any Reel Thrill. You are in!
Play the Slot: Both real money and bonus spins will count – just make sure you bet at least the minimum bet of the reel thrill.
Climb the Leaderboard: Your biggest percentage win over 20 spins determines your points and position on the leaderboard.
Win Bonus Spins: Get to the top 5 spots and you win bonus spins on top games! Easy.
As we mentioned, we've written about it at length in our casino blog, but the short of it is that you just have to play slots you love, and if you win big, you win extra free spins.
Obviously, because you are using real money slot spins, be sure to actually like the game in question. No point playing just for the bonus.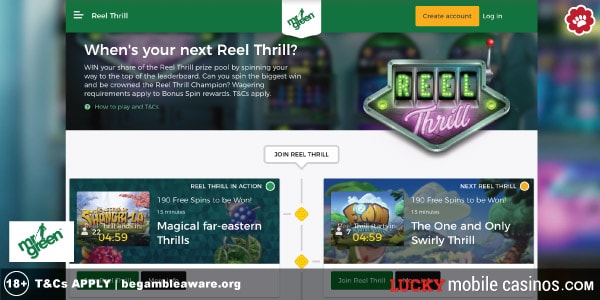 Part 1: The Stickup Tourney every day at 19:00
So we've established what are the Reel Thrill Mr Green tournaments, and that these happen every 15 minutes. Whenever you want to play casino, check out if your favourite game isn't part of the next Reel Thrill and join if it is.
It's just like playing slots, but with the extra benefit of having a chance of also getting some bonus casino spins.
However, in September only they've increased the prize of the 7pm race from the usual loot of 190 bonus spins to a huge share of 1,000 bonus spin.
And instead of having only 5 winners, here 22 players will walk away with bonus spins on some of the best casino slot games online.
1st place: 250 spins
2nd place: 150 spins
3rd place: 100 spins
4th place: 50 spins
5th to 22nd place: 25 spins
The tournament ends at 8:00 pm. You can join at any point in that hour (or before) but be sure you give yourself some time to get those wins.
Get 100% up to €$100 + 100 Free Spins
Sign up to Mr Green casino and get 100% up to €$100 Bonus + 100 Free Spins
18+ New customers only. Wagering and Full T&Cs apply.
PART 2: The Shootout tourneys between 17:00 and 22:00
So you've got your alarm set for the big stick up tournaments between 7pm and 10 pm every night.
But what if you get there early or late? Is there no action for a good time cowboy looking for a little green thrill?
Yes, there is. In fact, every single 15-minute tournament running on the hours before and after the Stickup tournament gives you extra loot.
The 17:00, 18:00, 20:00, 21:00, 22:00 Reel Thrill tournaments have their bonus pot increased from 190 bonus spins to a much tastier 380 bonus spin share.
Again, they've done this by increasing the number of prizes you can win from the top 5 to the top 11 players.
1st place: 150 spins
2nd place: 75 spins
3rd place: 50 spins
4th place: 25 spins
5th place: 20 spin
6th to 11th place: 10 spins
The prizes are not as big as the Stick Up tournament, but it's not meant to. It's just added a little extra Thrill to your Mr Green mobile casino play in the evening.
Will you be the one to enforce the Bonus Spin Law?
Is this a good Mr Green promotion? Absolutely, but only if you were going to play at Mr Green casino in the first place.
After all, the whole point of these mobile-friendly slot tournaments is that they are a nice addition to your usual casino play.
You check out the list of the coming competition, and if one is on a slot game you love or one you want to try, you join and get playing.
There are a few T&Cs to keep in mind:
All bonus spins come with a wagering requirement of 35x the money you win from the bonus spins
Bonus spins are valid for 7 days after you win
The Bonus spins will be credited to your account instantly if you end up in the leaderboard at the end of the tournament
You can join the tournament whenever you want, but you can't play past the end date
There is a minimum bet requirement on every Reel Thrill so make sure you meet those requirements if you want to join.
Because you use your real money, you should only play as you would normally at the casino anyway – never betting more than you would, and only on slot games that appeal.
If you're not having fun on the slot, stop and try something else.
If you love it, keep spinning and see if you can get a big enough win to climb the leaderboard – then you'll have had a big win AND some extra free spins to spend afterwards.
We love any casino promotion that rewards you just for doing what you'd do anyway: play casino online. And Mr Green is certainly one of the best around.
You can make our day
Sign up to our free casino newsletter and you'll get all the latest mobile casino news and promotions. And if that's not enough you'll make us super happy at the same time.
Grand Mondial Casino Our Best Casino - February 2023
150 Spins on Mega Moolah slot for €$10 Deposit
Play For Real
18+ | New Players Only | Gamble Responsibly | Wagering & Full T&Cs Apply
T&Cs Apply