Complete 3 Special Easter Missions To Get Your Cracking Prizes
April 1st, 2018
Your mission, should you choose to accept it: play on 3 fantastic slot machines, complete three simple challenges, and get a chance to win a trip to Chilli, Easter Island, and 60,000 in cash prizes.
We love a challenge, and especially any given to us by Yggdrasil Gaming studios, who are the king of challenges.
Because the way they run challenges, or casino slot tournaments if you will, is a little different from most; you don't have to win big, or bet big, or play anywhere you wouldn't normally play.
Just pick your favourite Yggdrasil casino, then open up either Vikings Go Berzerk, Easter Island or Gem Rocks before the 5th of April 2018.
All the details of the challenges are in those games, but we give you a few heads up on what you'll find and how to climb the leaderboard.
The leaderboard, the challenges, and those 700 casino prizes
That's right, there will be 700 winners in total, which is a huge amount; now you get why there's €60,000 worth of prizes (and yes, that's converted to your local currency, including CAD, NZD and many more…)
Get 100% up to €$100 + 100 Free Spins
Sign up to Mr Green casino and get 100% up to €$100 Bonus + 100 Free Spins
#AD 18+ New customers only. Wagering and Full T&Cs apply.
The good news is that this isn't as complicated as it might sound. Sure you have to complete three tasks, but luck will be the one deciding where you end up on the leaderboard.
What are the 3 challenges?
The point of this tournament is to complete three simple challenges, one on each of the three casino slot games we've mentioned above, in the least amount of spins.
These are:
Collect 30 Free Spin Symbol on Vikings Go Berzerk
Activate any 2×2 GemRocks 5 times on Gem Rocks
Have 5 reel expansions on Easter Island
The good news is that these are good games, each of them – we particularly love Gem Rocks, and Vikings Go Berzerk, but the new Easter Island slot has a fun charm that works better at online casinos than on mobile phone ones.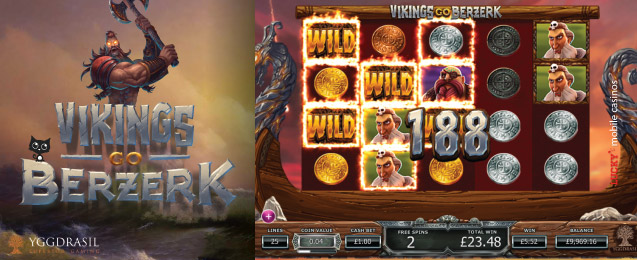 You have to complete the challenges in the least amount of spins
That's how you get on the leaderboard.
Not just for participating, but if you complete them by spending the least amount of money, you'll get on the leaderboard.
That doesn't mean you have to finish playing your round if you are enjoying the game. Once the challenge is complete on one slot machine, you can continue if you want.
The number of spins counter doesn't start until you open up the next machine and accept the next challenge.
How much can I win on this Yggdrasil Easter hunt?
Like we said there are 700 prizes in total, but the most impressive of them all is the top casino promo prize.
That's because if you get to the top of the leaderboard, you and a friend will be heading to a once in a lifetime trip to Chile and Easter Island.
You'll get to visit the mesmerising Atacama Desert followed by a flight to go see the strikingly enigmatic statues of Rapa Nui (Easter Island), all in luxury and comfort.
Get 100% up to €300 Bonus + 20 Free Spins
Get 20 free spins on sign up plus up to €300 in bonus on your first deposit at Casumo
#AD 18+ New customers only. Wagering and Full T&Cs apply.
1st: Amazing Travel package
2nd: 6,500 cash
3rd: 5,000 cash
4th: 3,000 cash
5th: 2,000 cash
6th: 1,000 cash
7th: 900 cash
8th: 650 cash
9th: 500 cash
10th: 400 cash
11th-13th: Between 350 and 250 each
14th- 50th: Between 200 and 100 each
51st to 700th: Between 80 and 20 each
But the fun doesn't end there…

Login on the 6th to 8th for an extra surprise raffle…
You have to complete the challenges by the 5th of April. That doesn't change.
But if you managed to get in the top 200 spots, not only have you walked away with at least $40 in your pocket, but you'll also be part of a surprise raffle where there are an extra 37 prizes to be won.
These are random mystery prizes; you have to log in to one of the three challenge games between the 6th an 8th to see if you've won.
The mystery boxes could include further cash prizes, or something else entirely, like a Go Pro 5 or a X1 Parrott QuadCopter Drone.
And let's just say, we could be guessing those prizes, or we could have gotten a little heads up from Yggdrasil gaming.
Play Yggdrasil Slots At Guts »
Can you help me complete these Yggdrasil challenges?
At the end of the day, luck is what will determine if you end up on the leaderboard.
That and your willingness to play on Yggdrasil slot machines; three specific ones in fact.
The point is, only play if you like the slot games, if any of the three don't appeal, don't play; these challenges will require time and money to complete.
Vikings Go Berzerk is an especially volatile slot machine that will need a lot of patience and luck.
Don't forget, you can re-start the challenge whenever you want
The way we see it, you can tackle these challenges in one of two ways.
You can either do the easy ones first and get a good score and then fight at the end to complete the hard challenge.
Or you can start with the difficult one, and if it takes too long to complete, restart the challenge till you get a good score, and then move on to the easy ones.
Because that's the brilliant thing, you can reset your score at any point. So if it's not looking like your current number of spins is going to get you anywhere, try again. Gambling responsibly of course.

Get 200 Free Spins On Deposit
Take your first deposit bonus and get 200 free spins on top slots
#AD 18+ New customers only. Wagering on bonus and free spins winnings applies
Which are the easy or hard challenges?
We should be clear and say that luck has a lot to do with how quickly you complete these challenges.
We are not saying that you'll definitely be able to complete some before the other; only which of the three features in the three-game generally trigger more often than the others.
So for example, you generally get 2×2 blocks in Gem Rocks every 20 spins or so, but scatters in Vikings Go Berzerk are harder to come by. But you might get 10 scatters in 10 spins, and then no 2×2 blocks for 50 spins.
This is a general helpful slot guide of where you can start, but really, you could do it however you want:
Easy: Have 5 reel expansion in Easter Island slot. These expand whenever you get a 4 of a kind win, which happens every 10/20 spins on average.
Medium: Activate any 2×2 GemRock 5 times on Gem Rocks. This is the only feature in the game and comes surprisingly often.
Harder: Collect 30 Free Spin Symbols on Vikings Go Berzerk. Free spins don't trigger often, but scatters do show up to tease you with the possibility, and each scatter counts.
Where you want to start is up to you. But you've only got till the 5th of April to get on that leaderboard and trust us: you'll have great fun trying.
Plus, there are some great wins on these slot machines, so if nothing else, you'll be playing great games, at great mobile casinos, with great bonus offers.
You can make our day
Sign up to our free casino newsletter and you'll get all the latest mobile casino news and promotions. And if that's not enough you'll make us super happy at the same time.
Grand Mondial Casino Our Best Casino - September 2023
150 Spins on Mega Moolah slot for €$10 Deposit
Play For Real
18+ | New Players Only | Gamble Responsibly | Wagering & Full T&Cs Apply
T&Cs Apply