How To Make The Casumo Casino Adventure Work For You
April 24th, 2016
It's no secret that Casumo casino like to do things a little differently. As such, we've taken the time to explain their very unique, but wonderfully original casino loyalty program.
You may, or may not, have heard about Casumo mobile casino.
It's been making headway over the last few years, having started their life as one of the best NetEnt casino sites back in 2012, and grown to atmospheric proportions through word of mouth and generally being excellent.
One of the key features that makes them unique is their 'Casino Adventure' or as you and I might call it, the 'loyalty program'.
Don't worry, this wont be a dry piece about having to spend lots in order to stay at the top of the loyalty pile.
Instead, this friendly casino site has created a program that allows you to drop in and out as you want, play a beautiful selection of slot and casino games and, ultimately, be as involved, or uninvolved as you wish.
The Casumo casino loyalty program at first glance
Doesn't look anything remotely like a loyalty program. In fact, it looks like something you might find in a downloadable game app on your iPad or Android phone.
Get 100% up to €300 Bonus + 20 Free Spins
Get 20 free spins on sign up plus up to €300 in bonus on your first deposit at Casumo
#AD 18+ New customers only. Wagering and Full T&Cs apply.
It all starts with a magic egg
Or a golden egg, if you will. The moment you register, before you've even taken your free spins no deposit bonus, or made a deposit, that egg will crack.
When it cracks, a little 'Casumo' will pop out – very much like the creature you see everywhere around the casino. He will have a 'rope' belted around his waist.
Start playing games to gain experience
You'll also notice that your little Casumo currently lives in the 'Hills of Odd' and there's a progress bar underneath to tell you how far along in the adventure you've gotten.
How do you gain experience points for your little creature? By playing on any of their hundreds of mobile and online casino games, of course.
All, and any, count; whether you're a lover of slots, blackjack or a roulette tables. So as you spin, win or lose, you gain points in that experience bar.
But not only that, as you gain experience, your little Casumo starts travelling, moving away from the safe Hills of Odd and starting to explore a vast and pretty universe.
The more experience, the better your belt
Who wants to spend their lives wearing a boring old rope belt? What are we? Hippies?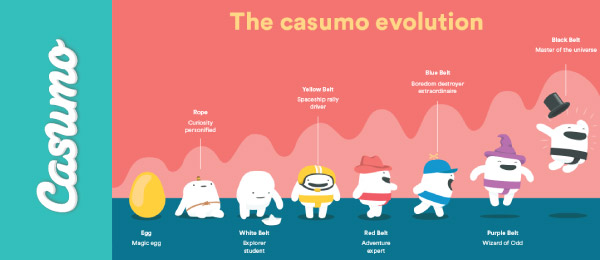 Getting to a white belt is actually fairly easy – chances are, by the time you've gotten through your Casumo welcome bonus, you'll already be there.
The good news is that, unlike other mobile casino loyalty programs, you can't go backwards. You don't have to keep coming back to play, or you lose your new belt.
Once you've reached a new level you stay there indefinitely and can enjoy the Casumo level rewards you get.
Get 20 free spins no deposit now »
The belts give you rewards and casino bonuses
Because, of course, no one is going to go through all that trouble, just to collect pretty little belts on weird little white blob creatures.
Though travelling through the Casumo adventure, and all the worlds in between, is good fun and far more interesting that most backgrounds in most casinos.
But at the end of the day, you're still just exploring backgrounds.
The real rewards come in the form of:
The Casumo weekly offers: which casino bonus you get (and how much) will depend on your belt level. Obviously, the higher the belt, the better the bonus.
Huge bonuses when you level up belts: each time you go up a level you are richly rewarded for your troubles.
Hit black belt, and you'll become a VIP: with all the superstardom that brings.
It's a simple format, that works very well. Unusual enough to stand out, but familiar enough that anyone in casino will recognise the format.
How you can make the most of the Casumo adventure
There are a few hints and tricks we've learnt along the way to make the most of this casino adventure.
Here's our advice.
Some of the Best Online Casinos Games:
Enjoy IGT, Microgaming, NetEnt, Play'n GO, QuickSpin, Thunderkick and WMS games.
Collect trophies for extra points
In your casino lobby you'll see a little tab called 'trophies'. These are both part, and apart, from the loyalty program.
You could, theoretically, never look at them and play, and it wouldn't stop you enjoying what is one of the best mobile gambling sites around.
That said, it's a fun little feature that can help you find new games to play, and let you gain extra experience points to upgrade your Casumo a little quicker.
These range from winning 3 times in a row, 3 times, to logging in to Casumo, to winning big on a specific game and getting bragging rights.
And yes, most of the trophies focus on the Net Entertainment casino games, but they have added a range of slot machines, including their WMS machines.
You can choose to actively collect them, or just do it by default by winning and playing on all their games.
New to Casumo? Try and level up on a Sunday
If your very first level up happens on a Sunday, then you are in luck.
We'd never tell you to stop playing if the XP points on your Casumo got dangerously close to levelling up, but… if it's Saturday night and you can wait a few hours before playing again, do it.
Reason being, if you level up on Sunday, you'll instantly get a 'super spin' bonus.
What is a super spin bonus, you ask? Basically, instead of getting a free spin casino bonus, where you play at minimum bet, they up the bet amount, usually to about 0.50 to 1 a spin.
The promise that it is possible to win as much as €£3,000 in a single spin, thanks to these super spins.
Have fun; everyone gets a black belt eventually
Here's what we really love about this Casumo adventure. Whether you like to play €£10 a week, or €£1,000, eventually, everyone will become a black belter and get big bonuses.
It just so happens that some might get there faster than others.
It encourages a playful casino experience, where the focus is on you having a good time; whether that's by travelling on different worlds, looking forward to weekly bonuses, or collecting trophies.
You don't have to spend more in order to get there, or keep up with the points if you get bored, or want to play somewhere else for a while.
You simply need to have a little sense of humour, and appreciate a friendly casino site that likes to do things a little differently from the rest.
You can make our day
Sign up to our free casino newsletter and you'll get all the latest mobile casino news and promotions. And if that's not enough you'll make us super happy at the same time.
Grand Mondial Casino Our Best Casino - December 2023
150 Spins on Mega Moolah slot for €$10 Deposit
Play For Real
18+ | New Players Only | Gamble Responsibly | Wagering & Full T&Cs Apply
T&Cs Apply